DAK Simulations Joins to Help Charity Truckers 200
C.A.R.S. Motorsports & Racer Marketing



Orlando FL. 12-5-2007 - Dak Simulations has joined many other great people and companies to help raise money for the Helmick family recipients of proceeds from this years Charity Truckers 200.

The web site at www.daksimulations.com had all the information on this great deal for race fans. They will have 4 Sprint car simulators set up behind the main grandstands at Orlando Speedworld during the Charity Truckers 200 Weekend. They will donate a portion of every ride purchased, to the Helmick family, to help little Kaleigh.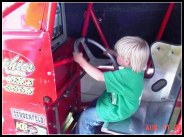 "This will give folks plenty to do during the day while practices and all are going on. They will probably stay open after races for drivers, crews and all to have some fun also. They have 4 Sprint cars side by side and you can race a sprinter. We appreciate their offer to help, they just happened to be down here for a couple other event and saw the chance to help at the Charity, they have extended their stay so they can help" stated event promoter Rick Bristol.

Along with a ride along deal in a cup car , which you can see on www.carsracermarketing.com, and all the great racing this should be a great two days of action for all fans. December 14th & 15th at Orlando Speedworld don't miss it, be there !

--Advertisement--




Have an opinion on this story? Post a message on our Message Board! or Email KARNACto send a letter to the editor!
---