"I'm noticing a turn of the tide on racing Web sites like Florida's Karnac.com, the gathering place for the most dedicated race fans in the state."
-Orlando Sentinel


IT'S TIME TO RACE!!
SCHRADER, PADGETT, PEACOCK, BYRD, MATTHEWS, JUDE TRUIMPH AT VOLUSIA SPEEDWAYS CONVENTION HOLIDAY CLASSIC
By Shelley Doyle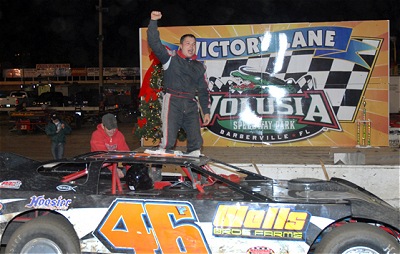 Darrell Padgett celebrates in Winners Circle


Fan's crowded into Volusia Speedweek Park to watch the inaugural Convention Holiday Classic. The crisp, cold evening was soon warmed up with heated action packed racing. Daytona Dodge Chrysler Late Models took to the grid, 24 strong each in pursuit of the $3,000 payoff. Green flag dropped as 24 drivers running in tight formation, 3 wide rushed for the lead. Darrell Padgett edged out Rich Pratt, John Kellum, Tyler Ivey and the field for the top position.

It was a petal to the metal racing, as the field scrambled to the front.

Padgett held on strong until lap 22 when Mark Whitener powered past him for the lead. It was side by side racing, as the two went head to head for the win. Wayne Shugart, Richard Ferry, Jason Davis pulled up into the mix, making it anyone's race. Whitener tried to stretch the lead but Padgett relentlessly powered the #46 car along side as the battled for the position.

Whitener # 5 and Padgett #46 were side by side coming into turn four when a lap car got in the way, Whitener went low, Padgett went high resulting in taking over the lead. Stanton Mills powered his #99 car into the front making it a 3 way battle but Padgett held stead fast and took the win.

Top Ten: Darrell Padgett, Mark Whitener, Stanton Mills, Jason Davis, Buddy Geiger, Matt Hartley, Richard Ferry, Jeff Phipps, PJ Wiggins, Wayne Shugart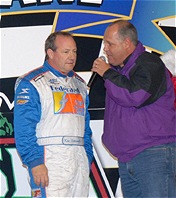 DIRTcar Open Wheel Modifieds sponsored by Budweiser took the green 23 strong. Jimmy Carter #75 jumped to the front but was soon swallowed up by Ken Schrader #9.

Schrader looked like he was on a Sunday drive as he powered around the track with precision style racing. Jason Davis, Jamie Carter, Dave Barber, Jim Passino battled 3 & 4 wide for 2nd as Schrader continued to stretching out his lead until the checkered flag was thrown.

Top Ten: Ken Schrader, Dave Barber, Jamie Carter, Jim Passino, Peter Timbie Jr., Paul Shead, Alan Thomas, Charlie Macnichol, Cory Hupp, Larry Burkins

The second leg of the Convention Holiday Classic was run on Saturday night presenting the Sprints, Sportsmen and Street Stock. Fans were standing on their feet as the night provided them with extreme action.

Street Stock 2009 Champion Alan Peacock #25 borrowing Casey Watson's car showed why he was the champ. It was a green to checkered win as Peacock held off all advances for the top spot. Shane Williams, Grady Christian, Mick Kulak Steve Oldaker and Pat Buckley fought 2 & 3 wide fighting for position behind Peacock as he gained a half of track advantage taking the win.

Top Ten: Alan Peacock, Grady Christian, Steve Oldaker, Shane Williams, Charlie MacNichol, Phillip Brown, Wally Schneider, Mark Maresca, Mick Kulak, James Smith

Florida Mini Sprints pulled onto the track 21 strong. Russ Heider took the lead as they battled 4 wide for positions. Heider was soon replaced by Harold Matthews as he pulled along side for the lead. It was a side by side battled as these two swapped the top spot racing to the win. Eddie Moss, David Pleaugh, Matt Lewis rode the bumper of the top two but could not make a move for the lead. Matthews powered his #25 to the win.

Top Ten: Harold Matthews, Russ Heider, Eddie Moss, David Pleaugh, Matt Lewis, Tim O'Donnell, Rick Dukes, Steve Crabtree, Walter Arnold, Jeremy Mason

Taylor Racing Products Sportsmen took the flag 4 wide with Josh Byrd #42 taking the lead. Stanton Mills, Garrett Stewart battled side by side behind the leader for 2nd. They continued to swap positions as Byrd pulled away from them. Stewart had car problems on lap 16 allowing Tim Miller to make a bid for position. Byrd retained the lead after the restart holding on until the checkered was thrown.

Top Ten: Josh Byrd, Stanton Mills, Tim Miller, Levi Cribbs, Chris Manucy, Garrett Stewart, DJ Nobles, Drew Smith, Shaun Daugharty, Billy Wright,

The Top Gun Sprint series took the green with Otto Scrape taking the lead. It was a 3 & 4 wide battled as the field rumbled for positions. Scrape #3 was stretching out from his competitors when his wing buckled and he was involved in a spin with car he was trying to lap. Willy Jude #1J took the restart holding on as Mark Ruel Jr tried high then low trying to force a mistake but none would be presented by the leader. Jude held a fast, steady run as he took the checkered flag.

Top Ten: Willy Jude, Mark Ruel Jr., Matt Kurtz, Ryan Partin, Tim George, Danny Jones, Troy Knowles, Gene Machuga, Amanda Ferguson, Alexis Beagle

Have an opinion on this story? Post a message on our Message Board! or Email KARNACto send a letter to the editor!
---