"I'm noticing a turn of the tide on racing Web sites like Florida's Karnac.com, the gathering place for the most dedicated race fans in the state."
-Orlando Sentinel


IT'S TIME TO RACE!!
Steven Darvalics takes Charity Truckers 200 - Over $14,000 Raised for Lacey Pate
by Dave Westerman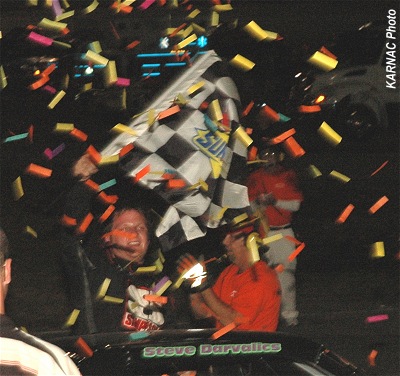 Steve Darvalics surrounded by confetti in the Winners Circle


It was a huge weekend with near-perfect weather to wrap up the 2008 season at Orlando Speedworld as Desoto Speedway regular Steven Darvalics took home the win in the Third Annual Charity Truckers 200 presented by Fountain Motorsports Driver Development and Biscayne Roofing. But the big winner was young Lacey Pate and her family as well over $14,000 was raised for them with donations still coming in that will add to that incredible amount.

Twenty-eight race trucks signed in to do battle with only one casualty during all the practice and qualifying as Blake Koch and his team unfortunately had to load up and watch the proceedings after engine problems Saturday morning.

Friday's qualifying saw young Travis Hanson of Miami turning the only time in the fourteen second bracket. His 14.997 lap was still just a tick of the watch faster than another youngster, Jason Howell of Lakeland, who tripped the clock at 15.003 seconds. Howell's teammate, Keith Lilley, was third quick at 15.098 seconds. Brent Huber and Michael Pilla were fourth and fifth quick while Cody Blair, Charlie Montgomery, T.J. Duke, Steven Darvalics and Scott Reeves qualified sixth through tenth, locking themselves into Saturday's race.

For the first time in the event, the top ten qualifiers re-drew for their starting spots and Hanson's good fortune continued as he pulled pill number one earning the pole for the twice-century run with Darvalics on the outside of row one. Duke and Huber made up row two for the start.

PHOTO GALLERY FOR THE CHARITY TRUCKERS 200

Following the pre-race ceremonies in which all of the drivers got to meet Lacey Pate, it was time to go racing for 200 laps.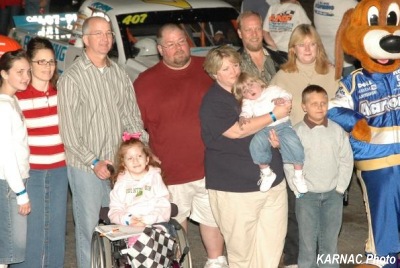 The reason for the event: Lacey Pate is on the left



Hanson easily looked to have the fastest truck of the 27 starters as he blasted out to a huge early lead while the first few circuits were action-filled behind him.

The leaders were already lapping traffic when the trucks mid-pack began to check up for a much slower lapped truck. In the ensuing "accordion effect," Tommy King got turned around by Norm Agostinho. King continued, but Agostinho pitted and became the first ruck out of the event.

Following the restart Cody Blair was on the move as he used the outside groove to move from sixth to third in just two laps. The field continued under green until T.J. Duke looped his mount in turn three on lap 26.

On the restart, several of the front-runners started playing bumper tag with Blair getting the short end of the stick having to pit with a flat left rear tire. Blair would also be involved in the next yellow flag as he encountered the slowing truck of Kyle Musselman going down the back stretch on lap 40. Blair ran up and over the slowing truck of Musselman who had a flat tire. Meanwhile, Chris Huntoon spun trying to avoid the melee and hit the turn three wall nearly head-on. All three pitted along with Tyler Laing who was in to repair damage from an earlier on-track incident.



LISTEN TO INTERVIEW WITH STEVE DARVALICS ON INSIDE FLORIDA RACING

At this point it was Hanson out front followed by the team trucks of Darvalics and Charlie Montgomery, Brent Huber and another team of trucks consisting of Jason Howell and Keith Lilley.

Lap 57 saw a caution for debris as Blair pitted with yet another flat tire and Musselman also came in and dropped out. The green was displayed for just a few laps before Anthony Sergi and Colby Clements got together in turn two with both continuing. Sergi brought out the caution again with a spin on lap 80.

The field, still being paced by Hanson who seemed to be leading by whatever distance he wished to, ran to the half-way break under green although Scott Reeves suffered problems and dropped out on lap 97.
The break of 20 minutes gave the teams an opportunity to change two tires and make any adjustments they could. The top ten at 100 laps were Hanson, Darvalics, Montgomery, Huber, Howell, Lilley, James Wright III, Michael Pilla, Jamie King and Chad Pierce.

After the restart it was clear that Hanson was not going to have it as easy as he did in the first half of the race. Lilley passed teammate Howell for fifth on lap 104 as the field continued to run nose to tail under green until lap 129 when Jamie King slowed to a stop in turn two with a flat right front tire.

Hanson continued to set the pace over a close pack of cars with the next yellow flag out on lap 142 as Duke and Jamie King spun at different ends of the track. Just before the caution, Darvalics had pulled alongside Hanson for the lead, but Hanson restarted at the point with his machine definately not as strong as it was earlier.
The restart was a wild one with all kinds of craziness culminating in another spin by Sergi.



LISTEN TO INTERVIEW WITH JASON HOWELL ON INSIDE FLORIDA RACING

As the field took the green again, it was obvious Hanson was having trouble as Darvalics took the lead while Hanson's truck fell quickly back through the field. Darvalics contiued to set the pace until a light rain began to fall at lap 160 causing flagman Laverne Patrick to toss out the yellow once again.

As the caution came out Hanson brought his truck in to the attention of his crew and the culprit for his backslide through the field - a deflating right front tire. Hanson returned at the tail of a large group of lead lap trucks.

Lap 171 saw the green flag back out with Darvalics, Montgomery and Huber nose to tail while Pilla and Howell ran several laps side by side in a crowd-pleasing duel for fifth.

With just seven laps to go, Andy Leserra spun off turn four to put the field under caution again. Once the field was reset, it was set for a three lap dash to the finish but Jessica Green looped her truck in turn two setting up a green-white-checker finish.
Darvalics held strong to the end and took the win while Pilla had problems on the final lap, nearly hitting the wall and losing five spots.

Darvalics was ecstatic in victory lane as he not only was the winner but saw his teammate Montgomery come home right behind him. To top things off, Brent Huber was third. Darvalics and Huber both hail from Venice, FL and the Darvalics/Montgomery team was assisting Huber in the pits as a third team truck giving the group a 1-2-3 finish. The top two trucks were sponsored by General Welding, Leo Pfiger Construction, Blewett's Rod Shop, Kelley Enterprises, Complete Machine and Burzynski & Tobaygo Attorneys at Law. Huber's truck got help from Mr. Marcite, Inc. and 3M Colorquartz.

It was a great night for race teams as the Lilley A/C and Electric-AMF Chassis-Phantom Graphics duo of Keith Lilley and Jason Howell rounded out the top five. Completing the top ten were Chad Pierce's Florida Lift Systems Toyota, up from 12th on the starting grid, James Wright III, who was subbing for Gary Foxworth who stayed home with his wife Jenni who is battling cancer, Stephen Nasse (up from 18th), Jamie King and Pilla, who hung on to a badly handling truck to grab tenth.

Hanson drove his heart out over the final few circuits and came home 11th followed by Tommy King, Jessica Murphy, Steve Throop, Colby Clements, Jessica Green, T.J. Duke, Andy Leserra, Whitney Poole, Anthony Sergi and Jack Kennedy as a record 21 of 27 starters finished the race.

In fact, no one dropped out during the second 100 laps. Reeves left the event on lap 97 and was credited with 22nd. Completing the finishing field were Kyle Musselman, Cody Blair, Chris Huntoon, Tyler Laing and Norm Agostinho.

The Legend Cars also put on a crowd pleasing show. Although three-time Speedworld Legend Car champion Kory Abbott set fast time and started from the pole, he would not have an easy time of it as young Gerald White, Jr. locked on to his rear bumper and never let go during all 30 laps with Brandon Thomson right behind them in third.
White nearly got under Abbott on several occasions but a rash of minor caution flags seemed to help Abbott as he claimed a wire to wire win closely trailed by White and Thomson. Thomson, who now calls Charlotte, NC home, was wheeling Dave Gleason's car in a R&D effort for the Masters Division driver.

Zach Harris and Jimmy Rodriguez checkered fourth and fifth trailed by Taylor McKeever and Ted Filides. Gleason drove the Legends Cars of Florida "house" car to eighth with Rick Wetmore and Gary Verdier rounding out the top ten. Eleven of the 17 starters finished on the lead lap.

The Bandoleros rounded out the Saturday action. Just two Young Guns made the show and it became an easy win for Donovan Ponder when Mark Hooven's car broke on the start. The Bandit race was a good one with Daniel Conlin, Jr. earning his first ever win over Cameron White, Coty Bibeau, Johnny Varga, Joseph Cornwell, and Jeffery White.

Friday night action saw a winner-take-all format for the FASCAR Super Stocks and Strictly Stock Cars.

In the 50 lap Super Stock race, Ray Mullis led the opening five laps before Jason Pick took over. Lap seven saw Joshua Todd tangle with Bobby Holley and make hard contact with the front stretch wall. Todd was OK but done for the night.

Pick continued to set the pace but no one was going to stop 2008 Speedworld Super Stock Champion Bobby Riley. After a final caution for a spin by Holley on lap twelve, Riley sped by Pick and led the remainder of the distance as Pick began to have problems with his machine. John Hodge moved up and stayed close to Riley but had to settle for second with Lee Wagner third. Holley came back from his spin to claim fourth with James Frisbie fifth. Pick slid back to sixth at the finish trailed by Mullis, Devon Cuddy, Vince Keeler, Jr., Todd, Tobi Smith, David Gould and Austin Carr.

Instead of donating his $600 winnings to the Pate family directly, Riley and car owner Billy Cuddy opted to spend that and much more bidding for memorabilia at a post-race auction of items which included autographed jackets, shirts, die cast cars and more from NASCAR stars like Carl Edwards, David Reutimann, Darrell Waltrip and many more.

Doug Webb of ABC Towing and Webb's Commercial Services was also a top bidder at the auction along with sponsoring the $500 winner-take-all Strictly Stock event.

The Strictly Stocks were out in force in support of Lacey Pate. Thirty-two cars signed in with 30 actually starting the 30 lap affair. This one would be dominated by the E&H Car Crushing team as Jim Erb led teammates Alan McClelland and William "Huggy-Bear" Hindman to the checkered flag. Erb, who canceled a hunting trip to be on hand, then promptly donated his winnings to the Pate Family.
2008 Speedworld Strictly Stock champion Neal Kirby was fourth followed by Tim Walters, Jr. Completing the top ten were Michael Seay, Glenn Rhodes, Dustin Higdon, Daniel Laszlo and Matt Earle.

The Mini-Cup cars ran an open competion race and drew a nice field of cars. The group collected $220 before race time with half going to the race winner and the other half to the Pate family.

This would be a real barn-burner that saw four different leaders and a wild turn two crash that saw the entire body ripped off Mike Holt's Jeff Gordon-Dupont lookalike car. No one was hurt in the big crash or any of the other spins and wall-bangers.

Jerry Parker led the opening six laps giving way to Jacob Calloway who led until lap twelve. Blake Hadik took over for one lap then it was Calloway back out front for seven more laps before Jason Schroeder made his move to the lead. Schroeder then powered his way to a big lead and took the checker well in front of Calloway, Frank Pfister, Brenton Franklin and Rick Auriemma. Hadik was sixth followed by Parker, Don Mays, Jordan Martin, Shane McKendree, Rodney Haddock, Holt, Michael Franklin, Chris Rodriguez, Sean Maynard and Tom Mellin.

A good group of cars and drivers were on hand from the Daytona Antique Auto Racing Association and the Stock Car portion of their action turned out to be a real feel-good story.

Gene Vitiello was going to be at this show no matter what. Despite just undergoing a chemotherapy treatment for cancer that left him unable to talk, Vitiello not only showed up, but drove his former NASCAR Tour-Type Modified to a win over a good-sized field. Vitiello then dedicated his win to the Pate family and all those who suffer with cancer or are cancer survivors.

Trailing Vitiello in the Stock Car race were Joe Farnsworth, Gordy Bird, Larry Larivee, Eddie Grant, Shirley Morden, Johnny Clark and Bill McPeek.

Jack Sapp topped the DAARA Sprint Car run over Matt Jarrett and Jay Yahnke while Dale Miller out ran Bill Wendt in the Midgets. Sapp, Yahnke, Wendt and Morden then stayed over and displayed their racers on the grandstand side during Saturday's events. As usual, event organizer Rick Bristol and his family did an incredible job along with a slew of volunteers who officiated and help run the show from not only Speedworld and New Smyrna Speedway but several other race tracks as well.

There were a few officials who even "un-retired" for the night.
Jack Smith, Bill Green and Rick Anges were on hand and broadcast the race live on Real Racin' USA on the internet.

Here is a list of the Award winners and those sponsoring the awards for the Charity 200:

Strutmasters.com Fast Qualifier $100: Travis Hanson #02 Also received $25 certificate from Racecar Engineering.
O'Brien Racing Hardcharger Award $100: Jessica Murphy #96 (11 Spots)
Stewart Guaranty Title Co. Hard Luck Award $100: Tyler Laing #39
The Racingtravel.net Halfway leader award $100: Travis Hanson #02
The Rex Engineering " Cool move of the race award" $100: Jason Howell #187
The Stewart Guaranty Title " Lucky Dog Award" $100: Jack Kennedy #33 The Checkered Flag Racing Fast Lap of the Race $100: Travis Hanson #02
The Dannis & Dannis Inc Calculated Move Award $100: Michael Pilla #24 The Racecar Engineering " Thats racing award $25 cert.: Norm Agostinho #407
Racecar Engineering finish bonuses:
1st Stephen Darvalics - $25 cert.
5th Jason Howell - $25 cert.
10th Michael Pilla - $25 cert.
15th Cody Clements - $25 cert. ARP $500 Body Certificate - Kyle Musselman #07 Checkered Flag Young Charger - #08 Anthony Sergi (youngest in race )

CHARITY TRUCKERS 200
1. #41 Steve Darvalics
2. #12 Charlie Montgomery
3. #84 Brent Huber
4. #87 Keith Lilley
5. #187 Jason Howell
6. #30 Chad Pierce
7. #25 James Wright III
8. #69 Stephen Nasse
9. #72 Jamie King
10. #24 Michael Pila
11. #02 Travis Hanson
12. #53 Tommy King
13. #96 Jessica Murphy
14. #15T Steve Troop
15. #17 Colby Clements
16. #40 Jessica Green
17. #28 TJ Duke
18. #121 Andy Lesserra
19. #00 Whitney Poole
20. #08 Anthony Sergi
21. #33 Jack Kennedy
22. #21 Scott Reeves
23. #07 Kyle Mussleman
24. #15 Cody Blair
25. #30H Chris Huntoon
26. #39 Tyler Laing
27. #407 Norm Agostinho
28. #34 Blake Koch DNS


LEGENDS

1. #5 Kory Abbott
2. #38 Gerald White, Jr.
3. #07 Brandon Thomson
4. #54 Zach Harris
5. #19 Jimmy Rodriquez
6. #57 Taylor McKeever
7. #34 Ted Filides
8. #4Rent Dave Gleason
9. #06 Rick Wetmore
10. #44 Gary Verdier
11. #17 Mike Gleason
12. #99 Alex Kempf
13. #12 Critter Saile
14. #11 Daniel Conlin
15. #144 Eric Eichelberger
16. #31 Rusty Chancey
17. #65 Gary Bursey

BANDOELRO BANDIT

1. #20 Daniel Conlin
2. #38 Cameron White
3. #X Coty Beebo
4. #2 Tommie Varga
5. #54 Joseph Cornwell
6. #15 Jeffery White

BANDOELRO YOUNG GUN

1. #8 Donovan Ponder
2. #17 Mark Hooven

Have an opinion on this story? Post a message on our Message Board! or Email KARNACto send a letter to the editor!
---