"I'm noticing a turn of the tide on racing Web sites like Florida's Karnac.com, the gathering place for the most dedicated race fans in the state."
-Orlando Sentinel


IT'S TIME TO RACE!!
DARRELL PADGETT GREEN TO CHECKERED WIN AT VOLUSIA
By Shelley Doyle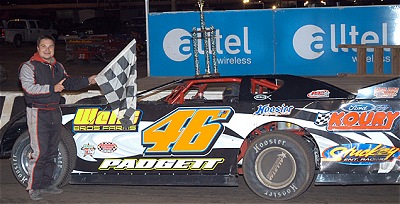 It was a crisp cool evening for the Gone Hunting Night at Volusia, but the fans were not denied an action pack evening. The evening heated up as the 100 race cars drivers hit the well groomed fast track at Volusia Speedway Park. Birthday girl, Stacy Cameron swung the green flag starting the late model feature.

Darrell Padgett won in fashion as he took the Daytona Dodge Chrysler Late Model feature from green to checker. Padgett jumped out front as the flag dropped to find Eric Platt, Stanton Mills, Richard Ferry and the field on his bumper.

Darrell drove his #46 car, anywhere he wanted on the track, with great precision as the left front wheel lifted off the ground with every corner. Platt, Mills, Bo Allen, Andy Schell battled 2 and 3 wide for positions along with the field, while Padgett was hot out front of the group.

Top Ten:Darrell Padgett, Stanton Mills, Bo Allen, Eric Platt, Andy Schell, David Clegg, Stephen Castleberry, Joe Kump, Jeff Phipps, Rich Pratt


Scott Lagasse won the Taylor Racing Products Sportsmen Feature. Chris Manucy #21 pulled out front as the green dropped only to find, Rookie of the Year, Garret Stewart and Lagasse hooked to his bumper. It was a 3 wide battled for first. Stewart powered past bringing Lagasse, Joey Haslauer, David Foster Jr, Bobby Richardson and field.

Lagasse moved past Stewart for the lead on lap 6, holding on until the checkered was thrown. Stewart & Haslauer raced wheel to wheel swamping the 2nd position with Stewart coming out on top.

Top Ten: Scott Lagasse, Garrett Stewart, Joey Haslauer, DJ Nobles, Chris Manucy, Levi Cribbs, David Foster Jr., Steve Branton, Chad Scranton, Colin Wright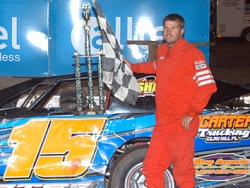 Jamie Carter took another green to checker win in the Budweiser Modified feature. Carter # 15 had the hammer down, as he held off the advances of his uncle, Jimmy Carter, Paul Shead, Jim Passino and fast moving field. It was a 3 wide battle for positions behind Carter, as he looked like he was on a cake walk as he drove to another victory.

Top Ten: Jamie Carter, Jimmy Carter, Paul Shead, Jim Passino Jr., Jamie Smith, Alan Thomas, Rick Scott, Zach Permann, Daron Smith, Larry Mott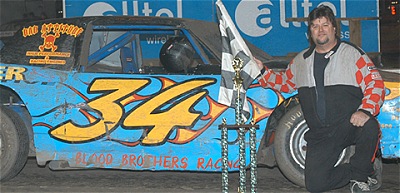 Pat Buckley won the UMPdirt Car Street Stock feature. The green dropped as Robert Hicks #31, Danny Miller Jr. #99 and Steve Mooers #95 battled 3 wide for the top spot.

Hicks took lap one but the pressure was on and Mooers moved past the top two to take the lead. It was a 3 wide event the entire race all through the field, as Buckley #34, Alan Peacock #15 (2008 Street Stock champion) and David Miller Jr. #21 fought for positions. Buckley made flawless moves as he inched his way to be a contender for the lead.

Mooers moved high and low but Buckley as determined as he powered past Mooers on Lap 18 to hold on until the checkered was thrown.

Top Ten: Pat Buckley, Steve Mooers, David Miller Jr., Robert Hicks, Danny Miller Jr., Alan Peacock, James Smith, Charlie MacNichol, Mark Maresca, Casey Watson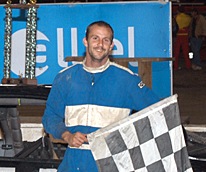 Roy Sullivan won the Aerotec Aluminum 4 Cylinder feature. Ray Hunter, Casey Feaster, Scott Mooers, Sullivan battled 4 wide for the lead with no one giving an inch. Hunter took the top spotbas John Blood moved past Feaster, Mooers, Sullivan for 2nd position.

Sullivan #17D was a man on a mission has he pulled up on the bumper of Blood trying to force an error so he could challenge for the first. Mooers #10 powered past Hunter #78 and Sullivan #17D for the lead. Sullivan made a swift move as took over the top spot. The top 4 cars continued to swamp positions until lap 10, when Sullivan took his #17D to the front and stayed until the checkered was dropped.

Top Ten: Roy Sullivan, John Blood, Scott Mooers, Sony Gilbert, Jamie Anderson, Casey Feaster, Daniel Laird, Larry Langston, Mark Comitale, Gary Sullivan.



--Advertisement--




Volusia Speedway Park November 22, 2008 Results

Daytona Dodge Chrysler Late Model

1. 46P Darell Padgett Jacksonville, FL
2. 99 Stanton Mills St. Augustine, FL
3. 71 Bo Allen
4. 44 Eric Platt Jacksonville, FL
5. N0C Andy Schell Pierson, FL
6. 07 David Clegg Bunnell, FL
7. 03 Stephen Castleberry Orange Park, FL
8. J17 Joe Kump Lake Helen, FL
9. 32P Jeff Phipps Longwood, FL
10. 0 Rich Pratt Anthony, FL
11. 10 Wayne Shugert St. Augustine, FL
12. 8 Chris Day Bunnell, FL
13. 71 Scott Sweet Jacksonville, FL
14. 21Q Chris Freeman Enterprise, FL
15. 77 Donnie Birdwell, Jr. DeLeon Springs, FL
16. 7F Richard Ferry Macclenny, FL
17. 30 Larry Anderson Jacksonville, FL

Budweiser Modified
1. 15 Jamie Carter Jacksonville, FL
2. 75 Jimmy Carter Jacksonville, FL
3. 80 Paul Shead DeLand, FL
4. 34A Jim Passino Clermont, FL
5. 40 James Smith St. Augustine, FL
6. F90 Alan Thomas Fruitland Park, FL
7. 8 Rick Scott Charlotte, FL
8. 57P Zach Permann Fort Pierce, FL
9. 41D Daron Smith St. Augustine, FL
10. Z06 Larry Mott Leesburg, FL
11. 41B Barry Sheffield Leesburg, FL
12. 79 Dakota Stephens DNS
13. 00 Chris LIttrell Homosassa, FL DNS

Taylor Racing Products Sportsman
1. 11 Scott Lagasse, Jr. St. Augustine, FL
2. 67 Garret Stewart Fruitland Park, FL
3. 14 Joey Haslauer Palm Valley, FL
4. 20 DJ Nobles Bunnell, FL
5. 21 Chris Manucy St. Augustine, FL
6. 35 Levi Cribbs East Palatka, FL
7. 4 David Foster, Jr. Wildwood, FL
8. 40 Steve Branton DeLand, FL
9. 17S Chad Scranton East Palatka, FL
10. 38 Collin Wright
11. 77 Joe Belkey, Jr. DeLeon Springs, FL
12. 12 Benita Allman Bunnell, FL
13. 45 Bobby Richardson Eustis, FL
14. 42M Tim Miller Edgewater, FL
15. 05 Shaun Daugharty DeLeon Springs, FL
16. 11C Corey Holley Summerfield, FL
17. 64 Trevor Gamble DeLeon Springs, FL
18. 1 Josh Byrd San Mateo, FL DNS

UMP DIRTcar Street Stock
1. 34 Pat Buckley DeLand, FL
2. 95 Steve Mooers Belleview, FL
3. 21 David Miller, Jr. Palatka, FL
4. 31 Robert Hicks Palm Coast, FL
5. 99 Danny Miller, Jr. Palatka, FL
6. 15 Alan Peacock DeLand, FL
7. 11S James Smith Geneva, FL
8. 12 Charlie Macnichol DeLand, FL
9. 77M Mark Maresca Altoona, FL
10. 25 Casey Watson DeLand, FL
11. 57 Karl Heinz Haas Pierson, FL
12. 04 Charles Christian Altoona, FL
13. 13 Phillip Brown Palm Coast, FL
14. 33 Jeff Duncan Pierson, FL
15. 36 Grady Christian Altoona, FL DNS

Aerotec Aluminum 4-Cylinder
1. 17D Art Sullivan St. Augustine, FL
2. 57 John Blood Pierson, FL
3. 10 Scott Mooers Osteen, FL
4. 6E Gilbert Espy Port Orange, FL
5. 51 Jamie Anderson Pierson, FL
6. 20 Casey Feaster Port Orange, FL
7. 29L Daniel Laird Palm Coast, FL
8. 94 Larry Langston St. Augustine, FL
9. 47 Mark Comitale Ormond Beach, FL
10. 11 Gary Sullivan
11. 78 Ray Hunter DeLand, FL
12. 7E Craig Bowman
13. 01 Davey Wolf Ormond Beach, FL
14. 2 Deidra Fontaine
15. 21 Art Souther Satsuma, FL
16. 126 Robert Graham Palatka, FL
17. 88 Steve Cox St. Augustine, FL
Have an opinion on this story? Post a message on our Message Board! or Email KARNACto send a letter to the editor!
---