"I'm noticing a turn of the tide on racing Web sites like Florida's Karnac.com, the gathering place for the most dedicated race fans in the state."
-Orlando Sentinel


IT'S TIME TO RACE!!
Thomas wins Southern Sportsman Shootout 75 and Championship at New Smyrna Speedway
by Jane Smith


Patrick Thomas and Wayne Morris battle at new Smyrna


Samsula, FL (November 23, 2008) Twenty five Sportsman came to New Smyrna Speedway Saturday for the 3 segment Southern Sportsman Shootout. Patrick Thomas of Oveido set fast time with a 19.295 followed by Wayne Morris of Mulberry with a 19.504, Steve Gainey of Bradenton with a 19.537, Josh Hermann of Lakeland with a 19.774 and Aaron Williamson of Mulberry with a 19.878.

In tech, Thomas and Hermann were both disqualified and sent to the very rear of the field for the start for being light. Thomas, who is the 2008 Southern Sportsman Champion, and Hermann, who raced Mini Stocks for two years at Orlando SpeedWorld, had both been so busy working on their cars that they forgot to add gas to them for qualifying. This set Wayne Morris as fast qualifier. The top ten pulled pills for the inversion with Mike Soukup of Deltona winning the pole position.

The first segment consisted of 40 green flag laps as Mike Soukup took the point on the green followed by Travis Roland, Wayne Jones, Richard Elkins, Jr., and Timmy Todd, Jr. Jones quickly put the heat on Roland and took over second as Todd followed Jones for third with Roland settling into fourth. By lap 10 it was Soukup, Jones, Todd, Steve Gainey, and Travis Roland leading the way.

Thr first caution came out on lap 11 for Jimmie Best who found himself done in segment 1. Jason Foster took advantage of the caution for a pit stop but his luck was no better than Best and he was out of the race. The race goes back green with Soukup leading the way over Gainey, Todd, Wayne Morris and Roland. Suddenly the 77 of Jones begins to go backwards as Gainey takes advantage and passes both Soukup and Todd and takes over the point. Now it is Gainey, Soukup, Todd, Morris, Roland, Williamson, Weatherford, Elkins and Donny Williams leading the way.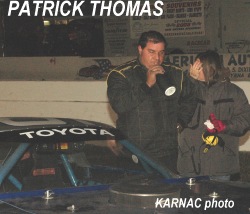 Lap 15 sees Jones retire to the pits after coming from Athens, GA just for this special race. Todd puts the heat on Soukup and takes over second. The caution comes out on lap 17 for Ed Michalak who seems to be sideways coming off 4 but does a great job of saving his car. Steve Redditt takes the opportunity while under caution to take a quick trip to pit road.

With Delaware restarts, the leader is alone on the pole with all other cars behind him doing a double file restart, Gainey has no problems taking the point over Morris, Todd, Williamson, and Soukup. Hermann challenges Roland and takes the position as Roland goes backwards. It is now Gainey, Morris, Todd, Williamson, Weatherford, Soukup, Williams, Thomas, Duane Best, and Hermann leading the way. Williams finds his mirror full of Thomas who takes over seventh as Williams goes to eighth. The caution comes out for Tom Raiser who has spun in the bottom of turn 4. On the restart, it is Gainey, Morris, Williamson, Todd, Weatherford, Soukup, Thomas, Williams, Best, Elkins and Hermann. Morris pulls to the back bumper of Gainey but Gainey has nothing to do with the challenge and holds his position. Segment 1 comes to an end with Gainey the winner.

The caution is thrown for a 10 minute pit stop where cars can do anything but change tires unless they have a flat. The number 2 pill is drawn for the inversion putting Aaron Williamson on the pole for the second part. Gainey wins the ARP Bodies $100.00 certificate towards a new Sportsman body.

Lap 40 sees Gainey once again quickly take the point over Aaron Williamson, Wayne Morris, Patrick Thomas, and Timmy Todd, Jr. Hermann puts the pressure on Williams and takes over eighth as Williams goes to ninth. The caution comes out on lap 46 for fluid on the track in turn 4 as Duane Best spins at the bottom of 4. On the restart it is Gainey, Williamson, Morris, Thomas and Weaterford and Todd who are doing some side-by-side action. Weatherford holds the position as he stays fifth followed by Todd, Roger Welch, Soukup, Williams and Hermann.

Suddenly on lap 49 after a great run, Aaron Williamson's engine goes up in smoke. Williamson, who is a regular Sportsman driver at Auburndale Speedway, sees his night end early. Gainey once again holds the point on the restart followed by Thomas, Morris, Weatherford, and Todd.

Ed Michalak of Titusville brings out the caution on lap 55 as he spins coming off 4 with fire under the hood. The track is quickly red flagged as the fire is put out and Michalak towed into the pits.
The race goes back green as Gainey leads the way over Thomas, Morris, Weatherford, and Soukup.

The caution comes out again on lap 61 for Josh Hermann who has spun. Gainey holds the point on the restart followed by Weatherford, Thomas, Soukup and Todd. But it is a short green as Morris brings out the yellow as he has stopped high in turn 4 with a flat tire. Morris brings the car to pit road and is allowed to change the tire because the official deemed it definitely flat. With segement 2 laps coming quickly to an end, Gainey wins segement 2 and a $250.00 gift certificate from ARP Bodies.

For segment 3 and the final 10 laps, the lead lap cars are inverted from rear to front putting Wayne Morris on the pole followed by Phillip Bessett, Donny Williams, Timmy Todd, Jr., Mike Soukup, Patrick Thomas, Bart Weatherford, Steve Gainey, James Wright, III., and Josh Hermann.

On the green, it is Morris, Bessett, Williams and Todd doing some side-by-side, and Soukup. With no caution in segement 3, Morris leads the way to the checkers followed by Patrick Thomas, Steve Gainey, Timmy Todd, Jr., and Mike Soukup. With one lap to go, Thomas gives it his best shot to pass Morris but Morris holds.

The top 3 cars are teched and the 56 of Morris is dq'd giving the win to Patrick Thomas who wins the $500.00 gift certificate from ARP Bodies. After tech, the top five are Patrick Thomas, Steve Gainey, Timmy Todd, Jr., Mike Soukup, and Bart Weatherford.

OFFICIAL RESULTS
SOUTHERN SPORTSMAN SHOOTOUT 75
NEW SMYRNA SPEEDWAY, NOVEMBER 22, 2008

SOUTHERN SPORTSMAN SHOOTOUT 75
1. #25 Patrick Thomas, Oveido
2. #79x Steve Gainey, Bradenton
3. #25x Timmy Todd, Jr., St. Cloud
4. #45 Mike Soukup, Deltona
5. #1 Bart Weatherford, Lakeland
6. #111 Donny Williams, Mt. Dora
7. #98x Josh Hermann, Lakeland
8. #17 Phillip Bessett, Samsula
9. #156 James Wright, III, Auburndale
10. #16 Patrick Mennenga, Bellview
11. #69 Don Milam, Bellview
12. #98 Roger Welch, St. Petersburg
13. #30 Richie Sheppard, St. Petersburg
14. #3 Duane Best, Sarasota
15. #01 Travis Roland, Lake Alfred
16. #44 Ed Michalak, Titusville
17. #13 Aaron Williamson, Mulberry
18. #55 Richard Elkins, Jr., Auburndale
19. #05 Steve Redditt, Orlando
20. #7 Tom Raiser, Naples
21. #35 Rick Kase, Odessa
22. #77 Wayne Jones, Athens, GA.
23. #49 Jason Foster, Melbourne
24. #67 Jimmie Best, Sarasota
25. #56 Wayne Morris, Mulberry DQ'D

Have an opinion on this story? Post a message on our Message Board! or Email KARNACto send a letter to the editor!
---