FRONT PAGE ARTICLES
2000 Racing Season

January 2, 2001

NASCAR Drivers Help Race For Kids Sake





The Second Annual Race for Kids Sake has been scheduled for January l6th at New Smyrna Speedway. This annual benefit is put on by the Big Brothers/Big Sisters of Volusia County, a not-for-profit community service organization dedicated to providing adult friendships to children who need positive role models and mentors. Big Brothers/Big Sisters gives single parent childr...

---
December 31, 2000

Neumann Reigns at Citrus Enduro 2000



Brisk winds and cold temperatures couldnt keep 40 Enduro Cars away from the Dunkin Donut Citrus County Speedway 3rd Annual Enduro 200.
Starting positions were not really all that much of an advantage to the drivers for the 50 mile 2 hour race that saw only four caution red flags.

Local drivers Don Teague and Herb Neumann Jr. took the green flag from the front row and Teague set the pace for the first 10 laps, giving way to the pressure from Neumann Jr. at that point. Neumann saw...

---
December 29, 2000
Florida Driver of the Year 2000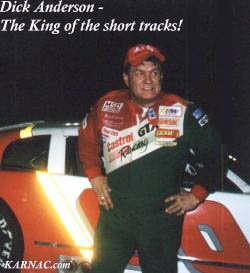 In a year that saw lots of exciting new talent emerge onto the Florida racing scene, particularly in the late model wars, and veterans such as Ricky Carlton, James Powell III, Jimmy Cope and Mike Franklin Jr. each having excellent seasons, an old timer stood out as the Florida Stock Car Racing Driver of the Year.

Dick Anderson, known around the state by v...

---
December 27, 2000

Citrus County Speedway Enduro 200



Having racing season withdrawals after it's all over at your local race track? Well, just when you thought it was all over but the shouting, Citrus County Speedway has one more "last hurrah" before the speedway calls it 2001. Mark Saturday afternoon at 2 P.M., December 30th down on your racing calendar because it's the 3rd Annual Citrus County Speedway "Dunkin Donut Enduro 200" for $10,000 to win. Add a wild Demolition Derby for $800 to win and you are going to have a wild afternoon of racing ac...

---
December 27, 2000

New Year's Eve of Destruction



Punta Gorda, FL - The annual New Year's Eve of Destruction and Hangover Enduro 250 takes place at Charlotte County Speedway on December 31 and January 1. This family alternative to the usual New Year's reverie is a tradition with local race fans.

The New Year's Eve of Destruction takes place on December 31. Special racing events include a 50-lap Women's Enduro; a Men's/Women's Switch-off Enduro; 20-lap Reverse Race; 4-Car Elimination Drags and Fan Participation Oval Drags. A 10-lap...

---
December 8, 2000
Cale Yarborough's name is synonymous with success in NASCAR racing. His three NASCAR Winstor Cup championships and 83 career victories make him a legend in the sport. Cale was born to race, but his friends say that he would have succeeded in any sport. Known as a daredevil, who loves a challenge, he will try just about anything. From his first solo airplane flight at age 13 to hang gliding: from boat racing to stock car racing. Cale loves to go fast. To quote Junior Johnson (another NASCAR legen...

---
December 8, 2000

Salute to Racing 2001 to Feature Cale Yarborough



His name is synonymous with success in NASCAR racing.

His three NASCAR Winstor Cup championships and 83 career victories make him a legend in the sport. Cale was born to race, but his friends say that he would have succeeded in any sport. Known as a daredevil, who loves a challenge, he will try just about anything.



---
December 7, 2000
Pete Orr is one of the most well known and respected stock car drivers in the Sunshine State, but is also sought out as an expert in preparing drivers and cars for competition. Pete has crewed for the likes of Junior Hanley and Darrell Waltrip, and has raced in many levels of top level stock cars inclduign the NASCAR Busch Grand National series. Orr is currently working as Crew Chief for late model driver Travis Kittleson, and has consulted with countless other racers in his career, but his new ...

---
November 22, 2000
by Jane Smith
After the thrills and spills of last weekend's Triple Crown, Orlando SpeedWorld will hold it's last racing event until March 200l this Friday, November 24. The Classic Cars and Dwarf Cars will run, the Classics for their National event, and there will be the ever-popular CRASHARAMA Night. School Bus Figure 8 races, camper-trailer races, boat-trailer races and even a Jet Car. But during the intermission there will be a special race - BEAUTY AND THE BEAST.

Brevard C...

---
November 22, 2000
CLASSIC AUTO RACING SERIES CLOSES OUT 2000 SEASON THIS WEEKEND

The Florida region of the Classic Auto Racing Series closes out the 2000 season this weekend with races at Orlando Speedworld and New Smyrna Speedway. The Classics will join the Dwarf Cars as the only two "racing" classes on Friday night's Crash-A-Rama show at Orlando Speedworld. The Classic Cars will qualify and run a 30-lap feature.

On Saturday, the action shifts to the high-banked half-mile New Smyrna Speedway where the Classics will go 50 laps for the firs...

---
November 22, 2000

ORLANDO SPEEDWORLD WRAPS UP 2000 SEASON



by Dave Westerman
Orlando Speedworld has crowned its champions for the year 2000 in five racing divisions.

The big story of the year 2000 was Super Late Model driver Travis Kittleson of Merritt Island. In only his second year of racing, Kittleson won the Speedworld Super Late Model championship in excellent fashion. With sponsorship from Bob Steele Chevrolet of Cocoa, Kittleson raced to nine wins, two seconds, and four fourth place finishes to claim the title.

1999 Supe...

---
November 20, 2000

The Run for the Triple Crown



by Jane Smith
Haulers and drivers greeted the FASCAR staff last Friday, as 32 of Florida's best Super Late Model drivers waited to unload and practice for the first race of a three day event for the Sunbelt l25 Triple Crown. It was quite the sight to see as the round track drivers waited with their haulers and the Night of Fire drag drivers waited also to get into their pits.

As the sun went down and the stars and moon began to peek their sleepy eyes, the night air called for ...

---
November 20, 2000
By Jack Smith
The track billed as the 'South's Fastest Short Track' was the place to be on Sunday afternoon as race fans and drivers from all over the Sunshine State came together for a day of great fun and lots of racing action. The day saw the birth of the Street Stock Nationals and the crowning of the first Triple Crown Champion in years.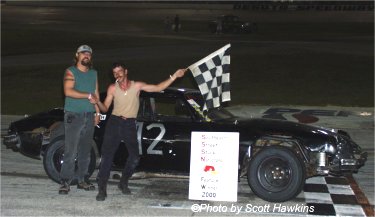 Dennis Wilson, Jr. and...

---
November 20, 2000

Dick Anderson Takes Triple Crown Championship



by Ken Willis
DeSoto Speedway closed out the 2000 racing season with a roaring afternoon of stock car racing that featured Dick Anderson of Wildwood winning the third leg of the Super Late Model Triple Crown event.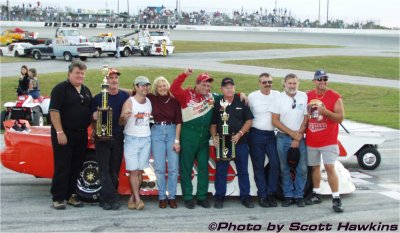 Coupled with a third place finish on Friday at Orlando Speedworld, a second place finish Saturday at New Smyrna the win also gave Anderson the Triple Crown cha...

---
November 19, 2000
by Rick Anges

On Saturday the 18th, something I and a few other people have worked very hard on will become a reality, practice and qualifying for the first ever Southeast Street Stock Nationals with the race on Sunday the 19th. When I started working with Jack here at KARNAC I had no idea how fast things would start happening for me. I started out just writing the weekly race report for Desoto Speedway. I got to do an article on the ASA opener that year and that was actually my f...

---
November 6, 2000

Renegade STARS Coming to East Bay Raceway



by Bret Emrick
Nine months and 30 races after starting the 2000 racing season the Renegade STARS Racing Series championship will be decided at the same place where the campaign started, East Bay Raceway in Tampa (Gibsonton),FL. Entering the $160,000 "Fall Nationals" at the semi-banked 1/3rd mile current point leader Chub Frank of Sugar Grove,PA clings to a 380 point margin over 1989 and 1990 STARS champion Mike Balzano of Parkersburg,WV.

The three-day event with a three-day pur...

---
November 5, 2000

Carlton Tops In Florida Pro Late Models



by Marty Little
INVERNESS, Fla. - Having home track advantage of his side, Florida Pro Series points leader Rick Carlton jumped from the outside pole and led all 125 laps to win Saturday night's tour event at Citrus County Speedway.

Aboard the McNatt Plumbing Chevy, Carlton set fast time then drew the outside of the front row on the redraw and when the green flag flew he out jumped teammate Robbie Yaokum for the lead. This lead duo, with hundreds of laps on the banked quar...

---
November 5, 2000

Todd Freed Jr. Takes First Win in DeSoto Mini-Stocks



by Ken Willis
Last Saturday night at DeSoto Speedway three divisions boasted first-time winners and the track suffered the first known fog-out of the last two races. With the Callaghan Tire Open Wheel Modified 50-lap event just getting under way a heavy fog rolled in, giving the 90 mph race cars the appearance of ghost ships blazing out of the dense mist. After a barely seen mishap on the backstretch officials decided to call off the race and the TQ Midget event. "It was just too d...

---
October 26, 2000
by John Matthews
(KNS) October 26 - A second public hearing on the proposed Melbourne Speedway was held Wednesday night at the Brevard County Government Center in Viera, FL. A mixed crowd of over 250 supporters and opponents filled the meeting hall. County Commissioner Sue Carlson hosted the forum.

Melbourne Speedway is a proposed racing complex that will be located west of Interstate 95 off Eau Gallie Road. The complex will include a quarter mile drag strip, 0.4 mile asphalt r...

---
October 24, 2000

SARA Series Crowns Champion at USA International Speedway



by Scott Hawkins
There was no doubt the final race of the 2000 BMD Title Loan Late Model Series was going to be a night to remember for many racers. Legendary driver, Cale Yarborough, joined the field of SARA regulars in the only race he would run all year. You could sense the excitement from drivers and fans alike whenever Cale would make an appearance. It was a great opportunity for everyone to get an autograph or a picture with a true racing legend, and the three-time NASCAR Winston...

---
October 24, 2000

A Veteran and a Rookie, Winners in Classic Cars



By Dave Westerman
Defending point champion Rodney Eary got back on track Saturday night at Ocala Speedway, while the tough Ocala racetrack continued to produce first-time winners for the Florida Region of the Classic Auto Racing Series. Two features were run during the evening with the first being a make-up event for an August 19th rainout.

The first 20-lapper was the opening event on the race card, and it was David Nunes using his outside pole slot to take a solid lead as a ba...

---
October 24, 2000

Putting Smiles on Children's Faces





Let's Do It!


By Jane Smith
(KNS) It is that time of the year when it is better to give than to receive and as we all know, Christmas is still the time for children, giving, and unselfish love. However, not all children are lucky enough to have parents, but some do have a home where someone loves them and cares for them. Central Florida Children's Home and The Newlife Children's Home are non-government supported homes that do just that, give alot of love and care to...

---
October 22, 2000

Chip Shell Nabs Elusive Victory at Lakeland



By Rick Anges

(KNS) Oct 21, 2000 - USA International Speedway was the place to be Saturday night as the NASCAR Goody's Dash Series, the SARA Late Model series, and the PARTS Pro Trucks were in town for a combined 300 laps of high-power action on the 3/4-mile banked oval. All three series provided nail biting, fender crunching, side-by-side action all night.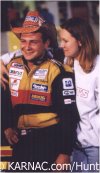 ---
October 19, 2000
Since this story ran on Wednesday, the amount of the award has been raised to $2500.00, according to reports sent to KARNAC.com.

(KNS) October 19--KARNAC.com learned late Wednesday, "a reward of $1000.00 has been offered for information leading to the arrest and conviction of person or persons who caused severe injury to Kevin McMullan." McMullan, 33, was severely beaten in the infield pits immediately after Saturday night's Governor'...

---
October 19, 2000

Coast to Coast Florida Racing



(KNS) School Bus Figure Eights qualifying is on the regular show card for this Saturday Night, October 21st, at Sunshine "ACTION" Speedway. Due to the remarkable number of pre-entry sign-ups, which number over 30, qualifying will be held on October 21st to set the field for the November 11th Main Event.

Sunshine announcer Bill Green said people can "use this opportunity to entertain business clients, employees, or have a family gathering, but don't miss a night of the racing "ACTION" wh...

---
October 16, 2000
Winning The Governor's Cup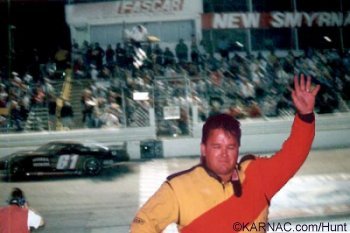 (KNS) You knew it was going to be a night to be remembered. The moon, a few clicks past full, crept into the eastern sky and the ground shook with the deep rumble of 35 thunderous late model stock cars on the eastern cast of Florida. The prize was the Cup. Jimmy Cope proved in the end to have been the one who earned it.

Cope qualified and started in 15th position and immediately be...

---
October 16, 2000

Jimmy Cope Wins 35th Govenor's Cup



(KNS) On Lap l53 of the 200 lap Governor's race, Wayne Anderson and David Rogers were fighting it out.

Neither had the lead but they both wanted it and the second place position. What happened will remain etched in my mind and the minds of many for quite a while.

Thirty six of Florida's best Super Late Models came for one reason, to see their name on the G...

---
October 9, 2000
Florida's Governors Cup
Time seems to have a way of flying by, it goes faster as each year passes. This weekend, October l4, will be the biggest Super Late Model race that Florida has - the Governor's Cup. Besides being one of the longest, by the number of laps in this race, it is also the one race that every Super Late Model driver wants to win. Having your name added to that trophy is one of Florida's stockcar racing goals.

Come this Friday, New Smyrna Speedway will see small...

---
October 9, 2000

A POINTS RACE AGAINST THE BOND OF BROTHERHOOD AND FRIENDSHIP



I walked into the pits, like I usually do on Saturday nights, and I scanned the area to see who had already arrived and to get an idea of what kind of racing we'd have tonight. I always look for new faces and new cars. I always hope that tonight we will have more racers than last week and tonight we can show the new drivers and their families that we are a good bunch of people who welcome them and hope they will come back.

I saw my very dear friends John, Della and Bill Smith. I went ov...

---
October 3, 2000

Auburndale Ready for Change!



Tuesday, Auburndale Speedway becomes the latest race track in the State with new ownership in the changing landscape of Florida stock car racing.




J.T. Beard purchased the Auburndale Speedway and adjacent properties for 1.1 million dollars nearly a year ago, and has already begun the process of refurbishing and painting a new face on the speedway. The track is part of the wh...

---
September 29, 2000
Wednesday Night is Showtime!

Checkered Flag Racing in Opa-Lacka, Florida and Thundercross Motorsports Park in Okeechobee, Florida have signed on as sponsors of the KARNAC.com Racin' Talk Radio Show. The show premieres Wednesday, October 4.

Checkered Flag Racing operates a full service race car shop and is a dealer for all major name brand racing equipment. Owner Big Al Styer has been in the race car fabrication business for 25 years, and is ve...

---
September 26, 2000
By Connie Winningham

In 1949, William Myers, a young, 18-year-old boy was stationed and in training at the Army Chemical Center in Maryland. "Nearly every day", he said, " a 1937 Ford with no fenders came racing up and down the road near my barracks". "One day, I saw the car at a local gas station, and I was so intrigued by the car and the speed, I couldn't resist pulling in and finding the man who owned it." The man turned out to be Mr. Bob Wallace.


---
September 24, 2000

Rollin' with the changes at DeSoto Speedway



A new era began at DeSoto Speedway Saturday night as John Sarppraicone took the helm of the "South's Fastest Short Track." The enthusiasm was evident in the driver's meeting before the races, driver's, crew chief's car owner's and the just the curious on lookers were there just to take a look at the man who will guide DeSoto into the 21st century. Changes were already in place and one of them is the placement of a new Track Director Dick Proulx also Burt Thomas returns to the DeSoto flag stand t...

---
September 21, 2000

A new era begins at DeSoto Speedway



John and Camille Sarppraicone, originally from Long Island, New York, are now the owners of DeSoto Speedway. The announcement was made today that the former NASCAR driver and assistant tech official for the Florida Pro Series takes ownership of the South's Fastest Short Track effective immediately. "This will be a family run business," Sarppraicone said. "I plan to be a hands-on owner and I'll be here five to seven days a week. We're going to start from scratch to bring it back a family at...

---
September 15, 2000

It Is Definitely Worth a Try



by Jane Smith

Lately, I have set back and let others do the talking for me. I have listened to drivers from Sunshine to Hialeah speak about this sport that we all love so much. It is not the sport itself that is causing so much pain and unrest, but the cost of having fun today.

When compared to the cost of tires and gas to race say a Late Model maybe twenty years ago, surprisingly it is not that different than today. Twenty years ago you could run Goodyear, Firestone, Hoos...

---
September 14, 2000
By Robin Meiser

In the past month, the Charlotte County Speedway road warrior division has had to bury two of its heroes, Paul Pojafsky and Ron Dushek, Jr. Both were very special men with a great sense of humor and hearts as big as all outdoors. Hidden inside those big hearts were time bombs ticking, waiting to explode.

And explode they did, while both of these wonderful men were navigating four wheel vehicles. Scary, isn't it? It had to be even scarier for Paulie's 10-y...

---
September 12, 2000

Dirt Modified Association Set to Race At Volusia Speedway Park



A new dirt racing series featuring modifieds is getting underway with the first race in Florida at Volusia Speedway Park set for the end of this month.

Organized under the name Southeast Dirt Modified Association, the new series is the creation of Floridians Gary Gross and Jerry Morgan and will be modeled closely upon the International Motor Contest Association (IMCA) and United Midwest Promoters(UMP) rules.

It is described by Gross ...

---
September 11, 2000

by Sean Scampton

The Thrill Ride at Sunshine "Action" Speedway, driven by Billy Mowery, has been a favorite among spectators in the stands, especially those lucky enough to acquire a winning ticket. To some, it seems just as valuable as a winning lottery ticket. Numerous people have been winners and have experienced the sheer excitement of a typical driver's night at Sunshine.

Clara Mae, you all pr...

---
September 10, 2000

Charlotte County Honors One of their Own



Punta Gorda, FL - For the second time in a month, the Lee's Auto Repair Road Warrior division raced in honor of one of their fallen comrades, Ron Dushek, Sr. (Fort Myers) who passed away on September 2 of heart attack. Dushek's son, Ron, Jr. who also races in the division filled the outside row with his cousin, Big Al Welling (Cape Coral), and Lil' John Hanuschik (Cape Coral) behind in the second row during the Missing Man Formation tribute to the senior Dushek.

"Tipover" Terry Price (Pu...

---
September 4, 2000

James Powell III Wins in Florida Pro Series



Ellisville, FL (September 2, 2000) James Powell III, driving Mark Cowherd's familiar #37 A Natural Difference Skin Care Products late model, held off a hard charging Mac Johnson to win the 125 lap Florida Pro Series event at Columbia MotorSports Park Saturday night. Powell became the series only two-time winner of the year having previously won the FPS event at Columbia MotorSports Park in May.

Powell was driving a new Hamke Chassis Chevy Monte Carlo out of the Gilbert Allen Racing stabl...

---
September 4, 2000
Benefit For Shaun Farr Set for East Bay Raceway

On July 15th, 18 year-old Shaun Farr, a rising star in the popular Tampa Bay Area Racing Association Winged Sprint Series, was seriously injured in a crash at Florida Speed Park in St Augustine. Shaun was taken to Shands Hospital in Jacksonville, where he fought for his life in the Intensive Care Unit for many weeks. After a stay in another facility near St. Augustine, Shaun was moved to Tampa General Hospita...

---
September 3, 2000

Charlotte Racing Community Mourns Loss of Road Warrior



The following press statement was issued by Charlotte County Speedway officials Sunday afternoon:

[Punta Gorda, Florida - Charlotte County Speedway staff and management joins the local stock racing family in mourning the loss of Ron Dushek, Sr. of North Fort Myers who died while racing in the road warrior division of apparent natural causes on September 2, 2000. The racing program at the Speedway was cancelled after paramedics transported Mr. Dushek to Charlotte Regional Medical Cente...

---
September 3, 2000
HOMETOWN BOY WINS COMEBACK RACE
By Jane Smith

Derrick Kelley, one of the hometown favorites at USA International, won last night over David Pletcher's #51 by a horsehair. Kelley, making his first return appearance in the Hooter's Pro Cup series in four races, came back with a new car number and a determination to win. David Pletcher, racing race by race because of lack of sponsorship, also was determined to show his stuff. Between ...

---
August 30, 2000

Labor Day Weekend - Fast and Furious!



This weekend the Sunshine State will offer something for every race fan's appetite.

USA International Speedway hosts the United Speed Racing Alliance sanctioned Hooters ProCup for the third time this year. The talent that has emerged in the series in 2000 has certainly brought the competition to a completely new level. Young stars Brian Vickers, Jon Wood, Regan Smith, and Clay Rogers, are battling on even terms with veterans like Bobby Gill, Mario Gosselin, and Jeff Agnew, Charlie Ford. ...

---
August 26, 2000
By Gil Peck

Sometimes you wonder how they go on. They-- the race drivers, their family, friends,and most of all thier fans. Yes the fans, they are the big losers when an event has to be cancelled due to weather. Despite all the pent up anxiety in the gut of the driver, and the anticipation of his loyal legion of followers, the hopes for the night, the WIN, the trophy and championships, that lie ahead, there remains one true and common thought. "Can we get the race in? Will the r...

---
August 20, 2000

Charlotte Road Warriors Honor Fallen Driver



Punta Gorda, FL - The first annual Lee's Auto Repair Paul Pojafsky Memorial Road Warrior Race took place at Charlotte County Speedway on August 19. The popular Pojafsky died several weeks ago of a massive heart attack while driving in a rain storm in Lee County with his 10 year old daughter, Kelsey. Fortunately, young Kelsey had the fortitude to bring the vehicle to a safe stop despite her father's foot being stuck on accelerator and then getting out of the car to try to flag down help in the to...

---
August 20, 2000
By Sean Scampton

Figure-8's have been the ultimate crowd pleasers. Every week, an average of about 12 men get into their beat-up cars, ready to blaze through that intersection fearlessly. Spectators admire their courage in awe as they dive through the X, nearly escaping serious injury from another crossing the same X. The only thing more thrilling than watching them, is driving them.

Many racers in the USA have dreams. I myself, a current 14-year-old sprint kart driver, hav...

---
August 19, 2000
(KNS Aug 19, 2000) Last night at the high banked, 3/8-mile oval of Orlando SpeedWorld, fans were delighted to see some of Florida's finest Super Late Model drivers. Although the race did provide those hang-on, fingernail gripping, tongue biting moments, NO ONE was hurt. A few tempers did fly but no helmet throwing or car banging was done.

For all the fans that could not make it to Orlando, the list of drivers and where they started was as follows: Shane Sawyer (pole), Ricky Carlton (outs...

---
August 18, 2000

KARNAC .com Hits the Airwaves



For the latest on the show follow this link: Racin' Talk Radio

(KNS Aug 18,2000) Florida Stock Car Racing has been in the business of supplying you the race fan (not only here in Florida but across the country) with news, hopefully some entertainment, and enabling you to have an interactive role in the racing community for the past three years.

It's that interactive part that causes the problem.

Last y...

---
August 17, 2000

Classic Cars back in Action at Ocala



The Classic Auto Racing Series gets back in gear this Saturday night 8/19 at Ocala Speedway and point leader Rodney Eary of Orlando can't wait. Eary has taken both events held so far this year at the Ocala speedplant and has a total of six wins. But Eary hasn't won since June 3rd at Thundercross in Okeechobee and desperately wants to return to victory lane at a track that has been very good to him in recent races.

Orlando's Ed Yates, who picked up the win in the latest C.A.R.S. event at ...

---
August 12, 2000
Whose Responsibility Is It??
By Jane Smith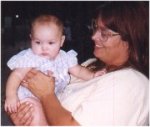 Once again the message board is on fire and this time, some of it is being blamed on kids. Whether or not that is true, I don't know but even if it was kids making the posts, where did they get their attitudes???

Drivers, crew members, owners, track personnel, we all have a responsibility to the kids that watch the races and the ones that eventually become racers. ...

---
August 9, 2000



By Rick Anges
(KNS) You have seen them on all the big names, Richard Petty STP, Dale Earnhardt GM Goodwrench, Rusty Wallace Miller Lite, the list goes on and on. These people spend millions of dollars on the men and their machines just so their product can be displayed in an arena of specialized people, Race Fans! Who among us can't say that when it came down to buying a box...

---
August 1, 2000

Eighteen Drivers of 20-Car Field Complete 40-Lap Southeast Motorsports Dirt Racing Feature at Okeechobee



(Okeechobee, FL; 7/29/2000) John Choquette of West Palm Beach, Florida took advantage of being in the right place at the right time, for the second time, and parlayed the opportunity into another Southeast Motorsports Dirt Racing series victory, Saturday night at Thunder Cross Motorsports Park in Okeechobee, FL.

Choquette, pilot of the the C&C Loader Service/Progressive Engines/Masterbilt #97 Monte Carlo captured the $4,0000 winner's check after leading wire-to-wire from the pole positio...

---
August 1, 2000

Jason Boyd And Jerry Symons Get Big Wins At USA International Speedway



The SARA BMD Title Loan Late Models and Bearden Oil Open Wheel Modifieds roared into the USA International Speedway last Saturday night to do battle on the mile facility. Jeff Scofield would come into the night leading the Late Model points race by 36 points over Bobby Beauchemin, and Jerry Symons leading the Modified Series by 55 points over Larry Martin. Forty-Five Late Models would come to the Lakeland, FL track along with 22 Modifieds. Chip Shell would take the ARP Racing Bodies Fast Qualifi...

---
July 30, 2000

Flag to Flag Night at Lakeland



PHOTOS FROM USA INTERNATIONAL

(KNS) Lakeland,FL The pits were overflowing Saturday night at USA International Speedway with some of the top names in Florida stock car racing like Cope, Anderson, Boyd, Dempsey, and Symons. It was easy to tell that this was going to be one of those magic race nights......

Qualifying got underway for the SARA Sportsman class, and right away you coul...

---
July 27, 2000
Jason Overstreet Making a Return to Florida Racing
(KNS) Jason Overstreet, Truck Chief for the #2 of Mike Wallace in the Craftsman Truck Series, is one of the drivers preparing for Saturday night's big late model and modified show at USA International Speedway.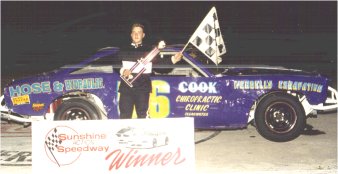 Jason Overstreet is a former Sunshine racer and feature winner



Jason, now living and working with the Wallace team in No...

---
July 26, 2000
USA International Speedway to Showcase Florida's Best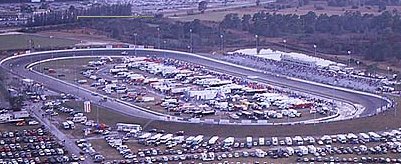 (KNS)Last year about this time the top drivers in the state all got together at USA International Speedway in Lakeland, Florida to race Pro Late Models, Limited Late Models, and Open Wheel Modifieds. Some of the them 'got together' a little more than they wanted to, as many drivers dealt with the lightning speed of USA's 3/4 mile high banked racetrack for the first time in thei...

---
July 26, 2000

GRAND OPENING FOR HIALEAH SCHEDULED FOR JULY 29TH



(KNS) Hialeah Speedway will roll back time this weekend as they celebrate the re-grand opening of the track they saved. Hialeah was almost a track "memory" until the South Florida Racing Alliance took over the track after a three week closing.


Mike Kay, the new promoter for Hialeah, says that the clock will be rolled back for the 29th giving the fans 50 cent hot dogs, 50 cent draft beer and soda. All...

---
July 26, 2000

A race whose time has come



(KNS)They race everywhere, the backbone of racing as we know it. Men and Women whose spirit drives them to pour their hearts, souls and pocket books into their machines to make them competitive each and every week.How often do we get to read their names in the newspapers? See the name flashed across the TV screen on the 11 o'clock news? Not often enough if your a true race fan. Well things are about to change....... CLICK...

---
July 21, 2000
(KNS)A week from now, Orlando SpeedWorld will have packed grandstands both in the pits and fan sides. Why? Because on July 28, not only will there be School Bus races but Camper-Trailer races and Allison cars and a demo derby. A night that young fans love and old fans get a kick out of. Watching those big, yellow buses going around in a figure-8 sometimes tilting slightly to the side, just about to roll and then right itself, well, that is something to see.

And Camper-Trailer races, if y...

---
July 20, 2000
(KNS)Last weekend, 17 year old, Shaun Farr, a rising star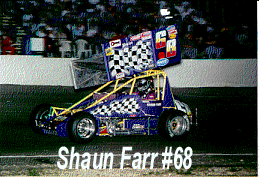 in the popular TBARA Winged Sprint Series, was seriously injured at Florida Speed Park. As of this writing, Shaun is still in intensive care at Shands Hospital in Jacksonville.

At some race tracks across the state, drivers will go into the stands with their helmets in their hands to take donations to help offset the tremendous costs the family will be incurring...

---
July 17, 2000
Fultz Grabs "ALL PRO" Victory
Nabs Slim Jim All Pro Series NASCAR Touring Points Lead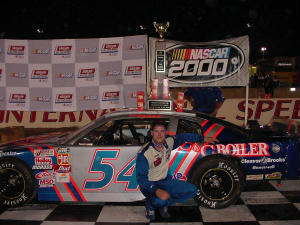 (Louisville, KY; 7/15/2000) Many people didn't give Cincinnati, OH driver, Jeff Fultz, a good chance of winning the $54,950 NAPA Auto Parts 300 after the motor blew in his primary car during afternoon practice. Perhaps no one asked Fultz or his teammates about their chances though.

At Louisville Motor Speedway on Saturday night, after switching some suspe...

---
July 16, 2000

Last Lap Crash Halts FSP Racing Action



(St. Augustine, FL; 7/15/2000) On a night marred by the tragic incident involving Shaun Farr on the last lap of the TBARA Winged Sprint race, Chris Manucy won the second annual Alpha Communications Hobby Bowl at Florida Speed Park, beating out rival Jody Stratton to claim the $1,000 winning purse. Rookie Glenn Nedrow posted his second third place finish of the season in the 50-lap event. Results were finalized Sunday afternoon following a post-race tech inspection delayed by the sprint car acci...

---
July 14, 2000

Meet Some of Florida's "No Name" Florida Pro and Sunbelt Racers



(KNS)When the Florida Sunbelt race comes to USA International in Lakeland on July 29th, check out the Rookies and the Pros.



After the Florida Pro race last weekend in St. Augustine at Florida Speed Park, there were alot of rumors going around that Florida Pro was going out the door. It is true that a few races have been cancelled, but Florida Pro is far from over. This great series started back in l993 with Shane Russ...

---
July 10, 2000

Adams Battles to Lanier USCS Victory



(Gainesville, GA; 7/8/2000) Kenny Adams of Malabar, FL led the United Sprint Car Series (USCS) 40-lap main event across the finish line Saturday night at Lanier National Speedway, but not before doing battle with Georgia's own pole-sitter Pete Walton of Fayetteville.

The flying Walton streaked to nearly a straightaway lead before scorching his right rear tire and having the fleet Adams start to reel him in.

"I saw him just pulling away from me, and I said man, Petey's really go...

---
July 10, 2000

Ricky Carlton Wins Florida Pro at Florida Speed Park



(St. Augustine, FL; 7/8/2000) Jonny Kay in his #48 supercharged Florida Pro Late Model won the pole on Saturday, July 8, at Florida Speed Park by turning a 16.683 lap. Nineteen of Florida's best Late Models came to Florida Speed Park in hopes of winning the race.

Justin Drawdy of Fort Pierce had the outside pole for the race after pills were drawn by the top 10 qualifiers. Shane Russ, points leader of the Florida Pro Series, was excited about his first race at Florida Speed Park but coul...

---
July 6, 2000

Why Are They Still Booing?



As adults and racefans, sometimes we are definitely wishy-washy. OK, you have liked Jeff Gordon since his sprint car days and his Ford Baby Ruth days. Then after he won that first championship and started making records of his own, he was OUT. OUT to his fans, but not all fans. The real "diehard" fan is the 8, 9, l0, ll, 12-year old who wears that t-shirt and hat proudly, and who never changes his loyalty no matter whose record is broken or whose toes are stepped on.

Last Saturday, as my...

---
July 3, 2000
Jason"The Heartbreak Kid" Lowe Story


My name is Jason Lowe. I race the #4 Modified at Florida Speed Park. The year 2000 marks my return to racing after a two-year ordeal that is the focus of this story.

Prior to racing modifieds, in 1990, 91, and 92, my father, brother and I raced sportscars.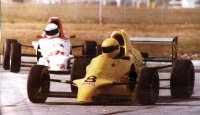 I had the pleasure of winning races at Daytona International Speedway, Sebring...

---
June 28, 2000
In the Still of the Night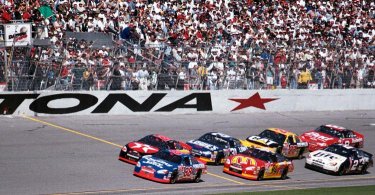 When most of us are in bed or watching late night tv, there are wonderous things happening out there on I-95 and I-4 around Daytona Beach. Brightly colored trucks filled with two race cars and numerous parts are making their way to the Daytona International Speedway and 3 days of ever-thrilling, always exciting, roundie round asphalt stock car racing.

As the rigs get closer and closer to the Speedway, fans star...

---
June 28, 2000
Greg Leonard Nabs Win Number 9 at East Bay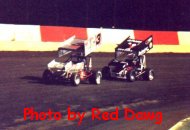 (Gibsonton, FL; 6/24/2000) Hot Shoe, Greg Leonard from Apollo Beach, fresh back from the 360 Nationals at Knoxville, easily steered his Kenny Mulligan-owned #3 sprint car to victory at East Bay. Leonard took the lead from 'Bubba the Love Sponge' in the Budweiser #98 on lap 5 and never looked back enroute to win his ninth trip to victory lane of the season. Brady Alvis (#22), Johnny Gilbertson (#8M), Casey J...

---
June 28, 2000

Adams Completes USCS Doubleheader Sweep at Thunderhill



(Thunderhill; 6/24/2000) Kenny Adams and company put the "Thrill upon the Hill," to quote an old song, and the United Sprint Car Series "Outlaw Thunder" 2000 tour inserted the Thunder in Saturday night's rained-delayed 30-lapper at Thunderhill Raceway. Adams, from Malabar, FL, picked up the win before the largest crowd in the speedway's 10-year history. As on the night before at Green Valley Speedway, Adams defeated 20 other drivers from 7 states to pick up his 7th USCS main event win in 2000. H...

---
June 26, 2000

Sherwood Sheds Monkey; Wins Street Stocks at DeSoto



Wayne Morris of Mulberry drove a methodical race to claim the feature win in the Southern Comfort Pools Limited Late Models 50-lap feature event at DeSoto Speedway Saturday night.

"I was pretty patient," Morris said. "The 17 (Jason Crossley) was driving hard and doing a real good job. I just felt he was driving a little too hard. I lost brakes and Joe Boyd got around me for a while, but he went out and I got second back. Sometimes, I think I'm a little too patient but it paid off this t...

---
June 26, 2000

Twin 125's Coming to New Smyrna Speedway on June 30th



As fans and drivers ready themselves for one of Nascar's favorite night races, the Pepsi 400, short track fans from around the state and out-of-state will also have bumper-to-bumper racing action on June 30th at New Smyrna Speedway when FASCAR presents the 2nd Annual 'Clyde Hart Memorial' 125 Sunbelt Super Late Models race and a Late Models 125-lap race.

Some of Florida's best Super Late Models drivers will be in the line-up like James Powell, Jack Cook, David Rogers, B.J. McLeod, Jimmy ...

---
June 26, 2000

$15,000 Up For Grabs at Citrus Saturday, July 1st



A full contingency of Late Models are expected for qualifying in the McNatt Plumbing 75-Lap Late Models Shootout at Citrus County Speedway, this Saturday, July 1.

Approximately $15,000 will be up for grabs in the biggest Late Models race of the year, and about 30 cars are expected to register to try and win the $3,000 purse plus contingency awards. Figure-8s, Limited Sportsman, Street Stocks, Mini Stocks, Hobby Stocks, Street Legal Junkers, and Fan Participation races are also on the car...

---
June 26, 2000

Sprinter, Sport Allen, Wins 15th Annual 'Jimmy Haynes Memorial'



(Inverness, FL; 6/24/2000) Citrus County Speedway hosted the 15th running of the 'Jimmy Haynes Memorial' Sprint Car race, and the fans were treated to a high-speed run they won't soon forget.

Three-time Little Indy 500 winner, Jim Childers kicked things off with a win in the first heat. Bo Hartley smoked the field in the second heat, and Todd Schmidt locked on to the point and the checkered flag in the third heat.

Twenty sleek, 750-HP, asphalt-pounding sprinters took the green fl...

---
June 26, 2000

Brad Barkis Takes Win Over Billy Bigley, Jr.



Punta Gorda, FL - Last week Billy Bigley, Jr. (Naples) won the inaugural Kentucky 150 NASCAR All-Pro Series race at the brand new Kentucky Motor Speedway. Bigley, the current All Pro Series Points Leader, was the fast time qualifier this week at Charlotte County Speedway for the second race of the Circle One Limited Late Models 6-Pack Series.

However, it was Brad Barkis (Fort Myers) and Joe Winchell (Davie) who started on the first row of the 100-lap race. Barkis managed to maintain fi...

---
June 18, 2000

Wood / McLeod Joslin Memorial Winners



Jerry Joslin would have been very pleased Friday night at Orlando SpeedWorld to see how many of his friends turned out for a night of modified and super late model racing to honor him and his father. This special night brought friends together once again and once again, it was hard to believe that we lost Jerry just a year ago. Many of his friends still remember that smiling face at the track and all his bright, shiny Dodge trucks.

They say sometimes you never know how many friends you h...

---
June 14, 2000

Kart Action from Lakeland



Our future drivers took to the track last Saturday night at the Lakeland GoKart Track for some hot and heavy action. Soon you'll be reading about these kids roaring around the speedways across the state and who knows maybe the next Gordon or D.E.jr are among them. So I figured maybe we should get to know some of the names. Tina Baker sent me the results from last Saturday so congratulations to all the winners and good luck to the rest of yall......Rick Anges

Novice ages 5-8 years old

---
June 9, 2000

Franklin holds off Anderson for Powell Memorial Win



The Fifth Annual Powell Memorial Late Model race was held under clear, breezy conditions at Ocala Speedway giving race fans an evening of first class late model racing action in the traditional Powell Memorial fashion. A full field of late model racers captured the excitement of the crowd and crews alike for a race, which will be talked about for some time.

The starting order of the event found Jack Cook of Holly Hill on the pole with James Powell on the front row outside. Behind the fron...

---
June 4, 2000

JOSLIN MEMORIAL SLATED FOR ORLANDO SPEEDWORLD ON JUNE 16TH



The eighth annual Joslin Memorial Night is slated for Orlando Speed World on Friday, June 16. The event was conceived by the late Dick Joslin's sons, Jerry and Jimmy, in 1993 to honor their father for his success and dedication to auto racing.

This year's edition will take on special meaning as Jerry Joslin passed away last September following a heart attack at age 42. Dick Joslin began his racing career on Central Florida ovals in 1948 and quickly chalked up wins at Sunbrock Speedway, ...

---
June 4, 2000

SARA EXPANDS WITH NEW TRUCK SERIES



The Southern Automobile Racing Association has announced the expansion of the SARA series into truck racing. This news comes on the heels of the disbandment of the Southern Pro Truck Series earlier in the month.

The new series is expected to run the same rules as the defunct Southern Pro series, and will pick up up some of the dates left vacant by the series. The first race will be June 10th at Charlotte County Speedway with possible future dates at Auburndale, Bronson, Hialeah, New Smyr...

---
May 27, 2000

Move Over With a Side Note



Jane Smith Responds to Readers
Once again, an article based on opinion and feelings has caused uncalled for reaction. First, yes, I am a woman but not a bitch unless you make me a bitch and then I can be Head Racing Bitch if I want to. Maybe I can and maybe I can't write, but that is up to more than just one person to decide. But, I do know what I want my child to learn from this sport and one fact that he needs to know in his young life is that you can't just do whatever you want to ...

---
May 22, 2000

Judi Martin - The New Breed of Motorsports Promoter



Judi Martin, the Marketing Director for the RaceCar College for the last year, has announced her resignation from RaceCar Engineering.
Judi Martin represents the new breed of marketing talent coming into the motorsports arena, bringing with her a diverse background of experiences. She says it's time to move on and will seek another challenging position in the world of motorsports.

A 1980 graduate of the University of Central Florida with a major in Marketing, as well as holding a Ma...

---
May 19, 2000

The 'Mod Squad' Comes to Florida Speed Park



Jacksonville based TEAM 17 RACING is set to finally debut their two car modified effort with sophomore driver Mark Bergman and rookie Gary Fultz at Florida Speed Park on May 27th. That's the date set for the special 'Mod Squad' event at the half mile speedway.



"Everyone involved is really excited about the chance to finally get both our cars and drivers in the field. It's been a challenge to maintain both cars ...

---
May 14, 2000

Kay Triumphant In Florida Pro Late Models



CORDELE, Ga. - Second year late model driver Jonny Kay headlined the Florida Pro Series' first venture out of the Sunshine State Saturday night as he ledwire to wire to win the 125 lap feature event at Cordele Motor Speedway. Kay, who was the fastest qualifier in the 24 car field, drew the pole following time trials, and quickly put his Extensions Plus Pontiac on the point when the green flag waved.

As the field worked the newely paved 3/8 mile oval, Kay led Todd Kuntze,defending ser...

---
May 14, 2000
Today is Mother's Day, a day to remember all the love in our lives from the women who have moulded and guided us to where we are. Some may have good memories, happy memories and some may be filled with sadness. And some may be mixed as mine are today.

Friday, racing lost a very young racer. A young man who was only starting his adventure in life. Adam Petty knew what could happen but I don't think most of us ever really think that it will happen. So when a life is taken thru a racing ...

---

In the 2000 season the issues of dirty driving and bad calls has stormed to the front of dirt track conversation. In the middle of all of the commotion is the track officials. I have to ask this question though, is it really their responsibility to keep the action on the track safe or fair?

It's my opinion that both are the responsibility of the drivers and the officials.

The official is a man (or woman, depending o...

---
May 10, 2000

In the "HEAT" of the Moment



The cars are roaring out of turn two, four drivers are battling hard for the lead, the points are so close that however they finish tonight is the way the will stand come Monday morning. As the second place car makes a move to take the lead the car in front drops low to protect his spot. In an attempt to miss him the second place car goes high, as he does he taps the third place car and both cars go spinning into the infield taking them both out of the hunt for the coveted win.

As the le...

---
May 2, 2000

Big Bonuses for Citrus Late Models



(Inverness, Fl.05/01/00) With late models having a tough time finding a race track providing stiff competition and a weekly payoff that will justify making the race worth while, promoters Billy Hooker and Steve Ziebarth have put out the challenge to all Florida Late Model drivers to come to where the money is. Opening the season with a weekly $1,000 win purse, it would appear that there is no limit and it continues to climb. Twenty-one of the last 30 races on the schedule are now sponsored and ...

---
May 2, 2000
JOHN CHOQUETTE HOLDS ON FOR SOUTHEAST VICTORY AT THUNDER CROSS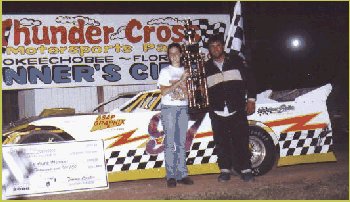 AS THE SAYING GOES ... TO FINISH FIRST.....YOU FIRST MUST FINISH
The Southeast Motorsports Dirt Racing Series made its way to Thunder Cross Motorsports Park in Okeechobee, Florida Saturday night. The stands were packed at the crisp new facility as the enthusiastic crowd witnessed one of the best Super Late Model programs of the 2000 racing season.

John Choquette of West Palm, Fl...

---
April 26, 2000
Jeff Fultz Winner in Slim Jim All Pro at USA International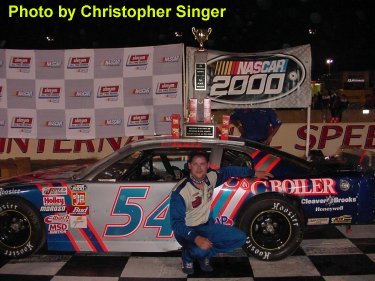 "It's been a long time since I've seen victory lane in one of these races, I was beginning to wonder whether I could still do it," exclaimed Fultz in victory lane.

During the week Cincinnati, Oh. native Jeff Fultz toils in the shops of the Jasper Engines & Transmissions-sponsored NASCAR Winston Cup Series team of Robert Pressley. On the weekends he drives the Cleaver Brooks/C&C Boilers/Honeywell Chevrolet in the...

---
April 25, 2000

Speedways Levy Fines And Suspensions



Two incidents this weekend resulted in driver and crew suspensions at Florida Speedways. Florida Speed Park in St Augustine and DeSoto Speedway in Bradenton both made strong statements about the level of professionalism they expect at their speedways.



Florida Speed Park issued the following statement today:

[Speedway officials announced today the levying of fines and suspensions stemming ...

---
April 9, 2000
Hialeah 'Powers' Back To Life!
A months ago many if not most people were sure Hialeah Speedway with its 46 year history was close to seeing it's last race. The management had essentially thrown in the towel, the tax man wanted $91,000 by the 15th of March, and that was just for starters. We asked the question:Is it the end or the beginning of a new era? There was...

---
April 8, 2000

The Butlers Did It! -- In the T. B. A. R. A. Sprints



Remember that old mystery movie line "The Butler did it"...well, add an "s" to that old saying and you have the T.B.A.R.A. Sprint results Friday night at Orlando Speedworld as the Butlers did it to the rest of a very competitive sprint car field.

The Butlers in question are Keith and Shane, son's of veteran driver Stan Butler. After Todd Schmidt took heat race #1, Keith Butler dominated heat #2 while younger brother Shane Butler ran off with heat #3. The only majoy incident of the enti...

---
April 6, 2000

Goody's Dash Returns To Florida Speed Park



NASCAR GOODY'S DASH GOLD STAR DODGE DEALERS 125 RETURNS FOR ONLY 2000 SPEEDWAY ENGAGEMENT
Race teams from throughout the southeast are putting the finishing touches on their cars and getting the haulers ready for the trip south to Florida Speed Park and the NASCAR Goody's Dash Gold Star Dodge Dealers 125, presented by Pabst Brewing and NAPA Auto Parts, this Saturday night.

Heading up this weekend's field, and heading the way south from North Carolina is two-tim...

---
April 5, 2000

THUNDER CROSS MOTORSPORTS PARK TO HOST SOUTHEAST MOTORSPORTS DIRT RACING SERIES



CALLAHAN, FL - (April 5, 2000) - The Southeast Motorsports Dirt Racing Series is set to invade South Florida with a 50 lap $3,000 to win Super Late Model program at Thunder Cross Motorsports Park in Okeechobee Florida.

Saturday, April, 29th a full field of Super Late Models will take the green flag for the third of twelve scheduled events on the Dirt Late Model Tour. With some of the biggest names in Regional Late Model action expected to be
in attendance, Thunder Cross officials are...

---
April 5, 2000

Mario Gosselin: A Racer Living A NASCAR Dream



The dream of big time NASCAR racing for most local short track racers is only that, a dream. But for Mario Gosselin, that dream is fast becoming a reality with his new contract to drive in five Busch Grand National events and three ARCA races this year.The friendly, fun loving racer who started at Hialeah Speedway 10 years ago is ready for a shot at the big time racing of NASCAR.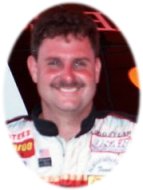 "I...

---
April 2, 2000

B.J. McLeod Ends DeSoto Drought



After some close races and hard luck 16 year old B.J. McLeod drove one of hell of a race Saturday night to take the Pro-Late Model feature at DeSoto Speedway.....

With 15 of the 23 cars qualifying in the 14 second range you could tell this was going to be one heck of race. Starting on the front row was #61 Jimmy Cope and alongside of him was the #7 of Darryl Shelnut. Cope jumped out to the early lead with a great start as he would all night long but it was the racing behind him that was ...

---
April 2, 2000

Two Veteran Midget Racers Die In Wreck at Bronson



Two veteran midget racers with the Daytona Antique Racing Association lost their lives in a crash during warm-ups preceeding their exhibition at Bronson Motor Speedway Saturday nite, April 1, 2000. Breck Semans of Beverly Hills, Fl. and Charlie Wherlin of Brick Township, N.J. tangled in turn one, causing both cars to leave the racing surface.

Despite heroic efforts on the part of track medical personnel, Levy County paramedics, and the ShandsAir helicopter medical team both dri...

---
March 27, 2000
Gill Drives Away With Hooters ProCup Win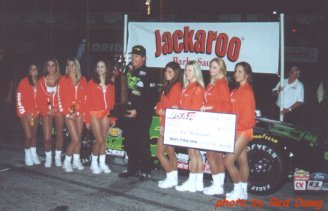 Bobby Gill, defending 1999 USAR Hooters ProCup champion, rolled to victory last night in the Jackaroo Sauces 250 at Florida Speed Park. Gill, who was victorious in the ProCup's last visit in November, became the series first repeat winner at the fast paved half mile.

Mario Gosselin raised the bar with his St. Augustine record qualifying effort, taking the pole in front of Gill...

---
March 26, 2000

Citrus County Season Re-Starts



After a three week layoff of racing activities at Citrus County Speedway, race starved drivers will get the command next Saturday to "Restart your engines." They will get an opportunity to try the new resurface on Thursday night, March 30th, in their first practice session since March 4th.

With only two races in the books for the 2000 season many racers had three more weeks to get their ride, race ready without loosing too much in the points races. A number of racers in all d...

---
March 26, 2000

Sonny Hughes paces 30 car LLM field at DeSoto



Bradenton,Fla. Sonny "Gumby" Hughes showed his experience on DeSoto Speedways high banks Saturday night by driving to a flag to flag win over 30 other cars and drivers in the Limited Late Model 50 lap feature.....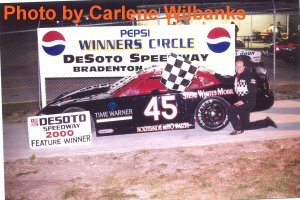 LLM drivers from all over the state converged on the "South's Fastest Short Track" Saturday night for the speedways 50 lap feature event. Also present were some familiar faces fr...

---
March 23, 2000

A Speedway to Watch in 2000 - FSP Ready For Hooters ProCup



The 2000 racing season began in St Augustine with a new name and a new sanction. The new name is Florida Speed Park and the new sanction is the American Racing Association, which is a weekly racing series and a touring late model stock series. The weekly series will complete for a track championship as well as a national championship based on a points system like that used in theTOP GUN Challenge last year.<...

---
March 19, 2000

SARA Modifieds: Another Great Show!



It what might been some of the best open wheel racing all year, Jerry Symons picked up the victory Friday night at Orlando Speedworld. It was a very strong field of cars including the 1999 SARA Open Wheel Modified Series Champion, and Rookie of the Year Driver, Perry Brown, Dwayne Dempsey, Robert Ham, Larry Martin, Joe Boyd and others.

Dwayne Dempsey would set the Jarrett-Bodiford Ford Fast Qualifier Award with a time of 14.000. Lee Collins from Immokalee, FL. would qualify second with a...

---
March 19, 2000

Bronson Speedway: A Night at the 'Bullring'



Herb Nueman, driving his beautifully prepared Monte Carlo late model, survived a series of spins and re-starts in a wild season opener for the LATE MODEL SPORTSMAN DIVISION and won the fifty lap feature at Bronson's famed " bullring" Saturday nite. 15 cars started the first event of the year for this special series that features the high-dollar cars running for large purses once per month.

After two false starts, the leaders got it on and it wasn't until lap three that the cars of Patri...

---
March 11, 2000

Commentary: Are You Ready For Prime Time?



Everybody knows what a race fan is right? Wrong! Let's see now, who really pays their money at the local short track on a weekend night in Florida? One group are the circle track combatants themselves, with their contingent of seconds wearing the team T-shirts and who are given the designation of crewman. Another group are the team owners, sponsors, or friends of the team owner, sponsor, driver or crew. Their job is to yell real loud and wave the car around the track as if that magical arm wave ...

---
March 10, 2000

Roger Welch - A Passion For Racin'



It was June 27, 1998 when Roger Welch brought home a trophy for his wife Jennifer's birthday. He won Sunshine Speedway's last Wet'N Wild event, starting on the pole and leading the entire race. With cars sliding all around him, he drove with caution and prevailed as the king of the wet asphalt. Roger began racing Enduros back in 1996 and soon became a top five driver. It was common occurance to see him charging from the rear to the front of the field in 15 laps to battle with drivers who had b...

---
March 8, 2000

NASCAR CHAMP, WAYNE ANDERSON, IS NEW MANAGER AT RACECAR ENGINEERING



Winter Park, FL. - Wayne Anderson, 1999 NASCAR Slim Jim All Pro Champion, has been named the new manager at RACECAR ENGINEERING! Not only was Anderson the Slim Jim All Pro Champ for 1999, he also won every major race in the State of Florida last year. This year Wayne plans to race in the Slim Jim All Pro Series, 5 ASA races, the SunBelt and Florida All Pro Series and various short tracks in the State of Florida. It will definitely be an exciting year in racing!


---
March 6, 2000
Kelly Huff Wins Fastrucks at Charlotte
The Fastrucks made their first appearance of the season at Charlotte County Speedway on March 4. This series is a combination of the American Race Trucks and Pro Series trucks. Eighteen trucks showed up to take the green flag. Kelly Huff (Naples), Kim Sheffler-Hays (Kathleen) and Todd Bontrager (Sarasota) led the field with a three-car freight train until Tovia Grynewicz (New Port Richey) broke an axle on the ninth ...

---
March 6, 2000

Special Report: Hialeah Speedway



In 1954 well before such modern amenities such as air conditioning and modern pesticides, home to 12 foot alligators, deadly rattlesnakes, and mosquito hoards big enough to scare even brave souls, a barren piece of marshland in South Florida was transformed into one of the most famous speedways in America.

Emerging from the peaceful beauty of the "River of Grass" known as the Everglades, Hialeah was opened on a muggy Sunday afternoon in July 1954 and the fans saw Al Powell win the first ...

---
March 6, 2000

Beauchemin Wins SARA Opener at Sunshine Action Speedway



The second stop on the SARA BMD Title Loans Late Model Sportsman series proved just how tough and competitive the racing would be all year long as rookies battled with seasoned veterans in St. Petersburg at Sunshine Action Speedway. Thirty-six cars would attempt to make the twenty-five car field, with the top sixteen locked in through qualifying and the remainder through two consi races and provisionals. The favorite going into the 100 lap event had to be the 1999 SARA Late Model Sportsman Ser...

---
March 3, 2000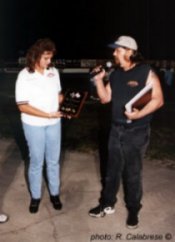 It started for me on cool night at Sunshine I was proud to present a plaque not only to Kim Scheffler-Hays but was also was part of the emotional cermonies for "Wild" Bill Revard as I was able to present his Mother Maryellen his plaque for KARNAC "Driver of the Month" ....Then I was witness to the most awesome School bus figure8 race I think has ever been run, as not only did Bonnie Hendry lay her bus on it...

---
March 2, 2000

Sunshine "ACTION" Speedway OPENS 40th Year



What was it that Leo Musgrave knew in 1957 when he started to thinking about building the now legendary speedway? Dairy farming does not necessarily translate into show business promotions. The story of this good old boy and a crazy dream has been told over and over, but maybe a rendering from a kid who grew up around it will shed new light.

Growing up in a central Florida small town was a great way of life. Your friends were next door and your entertainment was simple and inexpensive. Go...

---
March 2, 2000

JAX RACEWAYS TO KICK OFF 28TH SEASON



Fans, owners and track officials alike are anticipating the 2000 season to be a huge success, at Jax Raceways 1/2 mile "D" shaped oval, as the famed dirt track opens this Saturday night. The track which opened in Jacksonville Florida back in 1972, will begin the season with five speedway divisions, one of which is a new division that will surely bring the fans to their feet, all season long.

The NASCAR Weekly Racing series division will once again be the Dirt Late Models,and defending cha...

---
March 1, 2000

For Tammy Bratcher - Good Luck and Happy Trails!



For racers across Florida, at one time or another, most have raced at Orlando Speed World and New Smyrna Speedway. And if it has been in the last seven years, everyone knows the name Tammy Bratcher. Tammy has been one of the stables of both FASCAR tracks.

After seven years and countless time and effort, Tammy is leaving FASCAR and plotting a new future with Race Day Water. But no one, not fellow employees, racers, fans, and friends, will forget how much Tammy Bratcher did for local trac...

---
March 1, 2000

USAR Investigation Continues In Speedway Death



USAR Officials are conducting an investigation into the tragic death of Christopher Abblett of Clearwater. The accident occured Saturday afternoon as the Hooters ProCup drivers and crews were preparing to qualify for Satuday night's feature at USA International Speedway.

Abblett was a member of the Eagles Nest Racing Team, which was crewing for the Bowser Motorsports team for Saturday's race. At approximately 2:30 PM, a tire Abblett was working with apparently exploded resulting in fatal...

---
February 29, 2000

Bronson Speedway to open 2000 racing season



BRONSON, FL (Feb. 28, 2000) — Boy, where did the winter go? Of course, here in Florida, they are short anyway and way too long for the anxious racing fraternity and loyal fans to wait to "crank it up" at the Bronson Bullring.

Yes fans, the wait is over. Get out the racin' clothes and pack the crew in the car. Bronson Motor Speedway kicks off the millennium this coming Saturday night. Gates will open at 5:30 p.m. and racing is at 7:30 p.m. sharp.

The stars and cars are ready. ...

---
February 28, 2000

New Season Brings New Faces to Victory Lane



Joe Boyd Picks up 1st Win of the 2000 Racing Series
The BMD Title Loan Late Model Sportsman Series started off the 2000 racing series with some surprises. Forty-One teams would qualify for the 50-Lap event at the USA International Speedway in Lakeland, FL. Favorites to win the race included the 1999 Series Champion, Dwayne Dempsey, Mike McCreary, Jr., who won twice in Lakeland last year, and veteran Florida driver from Mulberry, FL., Wayne Morris. But none of these drivers would figure int...

---
February 27, 2000

It's Time to Race!!!!!!!!........



Speedweeks are over and most of the visitors have packed up and gone back home. The racers with names we usually only read about have gone back to their respective tracks and series......Just what are we left with?
FLORIDA STOCK CAR RACING THATS WHAT!!!!!!!! I had the pleasure of being at opening points night of "The South's Fastest Short Track" to watch some action packed stock car racing like it was meant to be....

The Dwarf cars came out first in fast paced 25 lap feature with Mi...

---
February 27, 2000

Hansen Roars to Slim Jim win at Homestead



Green Bay, Wis. native Scott Hansen powered to his fifth career Slim Jim All Pro Series, NASCAR Touring win as he bested 29 other drivers to win the $95,050 Miami 150 at Homestead-Miami Speedway on Saturday afternoon. The AFCO Racing Products/Structural Transport Ford driver pocketed $14,625 to kick off the 10th season for the touring late model series.

Hansen earned his second career Bud Pole as he blistered the track record set by Sean Studer in 1998. Hansen wheeled his Thunderbird to a...

---
February 21, 2000
USA INTERNATIONAL SPEEDWAY HOSTS HOOTERS PROCUP AND SARA LATE MODELS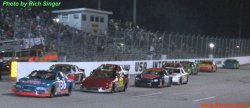 This Saturday evening USA International Speedway will host the first race of the USAR Hooters ProCup 2000 season. The green flag will wave at 7:00 PM on the 3/4 mile high
banked speedway, home track of the four year old series, and the scene of four of this year's twenty race ProCup schedule. This is the fourth season for the fast growing racing series that competes with Busch Grand National...

---
February 21, 2000

TBARA DRIVER LARRY TYLER UPDATE



LARRY IS TO BE RELEASED FROM HIS JACKSONVILLE ,FL. HOSPITAL TODAY..HEWILL REQUIRE OUT PATIENT TREATMENT WHEN HE RETURNS HOME....HE SUFFERED ABROKEN COLLAR BONE , RIBS , ELBOW , AND ARM ALONG WITH A CONCUSSION IN A RACING ACCIDENT IN ST. AUGUSTINE FRIDAY.......
HIS ADDRESS FOR CARDS IS:

LARRY TYLER
4213 KING ALFRED DR.
TAMPA , FL. 33610
...

---
February 20, 2000

Lasoski takes 7 of 8 in All Star Sprints



After winning all 6 of the prior All Star races Danny Lasoski and team came in 3rd Friday night and when they called team owner Tony Stewart at Daytona he said "well I guess I need to get over there!" and sure enough Stewart flew in after happy hour for the Daytona 500 to mechanic his car and Lasoski to another win, but this one was a well earned victory....

Lasoski who won the dash for cash said that the track was real fast and it would take all he had to pass the guys who were starti...

---
February 20, 2000

CHILDERS TAKES INAUGURAL ARA EVENT



February 19, St. Augustine, Fla.- Fast qualifier Rodney Childers of Mooresville, N.C. took the lead on lap 139 and went on to become the first winner ever in the inaugural ARA All Star Late Model Touring Series event at Florida Speed Park this weekend.

"The car was awesome," said Childers. "These guys have worked so hard to get this car ready to come down here. I owe it all to them. If Steve (Mendenhall) hadn't had some problems, the outcome might have been a little different. He was real...

---
February 19, 2000

TBARA SPRINTS BLISTER FLORIDA SPEED PARK SPEED RECORDS



February 17, St. Augustine, Fla.- The Tampa Bay Area Racing Association Winged Sprint Cars thundered into Florida Speed Park Friday night as part of the SpeedFest 2000 racing program and immediately set themselves to the task of dismantling the track records.

Wayne Reutimann of Zephyrhills, Fla. personally broke the record set by Steve Kinser in 1996 three times in one night. Reutimann turned laps of 14.854 in practice, 14.712 in his heat race and 14.700 in the 35-lap main, all three laps...

---
February 18, 2000
ANDERSON GETS HAT TRICK AT SPEEDFEST 2000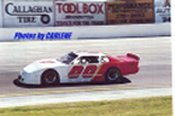 Dick Anderson of Wildwood, Fla. got some help from a lapped car 22 laps into the 35-lap Super Late Model feature at Florida Speed Park to overtake the dominating Jeremy Rice and then went on to
win his third race in a row during SpeedFest 2000.

"Jeremy had me covered tonight," said Anderson. "We really just got lucky. If it hadn't been for that lapped car getting tangled up with him we would have be...

---
February 18, 2000
HAV-A-TAMPA RETURNS TO JAX RACEWAYS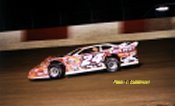 Track officials, race fans, and some of the best dirt late model drivers in the country are preparing for the final event of SPEEDWEEK 2000. Jax Raceways located on
Pecan Park road in Jacksonville, Florida, will host a pair of single day Hav-A-Tampa Super Dirt Late Model events, this weekend, February 18 and 19 on the lightning fast 1/2 mile "D" shaped oval, for the first time since 1993.

"The Ha...

---
February 17, 2000

Dan Schlieper Comes Out Of The Blocks



When the time came to head south from his icy winter home near Milwaukee, WI Dan Schlieper had hopes of picking up where he had left off prior to suffering a broken neck at the end of last summer. Schlieper, who had displayed phenomenal success as an independent driver/owner in the 1998 season when he claimed the (HAT) Series rookie of the year award, had hurdled his dirt late model into the spotlight when suddenly the road to success met an abrupt halt. Call it a sophomore jinx or a period of...

---
February 17, 2000

NEW SMYRNA SPEEDWAY GETS A FACELIFT



The half mile asphalt speedway, built in 1966 as a dirt track, is celebrating it's 34th annual World Series of Asphalt Stock Car Racing held every year during Speedweeks, but the fans, drivers, and track officials are also celebrating much needed track improvements. New Smyrna Speedway has undergone some major physical changes in recent months and though the work is still ongoing, much has already been done.


---
February 16, 2000

TQ Midgets open at DeSoto Speedway



The FMRA began the season Sunday at the big track near Bradenton FL. At the drop of the green Ralph Wheeler jumped out front and paced the field for two laps before Mark Gimmler dove under him to steal the top spot. Gimmler, a veteran midget shoe at Desoto, slowly pulled away from the pack to eventually win with a little more than a straightaway lead.

The race for second was anything but a runaway however. Wheeler held second for a few laps before Bradenton's own Mike Elder got und...

---
February 15, 2000

In The DIRT with John Matthews



Saturday night, fans at East Bay Raceway's Hav-a-Tampa Late Model race witnessed a few hot laps by one of the strangest looking race cars around. Brett Hearn turned a few laps in his red #3 Budweiser DIRT modified. Along with Late Models and Sprint cars, DIRT modifieds are here in Florida for Speedweeks, this year racing at Volusia Speedway Park (VSP) in Barberville.

Just what is a "DIRT modified?"

Drivers Independent Race Tracks, aka DIRT, formed in 1976 in upstate New York with ...

---
February 15, 2000

Charlotte Roars into 2000!!



Stock car racing for the 2000 season gets underway at
Charlotte County Speedway on Saturday, February 26 with all seven regular divisions running feature races. Limited late models, open wheel modifieds, sportsman, pure stocks, mini stocks, road warriors and Cowboy Cadillac drivers will compete in their first race of the Millennium.

Pro Late Models return for monthly visits after a several year absence to the Speedway. Late model drivers including Daryl Shelnut, Dickie Anderson ...

---
February 15, 2000

HAWK SWOOPS IN FOR THE WIN IN VALENTINES DAY MASSACRE



February 14, St. Augustine, Fla.- Ray Hawk of Newport, Tenn. led every lap and lapped the entire field of 26 starters to take the 150-lap Enduro feature at Florida Speed Park Monday night.

Hawk, a more or less professional Enduro driver has won 37 out of 69 Enduros entered and was the only driver entered from outside the state of Florida.

Robert Ray of Floral City Fla. came in second and Matt Scheffler of Auburndale finished third.

Tim Felver of Owosso, Michigan finally shoo...

---
February 14, 2000
February 11, St. Augustine, Fla.- Shane Sawyer of Palm Beach, Fla. came from his fifth starting position to take the 150-lap inaugural Florida Cup for the Super Late Models at Florida Speed Park.

"The car really came in during the last half of the race," said Sawyer. "For the first half we were struggling a little. But there at the end it was ready to go."

Goodson led the first half of the event from his pole starting position but was getting constant pressure from Tim Felver of Ow...

---
February 11, 2000

Lasoski Takes "Home" Win At VSP



February 10, 2000 (Barberville, FL) - Danny Lasoski of Dover, MO passed Paul McMahan on lap 16 and held on from there Thursday to win the opening night All Star Sprint Car event of Speedweeks 2000 at Volusia Speedway Park. Lasoski's Maxim chassis carried the colors of its new sponsor Home Depot to victory lane where Lasoski posed with NASCAR star Tony Stewart after the race. In the support race, Scott Orr from Columbia City, IN captured the UMP Modified feature.

Volusia Speedway Park (VSP...

---
February 10, 2000

Lloyd Starts Season Right at VSP



February 6, 2000-(Barberville, FL) Late Model Sportsman driver Ivedent Lloyd has maintained a love-hate relationship with Volusia Speedway Parkover the years. Some nights, the Ocala native has things his way on the fast, half mile clay track. Other nights, things haven't gone well. Sunday night was not one of those nights as Lloyd won the 100 lap National LateModel Sportsman (NLMS) series race in style and captured $5,000.

Volusia Speedway Park hosted their first annual Kickoff to Spee...

---
February 10, 2000
Eckert completes "Hat Trick" in Hav-A-Tampa Late Models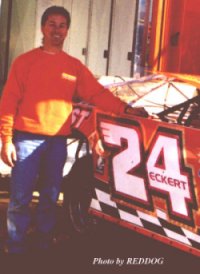 On Tuesday evening Rick Eckert was forced to show his hand in a STARS Late Model event he almost missed. The SHOW was on when Eckert made the feature by way of a provisional, leaning on his qualifying time, (fastest of the non-qualifiers). At the drop of the green, the #24 car began a march toward the front from it's 25th starting position. Eckert and Booper Bare in the #00 were moving forward fast in the 26...

---
February 9, 2000

TUESDAY NOTES from EAST BAY SPEEDWEEKS 2000 SHOW



What a show it is turning out to be, from the longest tow, to the rookie runners, from the gentlemen racers who have made STARS racing, to the never say die attitudes we see each night. Tuesday's Feature event will rank as one of the best 75 lap, $7000 to win A-Main's of all time.

But to get to the feature event of the evening we must get through 90 time trials, 5 heats, 3 B-mains, and a Start Position Dash. No fan of racing would have been disappointed in Tuesday's ACTION packed progra...

---
February 8, 2000
STARS OPEN SPEEDWEEK 2000 Late Model Series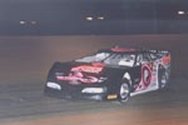 The stars of the STARS Late Model racing series, along with many of the Hav-A-Tampa Late Model series regulars, opened six nights of SPEEDWEEK 2000 Late Model action at East Bay Raceway tonight. Eighty-seven (87) cars were on hand for the opening night of competition.

Qualifying found few drivers and crews happy with set-ups. The current track record for late models on East Bay's 1/3-mile clay ...

---
February 7, 2000

St Augustine 10 Day February Racing Extravaganza



St. Augustine Speedway officials are busy in preparation for SpeedFest 2000, a ten day event running from Thursday, February 10th through Saturday, February 19th at Florida's fastest paved 1/2-mile speedway, formerly St. Augustine Speedway.

With over fourteen different divisions scheduled over the course of ten days, SpeedFest 2000 is shaping up to be a race fan's dream week. Kicking off the event is an Open Practice on Thursday from 5pm to 10pm. Admission is a $2 donation or $1 with 2 c...

---
February 6, 2000

Lancey Crowned King of the 360 Sprints



For the second week in a row, "Short Track USA" Radio Show proves to be a lucky visit for feature winners. Last week, Jan 29th Art Calkins visited "Short Track USA with Bill Green" and went on to win the 1st Annual "Wild" Bill Revard Memorial Race at Sunshine "ACTION" Speedway. This week the Good Luck continued as Ronald Laney of Humble, TX. visited the studios just hours before winning the highly competitive "King of the 360 Nationals" at East Bay Speedway.

The 28 year old pilot of the ...

---
February 6, 2000

Citrus County Speedway Ready to Run



Sixty plus race cars and teams made it to Citrus County Speedway for the largest practice session ever held at the speedway. It was the first practice of the year and it was amazing to see the enthusiastic attitude of all concerned as preparations were being made to open the speedway's 44th season on February 26th.
Promoters Billy Hooker and Steve Ziebarth made several beneficial driver announcements at the practice session. Late Model drivers will be going for increased purses with a weekly...

---
February 5, 2000
Following the 1999 Snowball Derby which many fans felt was won by Bobby Gill not Rich Bickle, the controversy started and has continued to brew. There were huge disagreements among the competitors and of course the fans. The Snowball promotion group says, it's over Bickle won. The following is CIA Sports Promotion News Release:

We would first like to apologize for the delay in answering messages and updating the web page. As most of you know we are a photographic company from North Carol...

---
February 5, 2000

Top Dirt Late Model Drivers To Compete For Speedweek 2000 Openers



This weekend, race fans will be treated to some of the best racing action this area has seen in years, as drivers and fans alike will flock to South Georgia and North Florida, for three nights of Dirt Late Model action at three different race tracks.

The top Dirt Late Model drivers in the country are ready for a busy winter schedule to begin the $4-Million 2000 United Dirt Track Racing Association Hav-A-Tampa Dirt Late Model season. The 11th season begins with seven races
at three dif...

---
February 4, 2000

King of The 360 Sprints 2/3



While traveling the pits at East Bay on Thursday, I ran across a few interesting stories. Here is a copy of my notes: First I must say it was GREAT to see Karla, Billy Jr., and James at East Bay for the night. Hope they enjoyed themselves and Thanks to all the East Bay folks for treating them so very nicely.

Bucky Milum say he's selling off all the Dirt cars to go T.B.A.R.A. racing.Basically $25,000 per dirt car ready to run. He will see the 360 Nationals and the upcoming 410 show through...

---
February 2, 2000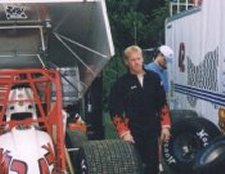 In 1984 the Central Florida racing season opened like so may others, cool and damp. One young man remembers it like it was yesterday. It was the year he would have his first sprint car win. First wins are always etched in stone on
every driver's memory, but when you're only 13; you'll carry that stone for a long time. Sport Allen is not your normal driver, by far. He proved that in the same year at the...

---
February 1, 2000
Orr Masters Orange Blossom 100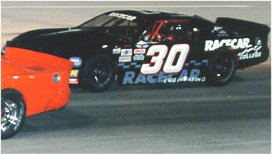 A wet track and worn out tires were not enough to stop Pete Orr from making history by winning the Orange Blossom 100 for the fourth time! Orr was in contention all night as he battled first Michael Williams for the lead and later David Rogers. Orr put his RaceCar College black #30 Monte Carlo in the lead on lap 33 and stayed there until David Rogers passed on the bottom in his new #11 Dodge. Rogers and Orr fought a ...

---
February 1, 2000
No one has ever seen a race quit like it, and no one ever will. It was just another Saturday night at the races. Like most new season kickoffs, it was billed as the 2000 WinterNational, but would become known as the 2000
Supernatural. What race fans witnessed will be debated for years, was it a promoters trick to get more attention, or the hand of fate reaching down from a fallen fellow competitor.

"WILD" Bill Revard was well known and like in the racing circles at Sunshine "ACTI()N"...

---
January 30, 2000
Wild Bill Revard Memorial 50 Lap Figure 8 Race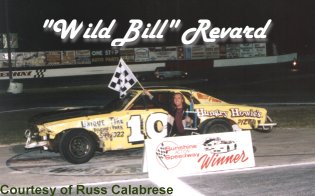 As I handed Mary Ellen the "Driver of the Month" plaque for Wild Bill Revard and saw the tears in her eyes and heard the ovation that was being given I knew I was in a special place with special people. For almost a 100 days we have wondered what it would it be like coming back. Would Figure 8 Racing be the same at Sunshine? YOU BET IT WOULD!!!!!!

When the 18 drivers took the track for the 50 lap Wild ...

---
January 30, 2000
INEX Legends Prepare for Winternationals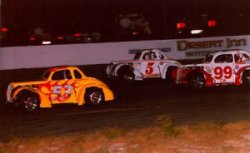 >


Drivers from forty-four states and 5 countries are making travel plans and preparations for the 3rd Annual INEX Legends Winternationals, scheduled to begin on February 14th,2000. Registrations continue to roll in and
approximately 200 teams are expected to make the trip to Citrus County Speedway in Inverness, Florida during Speedweeks 2000.

Promoter Mike Sims expects race teams from coast to coast, Ca...

---
January 27, 2000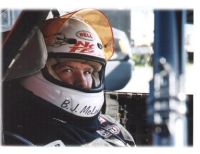 B.J. McLeod will be racing in the Orange Blossom 100 at New Smyrna's half-mile speedway near Daytona, Florida this weekend. January 29th the speedway hosts the first big late model race in the Sunshine State and McLeod will be returning to the track where he won the Late Model Championship in 1998. This will be one of three expected tuneups for the Carter Grandle sponsored B. J. McLeod Motorsports team prior to the USA...

---
January 26, 2000

Southeast Dirt Tour 2000 Event Postponed



Racing action for this weekend's "Speedweek 2000" opening event has been postponed as of yesterday, as a winter storm up and down the East coast snowed many of the competitors in, not allowing them to travel to North Florida.

The Southeast Motorsports Dirt Late Model Tour 2000, was to kick off the season at Jax Raceways with a one day, $5,000 to win Super Late Model event, that had promises from a stellar group of competitors coming in for their share of the $22,000 totalpurse. "Our serie...

---
January 25, 2000

Looking to the 2000 Racing Season



Little by little, Florida's race tracks are re-opening for the 2000 season. Fans are dusting off their race hats and finding that soft cushion to sit on and getting ready to visit their favorite track. But, the question is, will
they see the same old, same old or a better, more competitive and fair racing season.

Yes, we have had our share of what some call "bad tracks". We still have unsafe tracks and owners who would not change if they won the lotto. But it is not the owners that ...

---
January 20, 2000

Florida Dwarf Car Banquet



Florida Dwarf Car Federation, Inc. celebrated their drivers and wives/significant others at the Awards Banquet Saturday, January 15th, 2000, at Chesterfield Village Pub and Grill in Delray Beach, Florida.

Our Champion this year was Alain Paradis of Miramar with 1166 points. He received a large silver cup with a sizable check for his efforts. Second place, and also Rookie of the Year honors went to Daniel Rene of Hollywood with 1090 points. Right behind Daniel, and also a strong contender ...

---
January 19, 2000

Columbia Motorsports Park Speedweeks 2000 schedule



9th Annual Blue/Grey 100 for Florida Modifieds
Friday,Feb 11th Open practice 6-10
Saturday, February 12th will be Practice/Qualifications for Florida Modifieds
Plus features for Street Stocks, Pure Stocks, Dwarf Cars and Classic
Coupes/Coaches
Pits Open at 3 PM Racing at 7 PM

Sunday, February 13th will be a Last Chance Race for Florida Modifieds plus
Street Stocks, Pure Stocks, Dwarf Cars and Classic Coupes/Coaches.
Pits Open at 10 AM, Racing at 2 PM
...

---
January 14, 2000
Clewiston is open and running under the name of Hendry County Motorsports Park. The present owner is Jay Terecia. They are running on Sundayafternoons. The plan is for changing to Friday nights later.Classic cars already have dates set to run there on March 24 and June 30. They have addedan offroad track also and are planning on doing other racing endeavors with off road events and oval track racing. These are to include mororcycles,gokarts,swamp buggies and any others they can.
E-Mail:CeeJay...

---
January 14, 2000

Jack........from Jane Smith



Jack Smith, webmaster of karnac, home of Florida Stock Car
Racing, deserves to be acknowledged. Jack and I have worked
together now for over two years not making any money but giving karnac everything we could. Jack has done his fair share of traveling to our state tracks, both dirt and asphalt, and getting to know the drivers of these tracks. It was while doing this that Jack found his love for racing and our Florida racers.

Fans of ...

---
January 11, 2000
Veteran driver Steve Wheeler was honored as the 1999 Florida Midget Racing Association champion at the Airport Hilton Saturday night.

Behind the wheel of various types of cars for more than 20 years, it marked the first title in a three-quarter midget for Wheeler in only his second season in the cycle-powered cars. He also took the owner's crown as well. From the tour's top rookie in 1998 to the champion only a season later, Wheeler was a quick study in the short wheelbase cars and claime...

---