Rusty Marcus Leaves Orlando SpeedWorld for New Challenge in 2009
by Jane Smith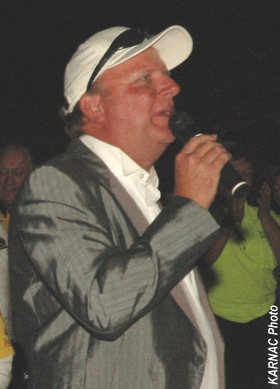 Orlando, FL (December 16, 2008) It is that time of year again when Santa is quickly approaching and the old year will go out and a new year will begin. It is the time when friends and family reflect on the year and the good and bad things that have happened during that time.

2008 has been a difficult year not only for families but also for racetracks. The economy has not helped at all and racers and fans found it difficult to go to one race a month much less weekly racing as most did in 2007. Money is tight and for awhile there, gas was out-of-sight and no one could afford to go far or do much.

As Santa gets closer to D-Day and the New Year is right around the corner, the staff and management of Orlando SpeedWorld would like to thank all the fans, drivers and crews for their support in 2008. .

As things go, changes happen as Rusty Marcus, the General Manager/Promoter of Orlando SpeedWorld has left Florida and moved to Monroe, Louisiana where he will be the new General Manager of Monroe Motor Speedway. Rusty has been with Orlando SpeedWorld and the FASCAR family for 4 years but when this offer came to him, it was just really hard for him to say "no". The Charity Truckers 200 was Marcus's last official duty at Orlando SpeedWorld on December 5th and 6th.

"Working with everyone at FASCAR and all the fans and drivers at Orlando was a wonderful experience for me," said Marcus from his cell phone in Louisiana. "It was not an easy decision to leave but Monroe was hard to turn down. I will miss all my friends in Florida and all the crazy times at the racetrack but I will be back for the Winter Nationals on February 9th for the Legends, Bandoleros, and Thunder Roadsters. This has been a very important part of my racing career, the Winter Nationals, and I won't let them down in 2009."




Monroe Motor Speedway is a brand new racing facility featuring a 3/8's mile concrete oval and 4,000 grandstand seats. Right now it is the only asphalt/concrete track in Louisiana and neighboring state Mississippi which brings drivers from all over the South to Monroe. You will see drivers from Louisiana, Mississippi, and Texas in the field.

Monroe has 12 degree banking in the corners and 6 degrees on the straightaways and features ASA Late Models, IMCA Sport Mods, INEX Legends, Bombers, Compacts, Karting and Figure 8 racing.

Monroe grandstands feature a family section for those who do not wish to be around smoking or drinking and disabled parking and seating for those who need help. And for the kids, they have the all-new Earnhardt Memorial Park with bounce houses, face painting, kiddy karaoke, econobox drags and a whole lot more supervised by adults.

[Editors Note: Rusty Marcus can be heard in a 1/2 long interview with Real Racin USA from 2005. He discusses winning the Promoter Of The Year Award from Humpy Wheeler, and his racing career

CLICK TO LISTEN]

"I would also like to thank everyone for their support in 2008 at SpeedWorld," said Marcus. "I know it was not an easy year and we saw many of our drivers without jobs and wondering what they would do next. We saw our car counts fall almost in half due to the economy but I also believe that family must come first and racing a distant second when it comes to living. But for those who could come and support the track, I say thank you. I truly enjoyed every minute of my working life the last four years at SpeedWorld and have many friends that I will definitely stay in touch with and hope to see them from time to time. And if anyone from SpeedWorld ever makes it this way, the door is always open to them at Monroe."




Rusty Marcus in October 2008 talks about the trials Of Orlando Speedworld and Florida Racing

"I will leave my friends with these words, Merry Christmas and may 2009 be a much better year for us all."



Have an opinion on this story? Post a message on The Real Racin USA Florida Fan Message Board! or Email KARNACto send a letter to the editor!
---