"I'm noticing a turn of the tide on racing Web sites like Florida's Karnac.com, the gathering place for the most dedicated race fans in the state."

-Orlando Sentinel
IT'S TIME TO RACE!!
Lee Faulk Racing Signs David Wilson
LFRD Media Release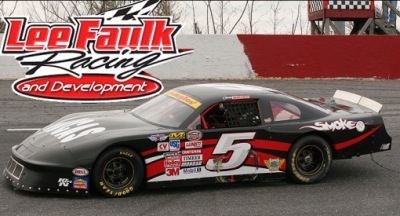 David Wilson's name has become synonymous with winning in the state of Florida over the last couple of years. Now he will have his chance to make a name for himself outside his home state.

Wilson signed a 40 race deal to race Friday nights at Tri-County Speedway and Saturday nights at Hickory Motor Speedway for the entire 2009 season. Brand new cars are currently being prepared for David, and LFRD is putting forth tremendous effort to make sure David and his team have a solid chance to win every time the car hits the track.

David tested the #5 Monte Carlo previously driven by Mario Hernandez and Chrissy Wallace at HMS last week. He was fast right off the trailer in his first time ever seeing the cars much less driving them. " I'm very excited to run next year with LFR and can't wait for the season to begin!" David stated after the test in the #5 Monte Carlo.

David and his father, Don, are preparing to move David to North Carolina in early 2009 so that he may begin to work with Lee and prepare for the upcoming season where they will compete for the Championships at Hickory and Tri-county Speedway.

Check out www.leefaulkracing.com/ for more information on LFRD. www.davidwilsonautoracing.com for David Wilson.

Have an opinion on this story? Post a message on The Real Racin USA Florida Fan Message Board! or Email KARNACto send a letter to the editor!
---