"I'm noticing a turn of the tide on racing Web sites like Florida's Karnac.com, the gathering place for the most dedicated race fans in the state."

-Orlando Sentinel
IT'S TIME TO RACE!!
Wayne Anderson Captures Third Governors Cup
KARNAC Media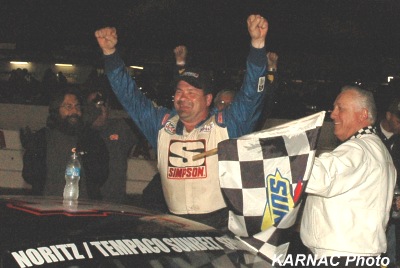 Though runner-up Tim Russell led in the early going and gave him a good run, it was a very strong third Governors Cup win at the end of 200 laps for Wayne Anderson. Anderson set fast time and started on the pole in the running of the 43rd Annual Governors Cup at new Smyrna.

Though the race had nine cautions, there was several very long green flag runs, making for some good racing for the fans who braved the chilly temperatures.

Twenty-six cars took the green flag with not only the Cup title on the line but the Sunbelt Super Late Model Series and Triple Crown Championships as well.

Jeremy Colangelo came in with a 13 point lead over Russell, but the youngster from Deland could only manage a 9th position finish giving Russell the Sunbelt crown. A double disappoint for Colangelo as Brian Finney (Merritt Island) finished two spots ahead of him to squeeze out the Triple Crown title by a few points.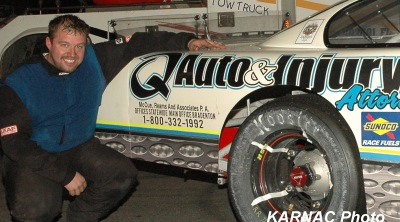 Clearwater, Florida driver Billy Mowery was the Hard Charger, coming from the 15th position to take third place in the Q Auto & Accident Attorneys race car. Mowery was hoping for a late caution to get a shot at the leaders, a caution that never came.

Chad Pierce (Orlando) took fourth and Travis Cope (Hernando Beach) rounded out the top five. Last year's winner Jeff Choquette was back to defend his title, ran third for much of the race, faded to the sixth spot in the final stages.

Wayne Anderson and Billy Mowery will both be guests on Inside Florida Racing"heard on RealRacinUSA.com Monday night 7 PM.

Full race reports and photos coming later.

In the Sportsman Shootout, though the race was dominated by Steve Gainey the first to cross the finish line was Wayne Morris. Morris was Dq'ed in tech.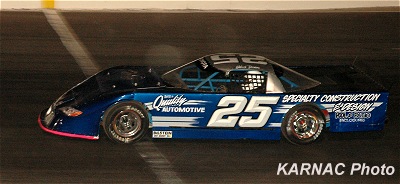 The win went to #25 Patrick Thomas who finished 2nd on the track.

OFFICIAL RESULTS NEW SMYRNA SPEEDWAY NOVEMBER 22, 2008

GOVERNOR'S CUP 200

1. #84 Wayne Anderson, Wildwood
2. #36 Tim Russell, Longwood
3. #55 Billy Mowery, Clearwater
4. #57 Chad Pierce, Orlando
5. #27 Travis Cope, Hernando Beach
6. #70x Jeff Choquette, Loxahatchee
7. #80 Brian Finney, Merritt Island
8. #78 B.J. McLeod, Wachula
9. #05 Jeremy Colangelo, Deland
10. #12 Corey Freed, Orlando
11. #64 Joe Winchell, Dade City
12. #9 Rich Clouser, Palm Bay
13. #14x Martin Maresca, S.W. Ranch
14. #53 Brad Bischoff, Myakka
15. #39 Dwayne Dempsey, St. Petersburg
16. #70 James Glover, Largo
17. #62 Travis Wilson, Bartow
18. #43 Dennis Schoenfeld, Concord, NC
19. #5 Dustin Skinner, Port Orange
20. #11 David Rogers, Orlando
21. #21 Shane Sawyer, Buford, GA
22. #07 Jeff Scofield, Plant City
23. #92 Matt Bowers, Mt. Dora
24. #36x Earl Beckner, Orlando
25. #00 Robert Yoho, Pinnellas Park
26. #5 Joe Boyd, Riverview

SOUTHERN SPORTSMAN SHOOTOUT 75

1. #25 Patrick Thomas, Oveido
2. #79x Steve Gainey, Bradenton
3. #25x Timmy Todd, Jr., St. Cloud
4. #45 Mike Soukup, Deltona
5. #1 Bart Weatherford, Lakeland
6. #111 Donny Williams, Mt. Dora
7. #98x Josh Hermann, Lakeland
8. #17 Phillip Bessett, Samsula
9. #156 James Wright, III, Auburndale
10. #16 Patrick Mennenga, Bellview
11. #69 Don Milam, Bellview
12. #98 Roger Welch, St. Petersburg
13. #30 Richie Sheppard, St. Petersburg
14. #3 Duane Best, Sarasota
15. #01 Travis Roland, Lake Alfred
16. #44 Ed Michalak, Titusville
17. #13 Aaron Williamson, Mulberry
18. #55 Richard Elkins, Jr., Auburndale
19. #05 Steve Redditt, Orlando
20. #7 Tom Raiser, Naples
21. #35 Rick Kase, Odessa
22. #77 Wayne Jones, Athens, GA.
23. #49 Jason Foster, Melbourne
24. #67 Jimmie Best, Sarasota
25. #56 Wayne Morris, Mulberry DQ'D

Have an opinion on this story? Post a message on The Real Racin USA Florida Fan Message Board! or Email KARNACto send a letter to the editor!
---