"I'm noticing a turn of the tide on racing Web sites like Florida's Karnac.com, the gathering place for the most dedicated race fans in the state."

-Orlando Sentinel
IT'S TIME TO RACE!!
Shane Williams Wins Ocala LM Championship
by BJ Cavin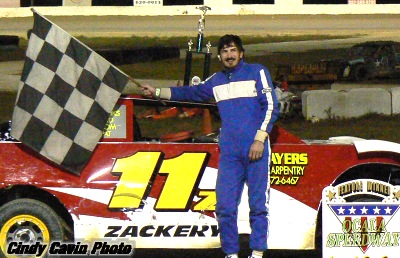 Johnny Zackery won the Mini Stock Feature Saturday night


Ocala Speedway wrapped up the 2008 racing season with a huge night of racing, witnessed by a enthusiastic crowd of hearty race fans. The cold weather was tempered by the hot action on the track as five divisions raced for the final time this year, and as the closest points battle of all of the divisions was finally settled.

And after the dust settled, the late model division championship for 2008 was decided by a mere four points.

The first division to hit the clay were the Hobby Stocks. David Miller Jr. found himself in the pits twice early on, which left him delegated to the end of the field.

But two trips to the rear only made Miller race harder, and he managed to finish first in the feature event. But Miller again had problems, this time after the race was over and he was in the pit area. That resulted in a DQ for Miller on the night, and made Bill Littell the winner, followed by David Kinsey for second place and Wally Schneider for third.

Mark Whitener wasted no time getting to the front of the late model field, and he remained there in order to claim a victory on the night, But the big battle was for the 2008 points championship, and it came down to a slugfest between points leader Shane Williams and a hard charging Shan Smith.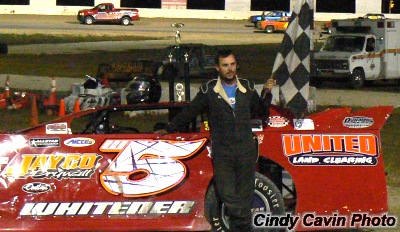 Mark Whitener



Williams had the championship in the bag but found himself in the middle of a four car fracas early on sent Williams to the pits for the night. With Shane Williams unable to defend his points lead, Shan Smith went on the attack and quickly marched into the top three.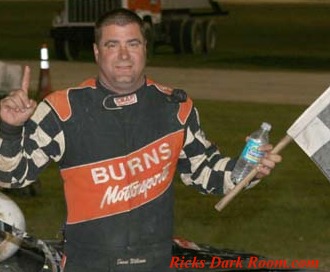 But as luck would have it, in the end Shane Williams would claim the 2008 Late Model Championship by just four points. While Mark Whitener was the race winner, Patrick Williams had an excellent race and wound up the second place finisher. Shan Smith was third followed by Rich Pratt and Dennis Williams.

The Amsoil V8 Thunder Stocks kept the excitement level high with a hard fought battle that involved several cars at the front of the field. An opening lap tangle in turn 2 sent race leader Harold Erickson to the pits after a hard hit, but he was able to return to the race later on and finish a lap down. Michael Stalnaker assumed the lead later on, only to lose it to Jason Gamble who raced his way to the front of the pack. Gamble would hold off Stalnaker to claim the victory, with Michael Stalnaker second and Terry Dunbar third. Justin Tilton and Jeff Eisenhower rounded out the top five.

The Gladiator division points championship was decided last week as Guy Bacelo Jr. solidified his victory over Paul Hahn, and this week Bacelo's 2B race car showed up with a new owner in the driver's seat. And again it was a newcomer that went to the front and claimed a victory over the usual contenders. James Sullivan drove his number 21 machine through the field and to the lead, eventually taking the win. He was followed by last week's winner, Steven Cox, and a hard charging Larry Langston. Casey Feaster managed a fourth place finish while Paul Hahn ended up in the fifth spot.



--Advertisement--





Mechanical issues sent Paul Combast packing before the feature race could begin for the Market of Marion Mini Stocks. But a new winner stepped up his game and made his way to a first time win as Johnny Zackery ran away from the field to claim the first place trophy. Keith Briggs made a race of it, but was unable to get past Zackery for the win and thus settled for second place. Arnold Perkins finished third while William Stalnaker came in fifth.

The only remaining business for Ocala Speedway in 2008 is the season ending championship banquet, scheduled for Friday, December 5th. Tickets are still on sale at the speedway office for one more week before all sales are suspended. There will be a limited number of tickets for sale at the door of the event, and those tickets will be limited. Call the speedway at 352-622-9400 for more information.

Ocala Speedway Results for 11/21/08

Hobby Stock (30 lap/$1000 to win)
1- 56L Bill Littell
2- 58 David Kinsey
3- 57 Wally Schneider
4- XXX Bubba Waldron
5- 36 Grady Christian
6- 81 Donald Woosley
7- 33 Donnie Dobbins
8- 04 Bubba Christian
9- 36S Kenneth Sowers
10- 12 Charlie MacNichols
11- 83 Joe Boyd
12- 15 Donald Paugh
13- 18E Mike Eubanks
14- 10 Michael Stalnaker
15- 23 Glenn Baum
DNS- 08 William Edwards
DNS- 00T- Eddie Tovet
DQ- 21 David Miller Jr.
DQ- 13 Jonathan Appleby

Late Model

1- 5W Mark Whitener
2- 38 Patrick Williams
3- 17SS Shan Smith
4- 0 Rich Pratt
5- 24 Dennis Williams
6- Z Tim Zackery
7- 32 Philip Cobb
8- 4 Al Larson
9- 72 Len Parrish
10- 01 Kevin Mills
11- 18E Mike Eubanks
12- 7C Shane Williams
13- 53 John Rankin
14- 08 David Davis
15- 32B Chris Waldron
16- 23 Lawton Minchew
DNS- 07 David Clegg
DNS- 18JO J.O. Nobles

Gladiator

1- 21 James Sullivan
2- 88 Steven Cox
3- 94 Larry Langston
4- 20 Casey Feaster
5- 78 Paul Hahn
6- 91 Tonya Lewis
7- 63 Brian Brogan
8- 83 Kody Fisher
9- 66 Dennis White
10- 23 Zachery Perry
11- 96 Eddie Lentz
12- 2 Steve Walls

V8 Thunder Stock
1- 17 Jason Gamble
2- 19 Michael Stalnaker
3- 72 Terry Dunbar
4- 3X Justin Tilton
5- 73 Jeff Eisenhower
6- 77 Doc Batson
7- 66 Dale Durbin
8- 81 Courtney Eubanks
9- 54 Karla Phipps
10- 4E Harold Erickson
11- 05 Donald Winne
12- 9 Jeff Stalnaker Jr.
13- 35 Michael Carr
14- 19A Jacob Antis
15- 7E James Erickson
16- 123 Timothy Eisenhower
17- 1 Billy Newhouse
18- 14 James Sullivan III
19- 3D Jessie Corbitt
20- 71 Jackson Nay
DNS- 2 Jeff Edgar

Mini Stock
1- 11Z Johnny Zackery
2- 19T Keith Briggs
3- 55 Arnold Perkins
4- 59 William Stalnaker
5- 40M David Miller
6- 47 Richard Kuhn
7- 26 Christopher Prouty
8- 14 Frank Prouty
DNS- 19C Paul Combast

Have an opinion on this story? Post a message on The Real Racin USA Florida Fan Message Board! or Email KARNACto send a letter to the editor!
---