"I'm noticing a turn of the tide on racing Web sites like Florida's Karnac.com, the gathering place for the most dedicated race fans in the state."

-Orlando Sentinel
IT'S TIME TO RACE!!
by Matt Stevens
Assistant Sports Editor
The Charlotte Sun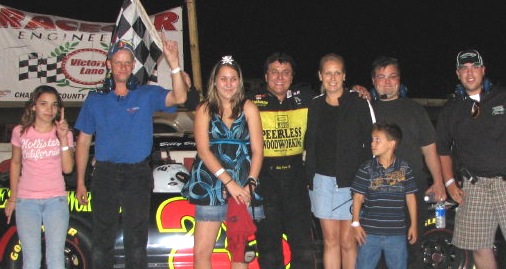 When old rivals and friends meet out on the track, it's usually a ride
to remember.

Throw in a car without brakes, some precision maneuvering, good, clean
racing and a fairy tale ending.

Now we're talking.

These factors, coupled with two drivers who know each other well, set
the stage Saturday night during the 100-lap Super Late Model race at
Charlotte County Motorsports Park in Punta Gorda.

Coming in, Wayne Anderson of Wildwood had won four of the previous five SLM races this season at CCMP. He also has been racing at the 3/8-mile track since it opened in 1990, when it was known as Charlotte County Speedway.

Anderson holds numerous accomplishments. He was the NASCAR Slim Jim
All-Pro champion in 1999. He raced a full season in the Craftsman Truck Series in '98. In 2003, and 2004, he won consecutive Florida Sunbelt Series championships. He travels more than three hours to come race at CCMP.

And he has seen a lot of Billy Bigley Jr.

"Billy Bigley and I go way back," Anderson said. "I've been rivals with him, I've been enemies and I've been buddies."

Bigley Jr., from Naples, was the 1986 NASCAR All-Pro Rookie of the Year.

He has collected seven points championship titles during his career,
including the 1996 Hooters Cup Series. He also has raced in the Craftsman Truck Series. Between him and Anderson, they have over 40 years of experience.

At a June SLM race at CCMP, Bigley Jr. got into what he described a
"really bad" wreck. Repairing the car proved a lengthy process, but not without a reward.

"My guys have been busting their tail to get it done. And we got it done last night," Bigley Jr. said of the car. "Literally, one of those Cinderella stories."

Enter the pumpkin.

Bigley's No. 28 car started on the pole, and got off on a fast foot and took a sizable lead. Anderson had to play catch up.

Starting fifth, it didn't take long for Anderson to produce several
slick moves and gain on Bigley Jr.

On lap 7, Anderson executed a well-timed bump and run to get around
Scott Grossenbacher coming into turn 3.

Next, he cruised past J.R. McMickle on lap 16 to take over third.

Finally, on lap 29, he came high-to-low and grabbed an inside line to
push past Mike Fran klin for second.

His sights were on Bigley Jr.

Forget, for now, that Bigley Jr. won the race.

Forget Anderson had to withdraw when the No. 84 suffered a busted brake
line and was left without the power to stop.

Just forget it.

For 42 laps, Anderson and Bigley Jr. went all out. There might as well
not have been another car on the track. All eyes were up front.

It looked at times as if Anderson was bound to best Bigley using the
same technique that got him past Franklin. But time and again, Bigley Jr. held back the flood. After holding off Anderson, who had to leave the race under caution on lap 73, Bigley Jr. also held off a late charge by Grossenbacher to claim the victory. He led every lap.

"It's harder to get passed then to be the passee," he said.

Indeed it is.

And what about that friendly little nudge that Anderson appeared to give Bigley Jr.?

"If Wayne and I rubbed, it was not anything intentional or anything like that," Bigley Jr. said. "You know, Wayne and I have run together forever.

Mike Franklin and I have run together for a long time. It was a really
really, just a really good race. Everybody were gentleman out there, and I really appreciate it."

And when these gentleman come to race, they put on quite a show.

The Super Late Models will return to Charlotte County Motorsports Park
on Dec. 13 for another 100-lap feature, and Bigley Jr. plans to see if he can repeat.

"We got one more to come back to, so hopefully we can double up. I'm not gonna, you know, count my chickens but, this thing was pretty good," he said.


Have an opinion on this story? Post a message on The Real Racin USA Florida Fan Message Board! or Email KARNACto send a letter to the editor!
---