"I'm noticing a turn of the tide on racing Web sites like Florida's Karnac.com, the gathering place for the most dedicated race fans in the state."

-Orlando Sentinel
IT'S TIME TO RACE!!
Collins Blows The Lid off of Ocala
by BJ Cavin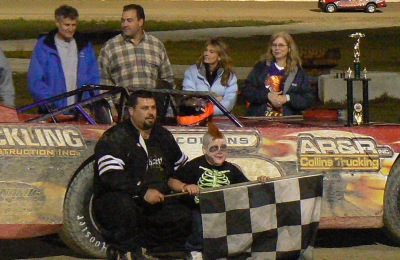 After nature kept things quiet at Ocala Speedway with rain last weekend, Halloween brought an awesome field of Super Late Model racers to beautiful downtown Zuber for 50 exciting laps of topless racing.

A solid crowd of hearty race fans enjoyed a cool and breezy night to watch the late models, plus a strong group of Mini Stocks, V8 Thunder Stocks, and Gladiators. And on top of all of the racing, many lucky children got to trick-or-treat on the front stretch with all of the racers and their race cars.

The Late Model race was a 50 lap, $3000 to win affair that brought out many of the top names in Florida dirt racing. Racing with the tops off of the cars afforded the fans a unique look into the cockpits of the cars as the drivers wheeled them by the grandstands.

Patrick Williams lead from the pole and looked to be in total control until he suddenly slowed on the front stretch and coasted into the infield with mechanical issues on lap 6. That opened the door for Mark Whitener to charge into the lead, but Whitner would make contact with another car and break his steering, ending his night on a hook.

From that point the race belonged to Johnny Collins despite a hard charging Ivedent Lloyd, who turned a not so great starting position into a charge toward the front. While Lloyd moved forward through the field he would be constantly wary of Tyler Ivey who was riding his rear bumper for a good part of the race.

Lloyd and Ivey would have Collins in their sights, but a lapped car would refuse to give in and thus delayed them until too late to catch the leader. Johnny Collins would take the win, followed by Ivedent Lloyd and Tyler Ivey. Shan Smith would finish fourth while Jack Nosbisch came in fifth.

Many fans were excited to see Paul Combast return the the winner's circle after he managed to hold off the Market of Marion Mini Stock field and again defeat Keith Briggs. Briggs would be racing with a new power plant in his car but could not get higher than second place. This made it Combast's second win in two races, which is a just reward for a racer who had shown steady improvement in his division throughout the season.



--Advertisement--





While Combast took the win and Briggs settled for second, Arnold Perkins raced his way up to the third spot while Maverick Varnadore grabbed fourth place and Johnny Zackery rounded out the top five.

James Sealy began on the pole for the Amsoil V8 Thunder Stock race but quickly was over taken by other racers. Meanwhile Terry Dunbar charged to the front and was in position to take advantage once Harold Erickson ran into problems on the track. But the hard charger of the night was Chris Fountaine, who made his way to the front and eventually took the lead. Fountaine would hold on to take the win as Terry Dunbar would finish second. Justin Tilton would have a strong third place finish, followed by James Sealey and Donald Winne.

The Gladiator cars saw a new winner take the checkers as David Walls collected a victory. Wall's closest opposition was Paul Hahn who tried desperately to make a pass for the lead but could not. Following Hahn was Zachery Perry, and Guy Bacelo Jr. Brian Brogan finished fifth on the night.

Next Friday, November 7th, is City of Belleview Night at the speedway as the Open Wheel Modified cars return. The night will also feature a Pepsi Six Pack Hobby Stock event that pays $1000 to the winner, plus Mini Stocks and the Gladiators.

Ocala Speedway Results for 10/31/08

Late Models (50 laps/$3000 to win)

1- 5C Johnny Collins
2- 21 Ivedent Lloyd Jr.
3- 47 Tyler Ivey
4- 17SS Shan Smith
5- 12 Jack Nosbisch
6- 18JO J. O. Nobles
7- 41 Travis Varnadore
8- 32 Roger Crouse
9- 41K John Kellum
10- 33 Jeff Mathews
11- 66 Mike Bresnahan
12- 16 Wayne Shugart
13-Z Tim Zackery
14- 1W Shane Williams
15- 32B Chris Waldron
16- 0 Rich Pratt
17- 5W Mark Whitner
18- 38 Patrick Williams
19- 24 Dennis Williams
20- 26 Dillon Wood

Mini Stock

1- 19C Paul Combast
2- 19T Keith Briggs
3- 55 Arnold Perkins
4- 14V Mavrick Varnadore
5- 11Z Johnny Zackery
6- 40M David Miller
7- 26 Christopher Prouty
8- 14 Frank Prouty
9- 21 Ray Ethridge
DNS- 00 Jason Touet

V8 Thunder Stock

1- 47 Chris Fountaine
2- 72 Terry Dunbar
3- 3X Justin Tilton
4- 66 James Sealey
5- 05 Donald Winne
6- 123 Timothy Eisenhower
7- 73 Jeff Eisenhower
8- 81 Courtney Eubanks
9- 40J Danny James II
10- 1V Steven Visneski
11- 14 James Sullivan III
12- 7E James Erickson
13- 4E Harold Erickson
14- 54 Karla Phipps
15- 19 Michael Stalnaker
16- 71 Jonathan Appleby
17- 17 Jason Gamble
18- 42 Kyle Maynard
19- 57 Matt Schell


Have an opinion on this story? Post a message on The Real Racin USA Florida Fan Message Board! or Email KARNACto send a letter to the editor!
---