Justin Larson Wins ASA Late Models Rookie of the Year Title
Team Media Release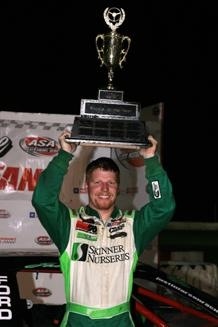 Coming off of two ASA career high finishes, Justin Larson improves his statistics by finishing second in the final ASA Late Model South race at Charlotte County Motorsports Park in Punta Gorda, Florida. The 20-year-old Safety Harbor, Florida driver was on top of the speed charts during the final practice on Saturday afternoon.

After being the first car to hit the track for qualifying at the last two events, Larson was a bit lucky on his pill draw and went out 21st of 22 cars. The time to beat at this point was a 15.190 set by the 31 car of Brian Blum. Justinís first lap time was a 15.291 with a second lap time of 15.290 putting him second. After a pill inversion of ten, the Skinner Nurseries Ford would be starting in the 9th position.

After all the fans got to meet the drivers up close and personal, it would be time to start the engines for the Championship 125. At this point, Larson was strapped in, focused and on a mission to bring home his first win of the season and claim the 2008 ASA Late Model South Series Rookie of the Year title.

It would only take Justin 36 laps to get to the front and take the race lead away from points leader Jimmy Lang. On lap 40, there would be a red flag as Stephen Nasse would go air born and take a wild ride. Thankfully the youngster would walk away with just bumps and bruises. With the tires cooled, Justin would bring the field back to green but by lap 48 would fall back to 2nd behind Lang. With the black and green machine getting tight, Larson dropped back to 3rd half way through the race.

After finding a groove that worked for the car, he worked his way back up to the leaders to put himself in contention for the win. With Justin glued to his bumper, Colt James would pressure Jimmy Lang just enough to take over the lead and the 88 car would follow right behind to take over 2nd.

The checkered flag would fly on lap 125 with Colt James getting the win, followed by Justin and Jimmy Lang. Going into the final event, only two points were separating Justin and David Odell in the Rookie standings. Larson also had to worry about Dustin Dunn who was only 34 points behind. All three drivers had top ten finishes. Dustin Dunn would finish 6th with David Odell in 7th.

Justin Larson and the entire Skinner Nurseries team may have been looking for their first win of the season, but the 2008 ASA Late Model South Series Division Rookie of the Year title definitely put a smile on their faces! Larson says ďI am so proud of everyone involved with our race team. We made such improvements in the last few races and the momentum was definitely on our side going into the last race.

Luckily we stayed out of trouble all night, lead a few laps and picked up a few bonus points. We struggled with the car the last half of the race. I had to move my line around a bit to find something that worked. It feels great to get another podium finish under my belt. If our right front shock wouldnít have broke, tonightís outcome may have been a bit different. Either way we had a great year and itís an awesome feeling to be Rookie of the Year.

I have to thank everyone who made this year possible. Skinner Nurseries, Suwannee River Mulch, Ware Oil, Gunnís Welding and Fabrication, Larry Larsonís Topsoil, Motorola, Re/Max, Napa Auto Parts, Chesterís Chicken, DiscoverTec, Wood ĎN Water Magazine, Edgewater Financial, my family, my girlfriend, and all the fans who would come out and support our team each and every raceĒ.

The Justin Larson Racing, Inc. team will take a few weeks off before heading to Memphis Motorsports Park on November 14th & 15th to run the ASA Ransom 300 lapper. The following weekend Justin will compete in his Super Late Model in the Governorís Cup at New Smyrna Speedway.


Have an opinion on this story? Post a message on The Real Racin USA Florida Fan Message Board! or Email KARNACto send a letter to the editor!
---