Kim Allen Memorial - $7000 To Win
DUE TO RAIN IN SOUTH FLORIDA THE KIM ALLEN MEMORIAL HAS BEEN POSTPONED. THE RACE WILL BE RUN ON SATURDAY NOVEMBER 1.

UDLMCS Media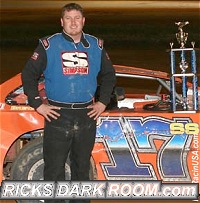 October has been a hot month for Dade City, Florida driver Shan Smith, pilot of the number 17ss late model. He is hoping it stays hot as the United Dirt Late Model Challenge Series heads to Hendry County Speedway this weekend.

On October 3rd Smith was the best of the 21 cars that went to Ocala Speedway looking to take home first place money. Shan took advantage of a re-start to get by Shane Williams and hold on for the win at the Ocala track.

The next night he and his crew moved over to Volusia Speedway Park and as Shan described it bluntly, "We were horrible. We went to East Bay and practiced the next Thursday and we were still horrible, so we changed a bunch of stuff around."

Whatever the team changed worked. On Saturday night October 11th, the #17ss visited the winners circle at Volusia.

"We went to Brunswick this past weekend [Golden Isles Speedway] for the Showdown on Thursday and Friday, and right before qualifying on Friday night the motor broke a retainer and broke."

Back to the drawing boards again for Shan Smith.

"We got home Saturday night, swapped motors, went to East Bay Saturday night and won, so it's kind of a roller coaster of a ride," Shan explained.

Shan is no stranger to victory celebrations at Hendry County having won several races last year. Shan said "You have to start up front or somewhere near the front. I need a good night down there, you know we are not out of that points deal yet, so we need a good run this week and we can stay alive in it."



For the complete Real Racin USA interview with Shan Smith use this link. SHAN SMITH INTERVIEW.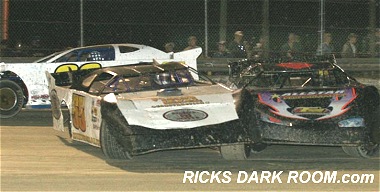 The Kim Allen Memorial gets underway for the fans at 6:30 PM Saturday at Hendry County Speedway in Clewiston, Florida. The race pays $7000 to the winner, a big payday indeed. Promoter Ken Kinney added, "Running a 50 lap feature and a payout that is not only $7000 to win but also paying $400 to start, the Kim Allen Memorial promises to be one of the top paying races of the year in the state of Florida."

Besides the awesome talent of regulars on the UDLMCS tour battling for the series championship, there will be quite a few other teams coming in looking for the big payday. On that list is Ocala's Ivedent Lloyd, plus Jordy Nipper, Dillon Wood, John Kellum, Wayne Shugart and Terry Crowe (son of legend Jimmy Crowe).



Joe Dirt & Billy the Kid talked with Ken Kinney on DIRT WORLD last night about what this race means to him and the community. Use this link KEN KINNEY INTERVIEW.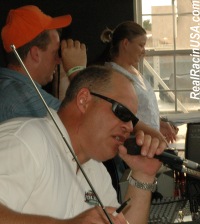 Joining Rick Anges in the announcer's booth this weekend is the voice of Volusia Speedway Park, Joe Linebarier. Joe and Rick worked together for the Scott Thompson Memorial, one of the biggest events for the UDLMCS this year.

"Joe has one of the best speaking voices I've ever come across and is very knowledgeable and really does a fantastic job", the accolade coming from UDLMCS promoter Ken Kinney.

--------ADVERTISEMENT--------
LAST CHANCE ON $10 TICKETS
BUY YOUR TICKETS NOW & SAVE!!
OCT 25, 2008 at NEW HENDRY COUNTY SPEEDWAY - CLEWISTON, FL ----Kim Allen Memorial Tickets $10 in Advance (SAVE $15.00)
CALL 863-675-8888 or 941-228-8359 during business hours to reserve your tickets & save big!
-------------------------

Big News For South Georgia Fans
It is now official, Golden Isles Speedway promoter Frankie Lloyd has confirmed to Ken Kinney that the UDLMCS will be at GIS for the1st Annual United Dirt Late Model Challenge Series Georgia State Late Model Championship on March 14, 2009. Maybe even bigger news for drivers and car owners is that the race will be paying $10,000 to the winner.

In addition Frankie Lloyd and Ken Kinney have reached agreement for the United Dirt Late Models to again present the Annual Bill Mishoe Memorial at Golden Isles. The 2008 race was a big success and 2009 promises to be even bigger.

BIG NEWS FOR 2009 CHAMPIONSHIP
The 2009 Championship prize just grew. In fact it grew a lot since the September announcement of the$15,000 combined purse and awards for the winner. On Monday Ken Kinney announced the winner of the 2009 Championship will receive $15,000 in cash and another $3,000 in awards and contingency prizes. Homes of Merit and Sunoco are the major partners helping to raise the Championship to a new level.

Promoter Ken Kinney is determined to make 2009 even better for the drivers and fans of dirt late model racing, and drive more fans and business to the tracks. "We have to make this a win-win situation for everyone", he said last week.

Hold on to your hats, it going to be a fun ride in 2009.

NIGHT OF CHAMPIONS
The "Night of Champions" at East Bay Raceway Park on November 8th is the First Annual Florida Late Model Championship and is already drawing interest and commitments from several top drivers from Georgia who haven't raced with the series before.

Also scheduled is a Media Race with personalities from the Tampa Bay area media outlets. Fans are going to be treated to one of the best "star-quality" shows they have seen at a short track in Florida.

Live Southern Rock music in the afternoon and qualifying will be earlier than normal, easy to do with the fall time change, to make time for the huge show East Bay will put on that night.
More information will be out soon about this huge double sanctioned event.



Have an opinion on this story? Post a message on The Real Racin USA Florida Fan Message Board! or Email KARNACto send a letter to the editor!
---