"I'm noticing a turn of the tide on racing Web sites like Florida's Karnac.com, the gathering place for the most dedicated race fans in the state."

-Orlando Sentinel
IT'S TIME TO RACE!!
Faster Pastors Steal the Show at Ocala
by BJ Cavin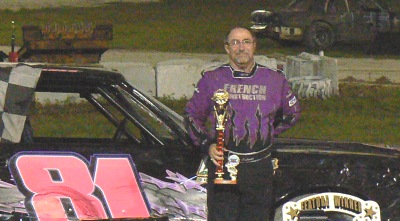 Owner Mike Peters said that he wanted to create a true "family night" at Ocala Speedway, and Church Night at the track turned out to be a wonderful family night, plus an exciting adventure many members of area church congregations. An excited and very vocal crowd filled the grandstands and got quite a show from racing reverends, three regular racing divisions, and the first shot at Ocala Speedway for the Sportsman cars.

Seven ministers borrowed race cars and hit the track to raise money for their ministries in the first annual Faster Pastor Race at Ocala Speedway. The Reverend Blaine Whitt from Christian Disciples Church looked to dominate the race early on, but a late challenge from Reverend John Outlaw resulted in contact in turn two, which sent both preachers spinning. Reverend Larry Miller from Ocala Springs Baptist Church wasted no time in taking advantage of the situation, passing the wreck and sprinting to the finish for the win. He was followed by the Reverend Blaine Whitt for second, and Reverend Craig Jacobs from First Baptist Church in Citra for third place. Reverend Jerry Savery of The Word Baptist Church came home in the fourth spot followed by Reverend Jamie Watts of Meadowbrook Church for fifth place.

The Sportsman Division racers have longed for a chance to challenge the clay on the southeast's toughest 3/8ths mile, but had been denied that chance until a scheduling conflict caused Ocala Speedway to cancel the Late Model division for a week and add the Sportsman cars to the schedule. A solid field of Sportsman cars showed up and put on quite a race for the assembled fans.

Shane Nichols had the dominant car on the night, starting from the pole and managing to lead from flag to flag. But behind him a whole lot of racing was going on as drivers mixed it up for position, and the right to chase down the leader. Kevin Mills was strong and looked to be heading to the front, but he pushed his luck too far in turn one, making contact with Nichols' car and spinning out to cause a caution. From there Mills had to pick his way back through the field to salvage a top five finish.

Bobby Richardson was quite strong and held the second position for most of the race, eventually claiming the second place trophy behind Nichols. Shaun Daughtery placed third followed by Kevin Mills and David Foster for fourth and fifth.

A full field of V8 Thunder Stocks took the green flag and pounded away at each other for 20 laps before determining a winner. Up front it was a Stalnaker family reunion as Jeff Jr. fought to hold off a hard charging Michael Stalnaker for the win. Michael was followed by Harold Erickson in the third spot, with Jason Gamble and James Sealey rounding out the top five.

The Gladiators were led by Tonya Lewis as they took the green flag, but at the start Zachery Perry got on the gas and managed to drive past Lewis to take the lead. Perry was able to drive away for the eventual second place finisher, Tonya Lewis, and claim the win. Guy Bacelo Jr. raced to a third place finish after challenging Lewis for most of the race, and Brian Brogan collected a top 5 with his fourth place finish. Newcomer Cody Fisher was the fifth place finisher.

Grady Christian led from the pole as the Hobby Stocks had their turn on the clay in Zuber, but his reign up front did not last long enough for him to claim a victory. Christian was overtaken by David Kinsey on the 3rd lap,a then later had problems that eventually sent him to the pits for the night on lap 17.

Meanwhile David Miller Jr. was forced to start the race from the rear of the field due to a penalty, and he methodically picked his way through traffic to eventually take the lead by lap 13. Daniel Miller Jr. fought hard to challenge the 21 car, but eventually settled for a second place finish behind David Miller Jr. David Kinsey was also strong on the night and came home with a third place finish, followed by Alan McCafferty and Bubba Christian

Next week the Hobby Stock racers will square off in Race 5 of the Pepsi Six Pack Series, running 30 laps for $1000 to the winner. Also racing on Friday will be the Open Wheel Modifieds, Mini Stocks, and Gladiators. In addition Ocala Speedway will be gearing up for the 11th Annual Jeeptoberfest, which will run both Saturday ad Sunday, October 25th and 26th, on the jeep course located behind the main parking area. For more information, please call 352-622-9400.

Ocala Speedway Results for 10/17/08

Faster Pastor Race

1- 81 Rev. Larry Miller, Ocala Springs Baptist Church
2- 10 Rev. Blaine Whitt, Christian Disciples International Church (Citra, Fl)
3- 66 Rev. Craig Jacobs, 1st Baptist Church (Citra, Fl)
4- 3X Rev. Jerry Savery, The Way Baptist Church (Sparr, Fl)
5- 4E Rev. Jamie Watts, Meadowbrook Church
6- 14 Rev. John Outlaw, Fellowship Baptist Church
7- 26 Rev. Tim Coldwell, Citrus Vineyard Church (Citrus Co.)

Sportsman ($1000 to win Special Event)


1- 65 Shane Nichols
2- 45 Bobby Richardson
3- 05 Shaun Daugharty
4- 01 Kevin Mills
5- 4 David Foster
6- 42 Tim Miller
7- 35 Jackie Bennett
8- 03 Billy Costello
9- 13 Jonathan Appleby
10- 40 Steve Branton
11- 56 Richard Appleby
DNS- 38 Colin Wright

V8 Thunder Stock

1- 9 Jeff Stalnaker Jr.
2- 19 Michael Stalnaker
3- 4E Harold Erickson
4- 17 Jason Gamble
5- 66 James Sealey
6- 3D Jessie Corbitt
7- 69 Jason Blackmer
8- 1 Michael Oglesby
9- 05 Donald Winne
10- 81 Courtney Eubanks
11- 54 Karla Phipps
12- 3X Justin Tilton
13- 14 James Sullivan III
14- 72 Terry Dunbar
15- 12 Jerrid Bennett
16- 66E James Erickson
17- 7 Justin Durbin
18- 71 Jackson Nay
19- 15 Luke Sadler
20- 3 Stephanie McGiveen
21- 10 Doc Batson
22- 89 Terry O'Quinn
23- 85 Juan Montealvo
DNS- 119 Jacob Antis
DNS- 19A William Stalnaker
DNS- 2 Edward England
DNS- 40 Homer Bryant

Gladiator


1- 23 Zachery Perry
2- 91 Tonya Lewis
3- 2B Guy Bacelo Jr.
4- 63 Brian Brogan
5- 83 Cody Fisher

Hobby Stock


1- 21 David Miller Jr.
2- 99 Daniel Miller Jr.
3- 58 David Kinsey
4- 1M Alan McCafferty
5- 04 Bubba Christian
6- 56L Bill Littell
7- 83 Joe Boyd
8- 72 Marlon Durbin
9- 57 Wally Schneider
10- 08 William Edwards
11- 00T Eddie Tovet
12- 01 William Martin
13- 10 Austin Kirkpatrick
14- 81 Donald Woosley
15- 9 Bruce Birkett
16- 36 Grady Christian
17- 23 Glenn Baum
18- 6 Pat Dent
19- 78 Ricky Cox



Have an opinion on this story? Post a message on The Real Racin USA Florida Fan Message Board! or Email KARNACto send a letter to the editor!
---