A Championship up for Grabs
ASA Late Model Series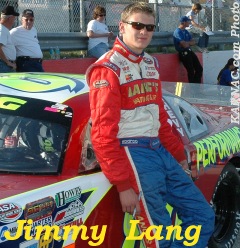 The ASA Late Model Series presented by GM Performance Parts will be at Charlotte County Motorsports Park, October 18th. The ASA Late Model Series South Division will hold the season championship at this .375 mile oval track located in Punta Gorda, Florida.

Charlotte County is known for its fan friendly, driver friendly atmosphere and will be an awesome place to complete our final event of the season. The fans can look forward to plenty of Sunshine State teams mixing it up with the ASA Late Model Series regulars.

Which Florida driver will you be rooting for this Saturday night?

Dustin Dunn - He has raced many, many laps around the tricky Punta Gorda track. Will he put that experience to good use this Saturday night, and pull off one of the biggest wins of his young career?

Stephen Nasse - Stephen shocked the ASALMS regulars by qualifying fifth at New Smyrna on September 27! Will Stephen continue his momentum at CCMP, where he has always ran well?

Justin Larson - Fast driver, fast equipment, and a 2008 ASALMS South Title Contender! Justin is always a factor for the win, any time he unloads.

Chad Pierce - In 2008, Chad competes on the ASA South Series driving for Fountain Motorsports. Chad's teammate is Blake Lehr.

JR "The Machine" Garcia - After finishing a strong fifth in the United Dirt Late Model Challenge "Battle of the Blacktop" at CCMP a few weeks ago, JR returns to Punta Gorda this weekend, quietly confident that he can contend for the win!

Rob Partelo makes his return to ASA racing at Charlotte County Motorsports "I can't wait to get back in the seat. It has been a real struggle to get to here, but it proves that if you want something bad enough, that you have to find a way.

With the GMR team running two cars in the 2008 season they have placed both cars in the top 10 in driver and owner points.

Don't forget the southern warriors of Jimmy Lang of Bluffton, SC and Colt James of Troutman, NC. These Carolina teams have taken the southern division to new levels. These two bring you 'on your feet and knuckle chewing action'. The Championship of the division hinges on their performance this weekend at Charlotte County.

The ASA Late Model series is proud to present Florida fans with the best short track racing in the country. Come out and meet some of the teams at the ASALMS Autograph Session in the Grandstand at 7pm just before the main event.

Saturday October 18th
8:00 a.m. - ASALMS Officials to track
8:45 a.m. - Registration opens
9:00 a.m. - Pit gates open/Rig parking
9:30 a.m. - ASALMS practice tech opens
9:30 a.m. ­ Local Practice Rotating (80 Minutes)
10:00 a.m. - Drivers/Crew Chief/Spotters meeting
11:00 a.m. - ASALMS practice (60 minutes)
12:00 p.m. - Local Practice Rotating (60 minutes)
1:00 p.m. - ASALMS practice (60 minutes)
2:00 p.m. - Local Practice Rotating (60 minutes)
2:30 p.m. - ASALMS qualifying tech opens
3:45 p.m. - ASALMS qualifying (2 laps)
4:00 p.m. - Fan Admission Gates Open
4:45 p.m. - Local qualifying
5:50 p.m. - National Anthem
6:00 p.m. ­ 8:45 pm ­ Local Features
FASTRUCK Pro's & Fastkids, Road Warrior, 4 Cylinder Shootout, Sportsman
7:00 p.m. ­ ASALM Autograph Session ­ Grandstand Autograph Area ­ (45 Min.)
8:30 p.m. - ASALMS cars to grid ­ Line up Behind Main Grandstand
8:45 p.m. - Pre-Race Ceremonies/Driver Introductions ­ Front Stretch
9:00 p.m. - ASALMS Championship 125
10:30 p.m. ­ Figure 8 (If time permits)


Have an opinion on this story? Post a message on The Real Racin USA Florida Fan Message Board! or Email KARNACto send a letter to the editor!
---