"I'm noticing a turn of the tide on racing Web sites like Florida's Karnac.com, the gathering place for the most dedicated race fans in the state."

-Orlando Sentinel
IT'S TIME TO RACE!!
TBARA Headlines Citrus County Action
by Larry MacMillan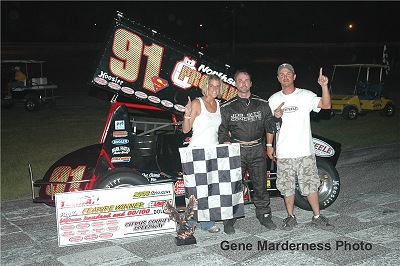 (Inverness, Fl. 9/6/08) Twenty three super fast Winged TBARA Sprint cars made for a tremendous race at Citrus County Speedway Saturday night. At the drop of the green flag a five car pile up on turn one ended the night for Bo Hartley and damaged the right side of Sonny Hartley's wing that definitely affected the down force on his racer.

It looked like Joey Aguilar was on his way to a big win as he launched his car from 7th to the point in the first 10 laps and held off some heavy hitters until a crash on turn two brought out a caution in lap 19 of the 30 lap main. David Steele took advantage of several caution laps and used the outside and inside groove from his 21st starting spot to put the pressure on Aguilar before the caution flag.

The engine went away on Aguilar before the restart for lap 20 with Steele inheriting the point and checking out on Shane Butler, Blaze Martin, pole sitter Tommy Nichols and Point Leader Troy DeCaire to round out the top five at the checkers. Heat winners were Tommy Nichols, Blaze Martin and Brian Gingras.

On the local scene only 7 racers made the show for the Sportsman 20 lap main event. Clint Foley came off the pole and set the pace for the first ten laps and engine problems have plagued him since he brought out a his new car, spinning a bearing.

He made several trips to the pits but finally gave it up before. Fifth starter Bobby Ervien inherited the lead after Foley went to the pits and went on to win his 4th feature of the year over point leader Tom Posavec running second with Ervien closing the points' race gap to just 4.



--Advertisement--





Todd Smith locked down third over Ernie Reed and James Hendrickson III. No heats were run with the new rule of less than 16 cars in the field it will be a feature race only.

Twenty Mini Stocks saw a couple new faces in the crowd but it was the top guns who put on the show until the later laps in their 20 lap main event. George Neumann launched off the pole and led for most of the race until 7th starter and point leader Kevin Harrod made his way to a side by side battle for the lead in the 16th lap.

Coming off turn four Harrod was on the inside lane and Neumann on the outside when they touched, turning Neumann around sending both to the rear of the pack for the restart. Seventeenth starter and relatively newcomer to Mini Stocks, Jason Rendell worked his way through traffic an inherited the lead on the restart for the final few laps to the checkers for his first win of the season. Chris Allen made his way from 9th to 2nd when the checkers flew followed by 15th starter James Ellis, Wes Filyaw and Peter Nelson. All the top five finishers are new additions to the old school Mini Stock drivers. Neumann picked up the win in the first heat and Rendell added another 1st heat win to his 2008 resume.

The Four Cylinder Bombers made for another heavy field with 22 cars taking the green flag for their 20 lap main event. The lucky #13 Mike Ogren started 13th and made his way through traffic taking the lead away from Bobby Richardson in lap 18 for his second win of the season. Richardson started 6th, moved through the front five early and looked like he was on his way to his first win of the season from the get go but had to settle for second over defending champion Jeff Eberly, John DeGeorge and Nathan Florian. With the heavy field the Bombers ran two 11 car heat races and Bryton Prevatt logged his 2nd win of the season and Bryson Ward made it four heat wins for the season but crashed in the feature that ended his evening early.

It was a race to the finish line between two team mates in the Pure Stock Feature. From lap 3 to the checkered flag 15 cars chased Chad Markland with team mate Bill Ryan right behind him. Bill said after the race that he really didn't give his partner the race he just didn't have enough for him. Ryan had a mishap in the 2nd heat that put him up on the light pole embankment on turn three that could have caused to some front end damage to his racer. Point leader John Drye managed to pull off a 3rd place finish and still leads Ryan by 25 in the race for the championship crown. Pole sitter and early leader Eddie Rosasco managed to hold out for a 4th place finish over Richard Dinkins who just moved up from the Rookie division. Glen Colyer and Markland took the heat wins.

V8 Thunder Stock Rookies had 10 cars make the show after two rainouts and a two time winner went to Victory Lane. Cotee Clark started 9th and drove his way to the front before the halfway point in their 20 lap main for his second win of the season. One more win and he will move up to the Pure Stock division and be racing for real points. Michael Martin looking for his 3rd win had to settle for second from his 8th starting spot. Drew Matissek held out for 3rd over Alexander Wilder who lost the point lead to Jamie Shahid. Dan Bennett locked down the fifth spot at the finish line.

Twelve Outlaw Mini Modifieds made the trip to Citrus for 2 heats and a 30 lap feature. The night belonged to John Parrish with a win in the first heat and a flag to flag win in the feature. Doug Hopper looked like the man to beat as he has lots of experience at Citrus and has taken home several Mini Stock and Mini Mod wins. He took the win in the second heat and settled for 2nd in the feature after having to restart in the rear of the pack after a caution flag involved him. Robert Campbell ran 3rd followed by Tom Meyer and Ric Mills.

Next Saturday night is "Fan Appreciation Night" at Citrus County Speedway with $5 general admission for the grandstand fans. The race card will feature the Open Wheel Modifieds, Figure 8's, Street Stocks, Pure Stocks, V8 Thunder Stocks, 4 Cylinder Bombers, Mini Cup Cars and the Florida Pro Series. No $2 discount coupons will be honored for this race.

Citrus County Speedway Results 9/6/08

TBARA Sprint Car Feature – 30 Laps – 23 Cars

1. #91 David Steele – Tampa

2. #18 Shane Butler – Bushnell

3. # 5 Blaze Martin –

4. #55 Tommy Nichols – Tampa

5. #68 Troy DeCaire – Tampa

6. #21b Larry J. Brazil Jr. – Tampa

7. #16 Ben Fritz – Ocala

8. #51 Mark Gimmler – Palm Beach Gardens

9. #79dd Dakota Stephens – Brandon

10.#78 Mickey Kempkins

1st Heat Winner - #55 Tommy Nichols

2nd Heat Winner - # 5 Blaze Martin

3rd Heat Winner - #66 Brian Gingras

Sportsman Feature – 20 Laps – 7 Cars

1. #88 Bobby Ervien – St. Petersburg – 4th Season Win

2. #01 Tom Posavec – Dunnellon

3. #183 Todd Smith –

4. #55 Ernie Reed – Lecanto

5. #33 James Hendrickson – Spring Hill

No Heats Run

Mini Stock Feature – 20 Laps – 20 Cars

1. #57 Jason Rendell – Brooksville – 1st Season Win

2. #33 Chris Allen – Ocala

3. #98 James Ellis – Brooksville

4. # 3 Wes Filyaw – Brooksville

5. #18 Peter Nelson – Crystal River

1st Heat Winner - # 1 George Neumann – Inverness

2nd Heat Winner - #57 Jason Rendell

Four Cylinder Bomber Feature – 20 Laps – 22 Cars

1. #13 Mike Ogren – Spring Hill – 2nd Season Win

2. #22 Bobby Richardson – Lecanto

3. #01 Jeff Eberly – Spring Hill

4. #122 John DeGeorge – Dunnellon

5. #26 Nathan Florian – Homosassa

1st Heat Winner - #33 Bryton Prevatt – Center Hill

2nd Heat Winner - # 4 Bryson Ward – Crystal River

Pure Stock Feature – 20 Laps – 16 Cars

1. #34 Chad Markland – Inverness – 1st Season Win

2. #33 Bill Ryan – Bushnell

3. #39 John Drye – Inverness

4. #10 Eddie Rosasco – Spring Hill

5. #69 Richard Dinkins – Bushnell

1st Heat Winner - #44 Glen Colyer – Homosassa

2nd Heat Winner - #34 Chad Markland

V8 Thunder Stock Feature – 20 Laps – 10 Cars

1. #39 Cotee Clark – New Port Richey – 2nd Season Win

2. #76 Michael Martin – Citrus Springs

3. #68 Drew Matissek – New Port Richey

4. #14 Alex Wilder – Inverness

5. #25 Dan Bennett – Inverness

Outlaw Mini Modified Feature – 30 Laps – 12 Cars

1. #9 John Parrish

2. #15 Doug Hopper

3. #10 Robert Campbell

4. #04 Tom Meyer

5. #21 Ric Mills

1st Heat Winner – #9 John Parrish

2nd Heat Winner - #15 Doug Hopper






Have an opinion on this story? Post a message on The Real Racin USA Florida Fan Message Board! or Email KARNACto send a letter to the editor!
---