Justin Larson Has Memorable Visit to Bristol Motor Speedway
ASA Late Model Series PR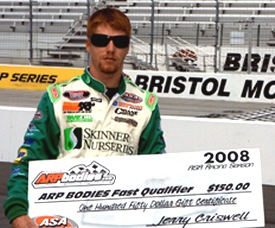 Racing is a funny thing. It is one of the few venues in life where an athlete can experience an incredible high only to have it snatched away seconds later. Justin Larson experienced this first hand at Bristol Motor Speedway.

A regular competitor in the ASA Late Model Series Southern Division, Larson opted for a different ride at Bristol. Rather than the familiar white and green Skinner Nurseries Chevrolet, the 88 team arrived at Bristol with the same black Ford Larson campaigned at Concord Motorsports Park. If practice speeds were any indication the decision paid off.

All eyes in the Bristol infield were on Larson as ARP Bodies qualifying began. The Skinner Nurseries team had regularly practiced at speeds that shattered Bristol Motor Speedway track records. Larsonís first lap of qualifying would not disapoint.

Jacob Goedeís 2007 record of 15.364 was no match for Larsonís record time of 15.147. For comparison, Kasey Kahne won the pole for last seasonís Sharpie 500 with a lap of 16.016 seconds.

Justin would have little time to celebrate. As he begun his second lap of qualifying the Skinner Nurseries Ford Fusion would lose grip between turns one and two making heavy contact with the outside wall.

It didnít take the crew very long to realize that their black Ford Fusion was done for the weekend. With the back up car being ready, Larson would focus his attention toward the 200 lap Thompson Metal 200. Although he would start 31st, he would get to race.

The back up car had not seen the track all weekend, but that didnít seem to bother Larson at all once the green flag dropped. After picking off several positions in the first 3 laps, again his night would turn sour.

When fellow ASA Late Model Series Southern Division competitor Brandon Johnson cut a tire, Larson would find nowhere to put his Chevrolet. With three laps complete, his weekend was finished.
Although the weekend didnít go as planned, Larson did accomplish one important task.

His name is etched in the record books of Bristol Motor Speedway. Larson will next compete in the ASA Late Model Series Southern Division at South Georgia Motorsport Park.

If his speed at Bristol was any indication of the future, keeping a close eye on the 88 Skinner Nurseries machine would be a good idea.




Have an opinion on this story? Post a message on The Real Racin USA Florida Fan Message Board! or Email KARNACto send a letter to the editor!
---