"I'm noticing a turn of the tide on racing Web sites like Florida's Karnac.com, the gathering place for the most dedicated race fans in the state."

-Orlando Sentinel
IT'S TIME TO RACE!!
ANDERSON AND JEFFERSON COME OUT ON TOP AT CCMP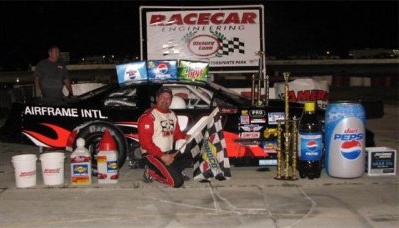 BY Linda Jericka

No one thought that there would be any racing going on sat at Charlotte county motorsports park with the rain starting so early, except owner Bobby Diehl who said have faith we are going to go racing. It started with Friday nights practice when so many Supers and Open wheels showed up to test and tune and then staying over night, the pits were half full to start the day off, so no one wanted to cancel.

Well the rain stopped and the sun came out and it was once again a hot night of racing at the 3/8 mile track in Punta Gorda. The night started out with the mini Stock running a make up race which saw the 30 car of Robert Carter the winner and the 54 of Ricky Bullard who seemed to be having problems with the car finishing second and Joe Rice third. The second race for the Mini Stock Ricky Bullard jr out of arcadia was back in the winners circle with the win and Chris Zimmerman was second and Derrick Horton third.

Pro 4 saw the 1 car driven by Cory Scott again winning the feature only to later be disqualified in tech which moved the 57 of Logan Leonard up to the first spot, Derrick Horton came in second and Brandon Reichart third. The Dwarf cars put on one heck of a race with the 33 of Roger Richmond and the 82 of Mike Belasar battling back and forth for that number one spot and Belasar got around Richmond with two laps to go to take home the win and Richmond would come in second and Larry Hubbard third.




With the night running rather smoothly it was time for a fan favorite class, the Open Wheel modified were up for there fifty lap featured event and the sun was still blazing going into turn one and it was only 7:30 so the fans got to meet and greet the drivers of the Open wheel class and get autographs. With the track all cleared and the drivers strapped in it was time to go racing, the 0 car of Troy Robinson, who would later be driving in the super late models, had set fast time in qualifying but after the pill draw started sixth. Scott McDaniel and Eric Rudd were your two front cars to start the race, the 19 of McDaniel, out of Cape Coral jumped out to the lead. Wayne "The rocket man" Jefferson took the lead on lap six but due to a caution had to try again and it was lap twelve that he went to the inside of McDaniel for the lead taking the 89 of Lee Collins and Eric Rudd with him which left the 19 no choice but to drop into that fourth spot. The rest of the race would re main as that with Wayne Jefferson out of St Pete first Lee Collins out of Felda second Eric Rudd out of Naples third and Scott McDaniel fourth.

Super late models came out and also got to sign autographs for the fans before they ran there 100 lap feature. Scott Walters out of Naples had fast time but due to some car problems had to go to his back up car which then started him in the back of the field. Well everyone kinda knew what the outcome would be with the 84 of Wayne Anderson starting on the pole, who would be able to catch him and if they did, could they pass him, and with the fast time car in the rear, but was it as fast as the car that was qualified. Anderson did lead all 100 laps that took an hour and twenty minutes with fifteen cautions, who knows what he was thinking all that time trying to stay in the lead. The racing was going on behind the leader were some strong drivers were battling there way to the front and running out of patients and being sent to the rear o r dealing with ill handling cars, but when the Pepsi scoreboard finally got to 100 it was Wayne Anderson out of Wildwood first, then Scott Walters out of Naples second, Wayne Morris from Mulberry third and after being sent to the rear twice Richie Anderson from N. Ft Myers fourth and Sean LeMaster would round out the top five. Fab 4 would see Josh Flesher out of Bonita Springs in the winners circle with Mike Weinrich second and Jason Perkins would hang on for third place.

The last feature of the night would be the Road Warriors, and finally getting the kinks worked out of the motor, James Dellea would make it to the winners circle first beating out the 38 of Gary McFall who did not make it easy for Dellea and finishing third was Chris Scott.

Next week the race that everyone is waiting for BATTLE ON THE BLACK TOP United Dirt late models take to the asphalt for 50 laps along with Fastrucks, Thunder trucks, Road Warriors and Legends.


Finishes for 8-09

Mini Stocks (make-up)
1.) 30 - Robert Carter
2.) 54-Ricky Bullar
3.) 77 - Joe Rice
4.) 45-Mike Karrivan
5.) 27 - Derrick Horton


Dwarf Cars
1.) 82 Mike Belasar
2.) 33 Rodger Richmond
3.) 56 Larry Hubbard
4.) 83 Jeff Wolf
5.) 77
6.) 21 Sammy Mancuso
7.) 45 John Bailey`

Fab 4
1.) 55-Josh Flesher
2.)7x- Mike Weinrich
3.) 21- Jason Perkins
4.) 44-Barbra Hooper
5.)16- Sara Smith
6.) 86- John Pummell Jr
7.) 22- Jeremy Perkins
8.) 1 - Allen Scott

Pro 4
1.) 57-Logan Leonard
2.) 27 - Derrick Horton
3.) 30- Brandon Beichart
4.) 15- Michael Rodriguez
5.) 20 - Jacob Ingram
6.) 44 - Mike Lemaster
7.) 24-Shane Moore
8.)55-Mark Davis
9.)16-Wally Smith
10.) 0 - Chuck Flesher
11.) 7 - Dwayne Thibideau
12.)1- Cory Scott DQ in tech




Open Wheel Modified
1.) 61J Wayne Jefferson
2.) 89 Lee Collins
3.) 12 Eric Rudd
4.) 19 Scott McDaniel
5.) 99 Sean McLaughlin
6.) 98 Robbie Cooper
7.) 0 Troy Robinson fast time 15.430
8.) 2 Scott Kliber
9.) 61 Tony Correno
10.) 6 Jay Winkley
11.) 46 Doug Moff
12.) 2R John Rodgers
13.) 20 Kevin Brickley


Super Late Models
1.) 84- Wayne Anderson
2.) 55- Scott Walters fast time 15.014
3.) 56- Wayne Morris
4.) 51- Richie Anderson
5.) 8- Sean LeMaster
6.) 19- Kevin Macy
7.) 16- Patric Mennenga
8.) 27- Rob Elting
9.) 77- Patrick Williams
10.91- Troy Robinson
11.) 184- Randy Anderson
12.) 75- Dave Pletcher
13.) 14- Martin Maresca
14.)127- Kyle Maynard
15.) 02- Mike Finn
16.) 41- Eddie King

Road Warrior
1.) 77-James Dellea
2.) 38-Gary McFall
3.)97-Chris Scott
4.) 24-Jeff Pacheco
5.) 7- Blaine Baer
6.) 33- Mike Loney
7.) 23- Jeff Rumbold
8.)16-James Buckmaster
9.)29-Don Jericka

Mini Stock
1.) 54-Ricky Bullard Jr.
2.)29 -Chris Zimmerman
3.)27-Derrick Horton
4.)1-Jay Miller
5.) 77-Joe Rice
6.) 86-Robert Carter




Have an opinion on this story? Post a message on The Real Racin USA Florida Fan Message Board! or Email KARNACto send a letter to the editor!
---