Keith Lilley Proclaimed Winner in Final Advance Auto Parts Pro Truck 50 at USA International
by Jane Smith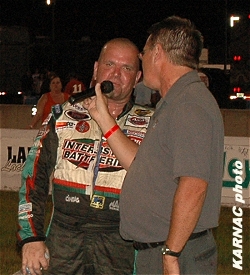 Lakeland, FL (August 2, 2008) Twenty four Advance Auto Parts Pro Trucks came to USA International in Lakeland for the final race ever at USA. Some came because they wanted to say they had raced at USA, others came because they were in the points battle for the trucks but they came.

Scott Bishop of Inman, SC set fast time for the 50 lap event with a 23.543 followed by Austin Pickens with a 23.688, Keith Lilley 23.717, Kevin Henry 23.795, and Logan Bordeau 23.950. Lilley failed post qualifying inspection and was sent to the rear for the start of the race as Bishop pulled a 7 for the inversion putting Scott Reeves of Royal Palms Beach on the pole.

The trucks joined the Super Lates in the last autograph session at USA International. The trucks went back to the pits to wait for their race that followed the Noritz/Tempaco Sunbelt Super Late Model 125. It would be the Advance Auto Parts Pro Truck who took the FINAL checkered flag at USA International as they closed their doors forever.

On the green, Reeves quickly jumped to the point followed by George Gorham, Jr., Kevin Henry, Logan Bordeau, and Scott Bishop. Henry passes Gorham for second and by lap 4 is challenging Reeves for the point. Just as Henry takes the lead, he spins on the backstretch putting his truck into the inside pit wall. Henry is towed in and done for the night.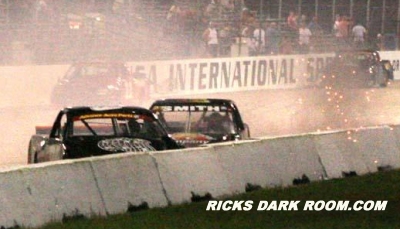 The race goes back green as Reeves leads the way over Gorham, Bordeau, Bishop and Mark Evans. Bishop is now on the move as he passes Bordeau and then Gorham and by lap 8, Bishop has the lead. It is now Bishop, Gorham, Bordeau, Reeves and Evans.

Coty Blair, making his first appearance in a Pro Truck, sees his night end on lap 9 as Bishop continues to lead the wya. T.J. Duke challenges Evans for fifth as Duke is on the inside, Evans on the outside. Duke makes it work and takes over fifth as Evans slides to sixth.

200 PLUS PHOTOS AT THIS LINK!

Lap 15 Duke gets very squirrelly coming down the frontstretch as he hits the inside retaining wall involving Ricky Moxley and Ben Kennedy. Moxley takes his truck behind the pit wall as Duke is on pit road for crew attention and Kennedy is towed off the track.

On the restart, there are 18 trucks left as Bishop leads the way over Gorham, Bordeau, Austin Pickens, and Gary Foxworth. Lap 17 sees Jessica Green spin all alone in turns 1 and 2.

Green rejoins the field in the rear as Bishop maintains the point on the restart followed by Gorham, Bordeau, Pickens and Foxworth. But it is a short green as Duke and Jason Deaton get together on the frontstrech sending Deaton into the pit wall.

The race goes back green as Bishop holds the point. Lap 20 sees Jessica Green once again get squirrelly in turns 1 and 2 but this time she is able to save it. But the caution does come out on lap 21 for Whitney Poole who has spun in turn 2. Poole rejoins the race in the rear.

Bishop holds the point on the restart as Barry Bartlett looks to challenge Foxworth for fifth. However, Foxworth is having nothing to do with the challenge and maintains his position. But it is another short green as Tyler Laing and Michael Smith get together. Laing spins as Smith goes to pit road for crew attention. Laing goes to the rear for the restart.

Lap 22 sees Bishop leading the way over Gorham, Bordeau, Pickens, Foxworth, Evans, Lilley, Barlett, and Reeves. Lilley, who was sent to the rear for the start for being dq'd in tech after qualifying, is making his way back up front. Lap 25 sees Evans take over fifth as Foxworth goes to sixth. By lap 28, Lilley has made his way to sixth as Evans passes Pickens for fourth. Running order is now Reeves, Gorham, Bordeau, Evans and Lilley.

Lap 34 Pickens slows on the backstetch as Bordeau passes Gorham for second. It is now Bishop, Bordeau, Gorham, Lilley, Evans, Barlett, Foxworth, Reeves, Smith, Green and Laing leading the way. Smith challenges Reeves for eighth but Reeves holds his position. But on lap 39, Smith is able to pass Reeves and takes over eighth. It is now Bishop, Bordeau, Gorham, Lilley, Evans, Bartlett, Foxworth, Smith, Laing, Green and Reeves.

Lap 41 sees Reeves slowing and goes into the pits, done for the night. The caution comes out on lap 45 as Laing spins in turns 3 and 4 and is facing the wrong way. Laing rejoins the field in the rear as Bishop leads the way on the restart followed by Gorham, Bordeau, Lilley and Evans.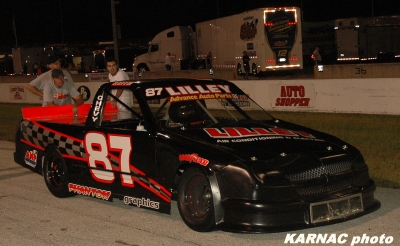 Lilley puts pressure on Bordeau for third but Bordeau holds. But on lap 48, Lilley is able to pass Bordeau for third as Bordeau goes to fourth. Bishop takes the checkered followed by Gorham, Lilley, Bordeau and Evans.

In tech, Bordeau protests Gorham and Gorham protests Bishop. Money is given to the officials and trucks are torn down. In the final outcome, both Gorham and are found illegal and the win is given to Keith Lilley who came from the rear for being illegal in qualifying. Bishop gives back the trophy to the officials and Lilley is given the final trophy for the Advance Auto Parts Pro Truck 50 at USA International. Both Gorham and Bishop said they will be back next race and legal which will be August 23rd at Columbia Motorsports Park in Lake City.

OFFICIAL RESULTS ADVANCE AUTO PARTS PRO TRUCK 50
USA INTERNATIONAL - AUGUST 2, 2008

1. #87 Keith Lilley, Lakeland
2. #33b Logan Bordeau, Apopka
3. #50 Mark Evans, Lehigh Acres
4. #71 Barry Bartlett, St. Pete
5. #23 Michael Smith, Auburndale
6. #25 Gary Foxworth, Lutz
7. #40 Jessica Green, Lakeland
8. #97 Clinton Clark, Ft. White
9. #00 Whitney Poole, Vero Beach
10. #39 Tyler Laing, Davey
11. #11 Robert Strader, Jr., Longwood
12. #407 Jason Vail, Clermont
13. #21 Scott Reeves, Royal Palms Beach
14. #63 Austin Pickens, Windermere
15. #28 TJ Duke, S.W. Ranches
16. #99x Jason Deaten, Lakeland
17. #24 Michael Pilla, Jupiter
18. #38 Ricky Moxley, West Palm Beach
19. #96 Ben Kennedy, Daytona Beach
20. #99 Kevin Henry, Orlando
21. #15 Cody Blair, Casselberry
22. #47 Tim Bagnail, Ormond Beach
23. #10 George Gorham, Jr., Lakeland DQ'D
24. #22 Scott Bishop, Inman, SC DQ'D


Have an opinion on this story? Post a message on The Real Racin USA Florida Fan Message Board! or Email KARNACto send a letter to the editor!
---