"I'm noticing a turn of the tide on racing Web sites like Florida's Karnac.com, the gathering place for the most dedicated race fans in the state."

-Orlando Sentinel
IT'S TIME TO RACE!!
David Rogers Finally Conquers USA International Speedway
The Southeast's finest short track is gone

By Jack Smith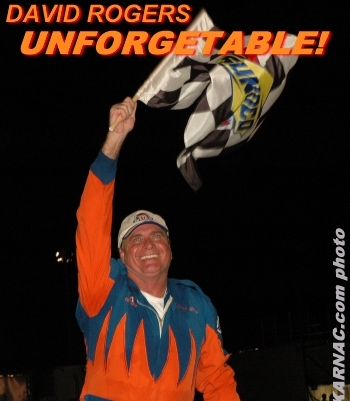 Sitting on the wall with David Rogers at USA International Speedway 5 PM - "It is a shame that is going away. It is kind of sad......I have had some good nights here, I've never won a race here, I've had some good cars, but for whatever reason, things just didn't work out....."

"Over the years I've raced with lots of good people....it would be great to win the last one, you know it is going away and that's one of them records they can't break, like when we won the National Championship, we won 22 out of 22...."

"If I win the last one and they tear it up next week, at least that part will be known."

- David Rogers

USA International Speedway Winners Circle Appx 9:15 PM - "I waited a little late to get good here, huh", David said as he celebrated with his jubilant crew, what was a very popular win in the last Super Late Model race at the Lakeland speedway.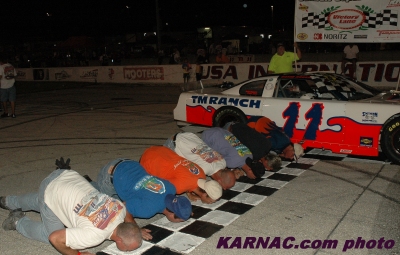 Rogers and his crew after winning one of the biggest races in David's 35 year career.



The Noritz/Tampico Sunbelt Super Late Models second race of the Triple Crown started 31 cars with Travis Cope on the pole ahead of Jeff Scofield and fast qualifier Tim Russell.

Russell had a hot rod and had been dominating until late in the race. Jay Middleton, who had started 10th, caught Russell and the two race side by side with Middleton on the bottom groove for several laps. The two drivers got together coming up turn two in lap 106, resulting in major damage to Russell's #36 and the official call going against Middleton.

David Rogers inherited the lead, after starting back in the 15th position, to take his first ever win at USA International Speedway.

In the 24 car field of ADVANCE Auto Parts FASCAR Pro Trucks, Scott Bishop and George Gorham were protested and disqualified in a lengthy post race tear down, elevating 3rd place finisher Keith Lilley to the top spot.

Interviews with Middleton, Russell and of course David Rogers plus many of the other stars of Super Late Model racing in Florida with reaction to the closing of the speedway all will be featured on Inside Florida Racing, the Real Racin USA Internet broadcast Monday night 6:30 to 9:00 PM. Log on to www.realracinusa.com to listen live.

More on the race, the drivers, including commentary on the track's closing later here on KARNAC.com


OFFICIAL RESULTS NORITZ/TEMPACO SUNBELT 125
USA INTERNATIONAL - AUGUST 2, 2008

1. #11 David Rogers, Orlando
2. #05 Jeremy Colangelo, Deland
3. #26 Travis Cope, Hernando Beach
4. #55 Billy Mowery, Clearwater
5 #92 Wayne Anderson, Wildwood
6. #80 Brian Finney, Merritt Island
7. #83 David Wilson, Sarasota
8. #39 Dwayne Dempsey, St. Pete
9. #14 Travis Towell, Sanford
10. #77 Tuffy Hester, Lakeland
11. #84x Matt Bowers, Mt. Dora
12. #1x Daniel Webster, Brooksville
13. #22 Dusty Cornelius, Cocoa
14. #56 Chris Staggs, Clermont
15. #12 Corey Freed, Orlando
16. #158 Kevin Bayless
17. #1 John Jackson, Ellenton
18. #36 Tim Russell, Longwood
19. #74 Jay Middleton, Lake City
20. #12x Justin Drawdy, Ft. Pierce
21. #88x David Pollen, Jr., Tampa
22. #44 Koot Sapp, Plant City
23. #53 Brad Bischoff, Myakka
24. #180 Kevin Finney, Concord, NC
25. #86 Chet Morrison, Homa, LA
26. #58 John Coffman, Live Oak
27. #78 B.J. McLeod, Wachula
28. #21 James Carter, Bradneton
29. #07 Jeff Scofield, Plant City
30. #56X Mike Staggs, Clermont
31. #24 Doug Elliott, Port Orange
32. #81 Anthony Campi, Sarasota DNS

OFFICIAL RESULTS
ADVANCE AUTO PARTS PRO TRUCK 50
USA INTERNATIONAL - AUGUST 2, 2008

1. #87 Keith Lilley, Lakeland
2. #33b Logan Bordeau, Apopka
3. #50 Mark Evans, Lehigh Acres
4. #71 Barry Bartlett, St. Pete
5. #23 Michael Smith, Auburndale
6. #25 Gary Foxworth, Lutz
7. #40 Jessica Green, Lakeland
8. #97 Clinton Clark, Ft. White
9. #00 Whitney Poole, Vero Beach
10. #39 Tyler Laing, Davey
11. #11 Robert Strader, Jr., Longwood
12. #407 Jason Vail, Clermont
13. #21 Scott Reeves, Royal Palms Beach
14. #63 Austin Pickens, Windermere
15. #28 TJ Duke, S.W. Ranches
16. #99x Jason Deaten, Lakeland
17. #24 Michael Pilla, Jupiter
18. #38 Ricky Moxley, West Palm Beach
19. #96 Ben Kennedy, Daytona Beach
20. #99 Kevin Henry, Orlando
21. #15 Cody Blair, Casselberry
22. #47 Tim Bagnail, Ormond Beach
23. #10 George Gorham, Jr., Lakeland DQ'D
24. #22 Scott Bishop, Inman, SC DQ'D




Have an opinion on this story? Post a message on The Real Racin USA Florida Fan Message Board! or Email KARNACto send a letter to the editor!
---