"I'm noticing a turn of the tide on racing Web sites like Florida's Karnac.com, the gathering place for the most dedicated race fans in the state."

-Orlando Sentinel
IT'S TIME TO RACE!!
The Race Cars of Yesterday Invade Desoto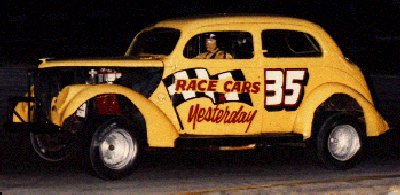 Bradenton, FL. August 3, 2008. It was another fun filled evening of action at Desoto Super Speedway last night. The Cars of Yesterday put on quite a show with racecars dating back to the early 40's. There were 17 of these time warp beauties that hail out of Pinellas Park. The Cars of yesterday ran two Heat races and then they all ran the feature event that was a 15-lap event.

Tom Cruise drove one of the cars named "Mellow Yellow" in the movie "Days of Thunder. Richard Pryor drove another car in the movie "Greased Lightning." This movie told the story of Wendell Scott, the first black NASCAR driver. Race Cars of Yesterday is a Pinellas Park based club of enthusiasts that number about 40 strong.

Dave Rudenis a St. Petersburg businessman and himself a racecar driver, who began by donating his old stock cars to club members, founded the club. When Jerry Mullins isn't busy attending Pinellas Park city council meetings, he is behind the wheel of a 1940 Ford named "Brand X." The feature race was won by #30 John Hanson with #44 Tyree Bedell in 2nd and #400 Tim Brush 3rd. The Race Cars of Yesterday will be back at Desoto Super Speedway September 6th. Be sure and mark your calendars.

The line up also featured some of the fan's favorite classes of racecars. Dustin Perez who started the race in the 4th spot after a 5-car inversion won the Modified Mimi's 50-lap feature. The 15 Modified Minis put on quite show but at the end of the race, which included several yellow flags and a spin out, Dustin Perez drove the #62 car to victory lane. Rick Sirmans in the #05 fought hard for 2nd, and Chris Zimmerman in the #29 took a tough 3rd.

The night started off with a bang as always with the very competitive Pure Stock class. Robert Crisp in the #2 car wasted no time jumping into and holding the lead. Randy Johnson in the #73 car (2nd place) was on Robert's bumper most of the race and Billy Carlbert Jr. in the #07X car took 3rd place. Chelsea Lau, a fan favorite and a 15-year-old 10th grader at Lakewood Ranch High School started on the pole with Robert Crisp, and despite a spin out she drove a great race keeping up with the veterans and doing her papa, Mark Lau, proud!

Street Stocks then took stage and delivered. Greg Krom of Sarasota, in the white #35 car, took off to a fast lead and never looked back. Joe Shaver in the 111 car picked and fought his way to 2nd, while Dale Reigle in the #86 Camero pulled into 3rd.

The Bomber Class delivered the one - two punch. Jeff Firestine won this 25-lap feature race in the #93 car. Jody Collins, in the #44X car, drove a great race and finished right behind Jeff. Veteran driver, Steve Elder drove hard to an impressive third place finish.

The Go Kart class featured 14 Karts for 25 laps and the winner was Phil Harp in the #0 Kart.

The Magic Fours then hit the track running. It was a special night for 11year old Jo Ann Danielson. It was the first race for the straight A, 6th grader from Pinellas Park Middle School. Jo Ann said she was "scared and anxious" as she hit the dirt pile at Thursdays practice. She finished 7th but drove an excellent race. and we congratulate her. The race ended with 17 year old Jessica "O" Ostrovskis from St. Petersburg driving over and around to victory while Alex Patten the 14 year old also from St. Petersburg right on her bumper. Austin Cavey a 13 year old from Parrish finished a strong third. These kids are awesome and really fun to watch!

Next Saturday at 7 PM Desoto Super Speedway will feature a full night of racing action with the Limited Late Model 100 Lap feature race. Also on the schedule will be Ladies Powder Puffs (rookies only), 50 Lap Truck Series event, Bombers, Street Stocks, and the Sunshine Outlaw Street Stocks. Bring the family for a night of fun and action!

Results

BOMBERS

1 JEFF FIRESTINE 93
2 JODY COLLINS 44X
3 STEVE ELDER 42
4 SCOTT DAWLEY 74
5 DEAN BUTRUM 32
6 JOHN STEWART 02
7 MICHAEL CROOKS 33
8 MARK BOXELL 88
9 LOU RUSSELL 3
10 JAMIE CASSIDY 72

MAGIC 4S - MAGIC FOURS

1 JESSICA OSTROVSKIS 91
2 ALEX PATTEN 13
3 AUSTIN CAVEY 20
4 BRITTANY BARR 81
5 MARK BARTIMAC 21
6 ZAC CAMPILONGA 30
7 JOANN DANIELSON 38

MODIFIED MINIS - MM FIFTY LAP

1 DUSTIN PEREZ-Mmm 62
2 RICK SIRMANS 05
3 CHRIS ZIMMERMAN-Mmm 29
4 BRIAN DORER-M-mm 97
5 THOMAS ZIMMERMAN 29X
6 JEFF BARNES 5
7 CHRIS THORNTON 24
8 JESSE HENLEY-Mmm 0
9 GLENN KELLEY 16
10 JOE GAGEN 1
11 BRAD STEGER-Mmm-R BUS 31
12 MIKE BIRK JR-M mm 10
13 WILLIAM CARLBERT JR-Mtks 11
14 ROBBIE STORER 3
15 MATTHEW PERKINS-Mmm 99
16 ANDY WHITTED 9X

MODIFIED MINIS - QUALIFYING

1 RICK SIRMANS 05
2 CHRIS THORNTON 24
3 ROBBIE STORER 3
4 DUSTIN PEREZ-Mmm 62
5 BRIAN DORER-M-mm 97
6 THOMAS ZIMMERMAN 29X
7 CHRIS ZIMMERMAN-Mmm 29
8 GLENN KELLEY 16
9 JOE GAGEN 1
10 MIKE BIRK JR-M mm 10
11 MATTHEW PERKINS-Mmm 99
12 JESSE HENLEY-Mmm 0
13 WILLIAM CARLBERT JR-Mtks 11
14 JEFF BARNES 5
15 BRAD STEGER-Mmm-R BUS 31
16 ANDY WHITTED 9X

PURE STOCKS

1 ROBERT CRISP 2
2 RANDY JOHNSON 73
3 WILLIAM CARLBERT JR-Mtks 07X
4 KEN SMITH 11
5 TROY MEREDITH 75
6 BRYAN ROGERS 77
7 CHELSEA LAU 13

STREET STOCKS

1 GREGORY KROM 35
2 JOE SHAVER 111
3 DALE REIGLE 86
4 ALEX ABBOTT 17
5 CASEY HALL 11

Have an opinion on this story? Post a message on The Real Racin USA Florida Fan Message Board! or Email KARNACto send a letter to the editor!
---