"I'm noticing a turn of the tide on racing Web sites like Florida's Karnac.com, the gathering place for the most dedicated race fans in the state."

-Orlando Sentinel
IT'S TIME TO RACE!!
Scott Grossenbacher wins Citrus Super Late Model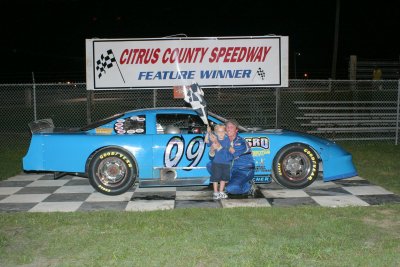 BY Larry MacMillan

Despite rain postponing Saturday practice session for about an hour the weather cleared up and five divisions went to the car wars at Citrus County Speedway. Five divisions turned up the rpm's with the Super Late Models, Sportsman, Street Stocks, Mini Stocks and 4 Cylinder Bombers and the local's first look at 25 DeSoto Champ Kart Series karts putting on a great show.

Two heavy hitters pulled the right pill putting Scott Grossenbacher on the pole and John Gerstner in the outside lane for a hot drag race into turn one for the point when the green flag flew. Gerstner took the lead over the 16 car field and led for most of the race with Grossenbacher hot on his rear bumper saving the best for last. Dustin DesChamp and Dale Sanders put on great battle for third before Sanders' rebuilt racer pushed to the outside opening up the lane for Daniel Webster, Richie Smith and Scott Millar.

Gerstner led most of the laps but Grossenbacher waited for his break in the final laps making the inside pass and was on the point when the checkers flew. Meanwhile things were happening behind the two leaders that put Richie Smith, Herb Neumann Jr. and Dustin DesChamps to the rear of the pack changing the finishing order. Gerstner held out for second and Dale Sanders moved up to third followed Scott Millar and Troy Robinson rounding out the top five. Daniel Webster took the win in the first heat and Dale Sanders picked up his first heat win of the year after he and his brother Johnny replaced much of the race car and worked all week getting there. Dale was ready to bow out of the season after a 6 car crash ended his night two weeks ago.

Twelve cars took the green flag for their 20 lap main. Clint Foley has spent several weeks getting his new ride dialed in and it finally paid off with an outside pole starting position and winning the run off turn two to lead from flag to flag for his 4th feature win in the division plus adding another heat win to his resume. Ernie Reed motored from fourth to second at the checkered flag followed by 8th starter Tom Posavec and 7th starter Bobby Ervien in a side by side battle for the final 4 laps for the position. Posavec leads the points' race by a slim 4 over Ervien after Saturday nights results were posted. Tom picked up 1 point over Bobby who won his heat and Tom finished 2nd. Bobby Miller locked in the fifth place finish from his pole starting spot.

Tim Quick put some more cushion in his Street Stock Point lead posting his 6th win of the season over a 13 car field from his 7th starting spot. When he took the lead early in the race the battle for second between Quick's teammate Jason Murphree out maneuvered Mark Fallows and Jason Van Ochten hanging them out to dry in the outside lane. Then Tommy Smith motored through traffic from his 11th starting spot to again make it a 1, 2, 3 finish for the Above It All racing team. Larry Welter came from 12th to outrun Mike Loudy in the race for a 4th place finish. Mike Loudy and Tommy Smith took the heat wins.

Mini Stock action continues to grow with three new drivers in the 21 car lineup when the green flew. Clint Foley has spent several weeks rebuilding his racer and getting the bugs out. They were definitely out on Saturday night as he motored from his 14th starting spot to the winners circle only to lose his fifth win of the year in post race inspection for being too light. Those bugs must have weighed 7 pounds because that is how much he lost on the scales.

Kevin Harrod again inherited the win with a second place finish followed by 16th starter Jason Rendell, Mike Lawhorn who led most of the laps in the 20 lap main. Dan Smith started 10th and finished 4th after a few incidents on the track moved him up on the restarts. Rounding out the top five was one of the new faces in the crowd Burt Morse who started 19th. George Neumann brought his race car back after a bad wreck two weeks ago and broke a drive shaft on the start of the 3rd heat that ended his night on the hook. Heat winners were Chris Allen for his first of the season. Mike Lawhorn picked up his 4th heat win of the season and another first time winner was Chris Harvey who moved up from 4 Cylinder Bombers in recent weeks.

Brandon "the Rabbit" Watson made his 7th starting position payoff over a 22 car field with his 4th feature win of the season. This time he made it through tech with no problem but the second and third finishers had problems that earned them a disqualification. Tim Scalise got caught with illegal springs and third place finisher Brayton Prevatt refused to go through tech and lost his position. That moved defending champion Jeff Eberly to a 2nd place finish and he gained 4 points on point leader Richard Kuhn in search of another championship in 2008. Kuhn finished 3rd after the D.Q.'s followed by John DeGeorge and Phil Edwards to round out the top five. Bryson Ward, Bobby Richardson and Jeff Eberly locked down heat wins.

Rounding out the night of action were 25 DeSoto Champ Kart Series racers working on the 3/8ths mile asphalt for their first visit. This turned out to be a scorer's nightmare with all those small cars running in four and five wide runs across the finish line on each lap. When all was said and done it turned out to be a real heart breaker for outside pole sitter Carl Whitehouse who led 34 of the 35 laps and ran out of gas off turn four in the run for the checkers, stopping dead in the water just inches away from the start finish line. Pole sitter Chase Fitzgerald was the benefactor of Whitehouse's bad luck taking the win. 4th starter Ron Sanford locked down a solid 2nd place finish over 11th starter Tara Henderson. Seventh starter J.D. Cordon locked in fourth and rounding out the top 5 it was Andy LeSerra.

Saturday night will see the return of the Open Wheel Modifieds, Figure 8's, Sportsman, Mini Stocks, Pure Stocks, 4 Cylinder Bombers, V8 Thunder Stock Rookies and the Outlaw Mini Modifieds. That's 8 divisions in the fastest 5 ½ hours in Florida.

Results

Super Late Model Feature – 35 Laps – 16 Cars

1. #09 Scott Grossenbacher – San Antonio – 3rd Season Win

2. #62 John Gerstner – Eustis

3. # 1 Dale Sanders – Lecanto

4. #20 Scott Millar – Ocala

5. #91 Troy Robinson – Ocala

1st Heat Winner - # 3 Daniel Webster – Brooksville

2nd Heat Winner - #1 Dale Sanders

Sportsman Feature – 20 Laps – 12 Cars

1. # 7 Clint Foley – Dunnellon – 4th Season Win

2. #55 Ernie Reed – Lecanto

3. #01 Tom Posavec – Dunnellon

4. #88 Bobby Ervien – St. Petersburg

5. #27 Bobby Miller - ?

1st Heat Winner - #88 Bobby Ervien

2nd Heat Winner - #7 Clint Foley

Street Stock Feature – 20 Laps – 13 Cars

1. #97 Tim Quick – Lecanto – 6th Season Win

2. #95 Jason Murphree – Homosassa

3. #93 Tommy Smith – Hernando

4. #58 Larry Welter – Williston

5. #21 Mike Loudy – Brooksville

1st Heat Winner - #21 Mike Loudy

2nd Heat Winner - #93 Tommy Smith

Mini Stock Feature – 20 Laps – 22 Cars

1. #34 Kevin Harrod – Floral City

2. #57 Jason Rendell – Brooksville

3. #44 Mike Lawhorn – Clermont

4. #82 Dan Smith – St. Petersburg

5. #38 Burt Morse - ?

1st Heat Winner - #33 Chris Allen – Center Hill

2nd Heat Winner - #44 Mike Lawhorn

3rd Heat Winner - #51 Chris Harvey – Belleview

4 Cylinder Bombers – 20 Laps – 22 Cars

1. #66 Brandon Watson – Dunnellon – 4th Season Win

2. #01 Jeff Eberly – Spring Hill

3. #47 Richard Kuhn – Ocala

4. #122 John DeGeorge – Dunnellon

5. #21 Phil Edwards – Crystal River

1st Heat Winner - # 4 Bryson Ward – Crystal River

2nd Heat Winner - #22 Bobby Richardson – Lecanto

3rd Heat Winner - #01 Jeff Eberly

Champ Kart Feature – 35 Laps – 25 Karts

1. #22 Chase Fitzgerald

2. #29 Ron Sanford

3. #44 Tara Henderson

4. #99 J.D. Cordon

5. #69 Andy LeSarra

1st Heat Winner - #22 Chase Fitzgerald

2nd Heat Winner - #192 Carl Whitehouse



Have an opinion on this story? Post a message on The Real Racin USA Florida Fan Message Board! or Email KARNACto send a letter to the editor!
---