"I'm noticing a turn of the tide on racing Web sites like Florida's Karnac.com, the gathering place for the most dedicated race fans in the state."

-Orlando Sentinel
IT'S TIME TO RACE!!
Collins Wins 3rd Annual Scott Thompson Memorial at Volusia
By Rick Anges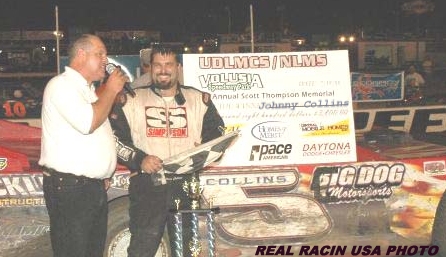 Barberville, Fl. - (7/19/2008) The United Dirt Late Model Challenge Series and the National Late Model Series teamed up for the 3rd Annual Scott Thompson Memorial at Volusia Speedway Park. 61 of the South East's finest Late Models signed in for a night of 6 heats 3 B-Mains and a Last Chance race to get down to the 30 car field that took the green flag.

1.Johnny Collins
2.Adam Bedenbaugh
3.Patrick Williams (in Scott Thompson car)
4.Mark Whitener
5.Keith Nosbisch (Ziegler Racing Engines Fast Qualifier)
6.Bill Howard
7.Darrell Padgett
8.Russlee Brown Jr.
9.Jimmy Lee Davis
10.Josh Peacock
11.Brandon Cameron
12.Steve Mathis
13.Jeff Matthews
14.Jack Nosbisch Jr.
15. Billy Costello
16.Lawton Minchew
17.Jay Johnson
18.Richard Ferry
19.Bo Allen
20.Jeff Hunter
21.David Whitener
22.Roger Crouse
23.Shane Williams
24.Clay Bedenbaugh
25.David Clegg
26.Andy Schell
27.Shan Smith
28.J.R.Prather Jr.
29.Wayne Shugart
30.Rich Pratt

Complete Results and Photos to Follow………..


Have an opinion on this story? Post a message on The Real Racin USA Florida Fan Message Board! or Email KARNACto send a letter to the editor!
---