Auburndale Speedway Turns Away Well Known Sportsman Driver
By Phil Schryver - KARNAC Media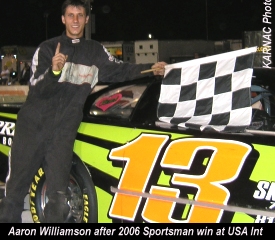 This past Saturday night was, unfortunately, a rain out for many race tracks here in Florida. A few tracks were able to get the races in however.

Two of these tracks that were able to get the show in included Charlotte County Motorsports Park in SW Florida and also Auburndale Speedway in Central Florida.

At least 2 drivers actually made the attempt to race at both tracks in the same day. Aaron Williamson and Jason Stifle, who both race in the Sportsman class. Both of these drivers have been racing at Auburndale Speedway on a regular basis, and Aaron is currently 3rd in the point standings at Auburndale.

Aaron and Jason started their day by racing at Charlotte County Speedway, where their feature event was early on in the evening. When their race was over, Aaron had called his family, who were watching the races at Auburndale Speedway and was informed that it would still be a long time before the Sportsman race would begin.

Aaron and Jason then decided to make the 1 ˝ to 2 hour drive to Auburndale to try to make that even also. The pair of racers made it to the track in plenty of time for the race, but had to go to the main office to pay their pit entry fees and to get their wrist bands. According to Williamson, once this was done they were informed in the pits that they would have to start in the back since they had missed the heat races.

When it was time for the sportsman race, Williamson explained to me that they had to make a few laps under caution before the start, as one of the drivers had been in the last feature and needed time to get back out onto the track. Williamson said that once the white flag had been waved, all of a sudden Jason and Aaron were told to stop on the backstretch and a red flag was thrown. Aaron said that he ended up turning his car off because he had to sit there for at least 8 – 10 minutes before he was told by the back stretch flagman that he and Jason must take their cars to the pits and would not be allowed to race in the feature that night.

Aaron told me that he was not given a reason initially but said he was later told by track promoter Rex Guy that it was because he had raced at Charlotte County earlier that day.

I spoke with Rex Guy, manager of Auburndale Speedway, also today to get a confirmation on what had happened and to get his side of the story.

Rex told me that it was true that they Aaron and Jason were not allowed to race in the event, and he had to have them leave the track, as he had not known that they were out there initially.

When asked why they were not allowed to be in the event, Rex told me, "It would not have been fair to the other drivers that are here to race for points, and support the track on a weekly basis." He said he felt that it would be taking money out of the other driver's pockets.

Rex Guy also stated that both Aaron and Jason had been told previously to arriving to the track that they would not be allowed to race that day. When I asked Williamson if he had any previous knowledge of this, or if he knew of any rules to such at Auburndale, he said no, and also said that no one had told him that until he was made to leave the track right before the race started.

I also asked Guy if he could clarify his statement, in regards to drivers that support the track on a weekly basis. Guy confirmed that both Aaron and Jason have raced there on a weekly basis for this entire season.

[Editors Note: Tune in tonight to Inside Florida Racing on RealRacinUSA.com from 7 – 9 pm for more coverage of this story]


Have an opinion on this story? Post a message on The Real Racin USA Florida Fan Message Board! or Email KARNACto send a letter to the editor!
---