"I'm noticing a turn of the tide on racing Web sites like Florida's Karnac.com, the gathering place for the most dedicated race fans in the state."

-Orlando Sentinel
IT'S TIME TO RACE!!
Intense Action Greets Racers and Fans At Ocala
BY BJ Cavin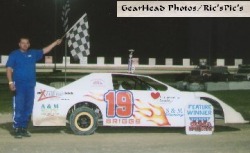 After two weeks off thanks to nature and a holiday, throngs of excited fans and determined racers got together at Ocala Speedway for an intense night of racing action. And as darkness fell, distant lightning danced across the sky as over 100 race cars took their turns on Ocala's clay. Despite the distant light show, not a drop of rain fell at the speedway once things got underway, and a large crowd of excited fans saw a fantastic night of racing action.

The Mini Stocks had endured the longest span between races at Ocala, mainly due to scheduling and weather issues, so it was only fitting that they got the first shot at attacking the clay and each other. And they wasted no time in doing just that, as the opening lap of the first heat race saw a pile up in turn two that sent Cole Ridenhour to the pits on a hook. Ridenhour, who has been the closest competition to Keith Briggs' dominance this season, would be done for the night before he could complete the first lap.

Johnny Zackery had his 119Z on the pole at the green, but Keith Briggs had something to prove and had overtaken him by lap 2. Briggs was in full control throughout the race, far outpacing the second and third place cars except just after the only two interruptions for caution flags. While Briggs would easily win, Paul Combast raced his way to a second place finish and Johnny Zackery placed third. Michael Bagley Jr. and William Stalnaker rounded out the top five.

David Miller Jr. had surprised Grady Christian with a victory the last time the Hobby Stocks hit the track at Ocala, but with the Pepsi Six Pack Race 4 rained out and the holiday break, everyone wondered if the mojo had worn off? Both drivers had to work their way through some traffic, but ended up in front and battling it out once again. Christian would steal the lead from Daniel Miller Jr. on lap 4, with David Miller Jr. not far behind in third place.

The caution flag would slow things down on the next lap, and on the restart the 21 of David Miller was right behind Grady Christian's machine. It was only a lap or so later that they began racing side by side, with Miller eventually gaining control on lap 7. David Miller Jr. would once again hold off Grady Christian and earn the win, while David Kinsey followed Christian to earn the third place trophy. Kevin Durden and Doc Batson would take advantage of some late race blunders by other racers to move up and take fourth and fifth, respectively.

It took three heat races and a B main race to set the field for the late models, and the feature race was no less exciting. A literal who's who of Florida late model dirt racing was on hand and they provided some of the most intense action of the evening. And after the field was set there were 23 top late models behind Marshall Austin as the green flag waved.

Johnny Collins jumped to the front on the second lap and looked in control, but never count out drivers like Mark Whitener, Ivedent Lloyd, and Shane Williams. Collins, Whitener, and Lloyd, would swap positions multiple times throughout the race, and would have to contend with slower cars quite often as they battled with each other. Right behind them were Shane Williams, Shan Smith, Jack Nosbisch, and Rich Pratt, who were just as competitive and looking for a line to get them to the front. In the end it was Mark Whitener who would prevail, with Johnny Collins following for the second spot. Ivedent Lloyd settled for the third spot while Shane Williams crossed the line fourth and Jack Nosbisch was fifth.

The V8 Thunder Stock division had been created with the idea of giving former asphalt racers from Ocala Speedway an inviting way to make the switch to dirt. Some jumped in headfirst, while others have slowly returned to challenge the clay with the passage of time. A couple more former asphalt racers showed up this week, and both ended up in the top five, while some of their former asphalt cohorts who had more dirt experience, did not fare as well.

Micheal Stalnaker was an exception to that, driving hard and taking a hard fought win. Jerrid Bennett would settle for the second place finsh, while James Erickson would also make an exception by placing third. Behind them were two more familiar names who were relative newcomers to the dirt. Patrick Mennenga would take the fourth spot while Matt Schell would place fifth.

Racing action returns to Ocala Speedway on July 18th as the Hobby Stock division makes up the 4th race in the Pepsi Six Pack Challenge Series that was rained out last month. $1000 will go to the winner and an overflow field of top Hobby Stocks is expected. Expect more excitement form the Open Wheel Modifieds as they return to Ocala, plus action from the Mini Stocks, V8 Thunder Stocks, and the Gladiators. And all kids should bring their bicycles to Ocala Speedway on the 18th as another round of kids' bike races is planned!


Ocala Speedway Results for 7/11/08

Late Model

1- 5W Mark Whitener
2- 5 Johnny Collins
3- 21 Ivedent Lloyd
4- 7 Shane Williams
5- 12 Jack Nosbisch
6- 17SS Shan Smith
7- 42 Marshall Austin Jr.
8- 0 Rich Pratt
9- 26 Dillon Wood
10- 66 Mike Bresnahan
11- 21P Josh Peacock
12- 32 Roger Crouse
13- 37 Adam Bendenbaugh
14- 9 Johnny Waldrop
15- 51 Unknown Driver
16- 16 Wayne Shugart
17- 55 Kaleb Bedenbaugh
18- 47 Jeff Conyers
19- 07 David Clegg
20- 53 John Rankin
21- 33 Jeff Mathews
22- 18 Mike Eubanks
23- 23 Lawton Minchew
DNS- 10 Mike Warren

Mini Stock

1- 19T Keith Briggs
2- 19C Daniel "Paul" Combast
3- 119Z Johnny Zachery
4- 3B Michael Bagley Jr.
5- 59 William Stalnaker
6- 40M David Miller
7- 02 John Layerd
8- 55 Arnold Perkins
9- 14 Frank Prouty
10- 26 Christopher Prouty
DNS- 25 Cole Ridenhour
DNS- 23 Jim Nichols
DQ- 22 Shirlene Hammond

Hobby Stock

1- 21 David Miller Jr.
2- 36 Grady Christian
3- XX David Kinsey
4- 35 Kevin Durden
5- 10 Doc Batson
6- 04 Bubba Christian
7- 99 Daniel Miller Jr.
8- 23 Glenn Baum
9- 81 Donald Woosley
10- 00T Eddie Tovet
11- 57 Wally Schneider
12- 28 Brandon Elwood
13- XXX1 Shane Williams
14- 18E Mike Eubanks
15- 1 Dalton Lanich
16- 4 Dustin Tyre
17- 36S Kenneth W. Sowers
18- 18S Chad Scranton

V8 Thunder Stock

1- 19 Michael Stalnaker
2- 12 Jerrid Bennett
3- 7E James Erickson
4- 10 Patrick Mennenga
5- 57 Matt Schell
6- 44 Todd Roberts
7- 1S Jeff Stalnaker Sr.
8- 5W Zachery Perry
9- 72 Terry Dunbar
10- 66 James Sealey
11- 4E Harold Erickson
12- 19A Jerome Dipple
13- 00 Eddie Lake
14- 56 Stir Padgett
15- 81 Courtney Eubanks
16- 63 Bill Thomas
17- 18W Chris Watson
18- 17 Mariah Berry
DNS- 14 James Sullivan III

Have an opinion on this story? Post a message on The Real Racin USA Florida Fan Message Board! or Email KARNACto send a letter to the editor!
---