10th Annual Clyde Hart Memorial Set for July 3rd at New Smyrna Speedway
by Jane Smith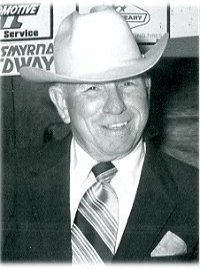 Samsula, FL (June 30, 2008) It is hard to believe that ten years have passed since the first Clyde Hart Memorial race was run but it has. This year on July 3rd at New Smyrna Speedway, the 10th Annual Clyde Hart Memorial will run along with the Advance Auto Parts Pro Truck 75 and Southern Sportsman 50.

Travis Kittleson won the event in 2002, read about it here!

Clyde Hart was a man of many different hats. He was a husband, a father, a cattle owner, a land owner and the owner of New Smyrna Speedway and Orlando SpeedWorld. Clyde loved racing and racing loved Clyde. Clyde could be found many a race night at the payout window, paying his racers and thanking them for coming. Clyde loved to do that and he loved making his fans and racers happy.

To Clyde Hart it did not matter the number of cars in the pits but that there just be two cars and that to him was a good race. It was a race. Of course in today's economy, a track would be closed with only two cars but not to Clyde back then.

Each year before the old Pepsi 400, now the Coke Zero 400, fans and drivers honored Clyde with the Clyde Hart Memorial race. In 2000, New Smyrna actually held twin 125's in Clyde's honor with the Sunbelt Super Late Models and Goodyear Challenge Late Models. But each year Clyde is honored with a 125 lap Super Late Model race.

Fans have seen a number of winners during those ten years - Mike Fritts, Travis Kittleson, Wayne Anderson, Tim Russell and in 2007 Sam Watts. 2007 saw the annual race held in September due to bad weather in July. The following is parts from that race story.

Twenty three Super Lates made the field up but it was Jeff Choquette in Dick Anderson's famous 92 that set fast time followed by Patrick Conrad, Sam Watts, Ricky Carmichael, and Wayne Anderson. Choquette pulled the 5 pill for the inversion putting Wayne Anderson on the pole with Ricky Carmichael on the outside.

The autograph session was skipped due to the weather but a driver introduction was done with Robert and Andrew Hart meeting the drivers introducing each one to the fans who stayed thru the rain for this 125 lap event. It was now time to strap in and go racing.

Anderson quickly jumped to the point on the start followed by Carmichael, Watts, Choquette, and Conrad. But it was a very short green as Carmichael went high into turns 1 and 2 hitting the wall. Carmichael was fine but done before the night even began.

On the second restart after the caution, Anderson once again jumped to the point but it was another yellow with David Rogers, Kurt Jett, Dustin Skinner and Corey Freed. Freed got loose hitting Skinner with Rogers getting tagged hard and frontend damage on Jett. Rogers car was destroyed along with Skinner who could not return to the field. The race was red flagged due to Rogers's fuel tank leaking. Both Rogers and Skinner were fine with Jett and Freed returning to the race.

Once again Anderson takes the point on the restart followed by Choquette, Watts, Conrad, and B.J. McLeod. But caution came once again on lap 11 when John Coffman spun in turns 3 and 4. The race goes back green but on lap 15 the yellow is shown again for Jeff Choquette who has hit the end of turn 4 wall hard. Track officials see the rear hub is broken ending Choquette's night after being fast qualifier. Choquette is fine but the same cannot be said about the 92.

Anderson leads the way on lap 25 followed by Watts, Conrad, McLeod and Russell. Lap 33 sees second in points Brian Finney retire to the pits with an engine problem. Conrad looks high, low to pass Anderson but Anderson holds the point keeping Conrad second. McLeod is now looking to pass Watts. Watts holds but on lap 63, McLeod finally makes the move and takes over third.

The caution comes out again for Chad Pierce who has no brakes and has dusted the turns 3 - 4 wall. Pierce is fine but out. Also out is McLeod who has gotten frontend damage to his car as Anderson slowed for the caution and he and Conrad slightly touch with McLeod having no where to go. McLeod is fine but has enough damage that he does not want his car destroyed ending his good run. McLeod had a very fast car for the night.

Lap 72 sees the restart as Anderson leads the way over Conrad, Watts, Russell, and Blake Lehr. The top five are glued together as each wants that point. But on lap 83, the yellow comes out again as Eddie Gainey and John Coffman have gotten together and spun in turns 1 and 2. Gainey and Coffman go to the rear for the restart. Anderson continues to lead the way as Conrad looks high, low for the pass. Each time Conrad looks, Anderson shuts the door. Anderson and Conrad do some great side-by-side action but on lap 107 coming off 4, Conrad gets alittle loose and taps Anderson sending him hard into the frontstretch wall. Anderson is not happy but it was just hard racing between the two. Anderson's car is towed off the track with Anderson going to the hospital eventually with a possible broken shoulder. Anderson was dq'd for hitting a FASCAR official as they tried to keep him from going after Conrad. Just a heated moment in a racer's life.

The race was red flagged again for track cleanup.

With only green laps left after the restart, it was Sam Watts leading the way followed by Conrad, Russell, Lehr, and Brock Burns. Russell passes Conrad for second but cannot catch Watts for the lead. Watts takes the checkered for the win followed by Tim Russell, Patrick Conrad, Blake Lehr, and Brock Burns.

This was Watts's second start in a Super Late Model and he only came to shake down the car and have some fun. What a surprise for Watts to go home with the win, one happy 16 year old for sure.
As you can see, the Clyde Hart Memorial is full of surprises and racing action. Be sure to be at New Smyrna Speedway on July 3rd for the 10th annual event.

Racing action starts at 7:30. For more information on New Smyrna Speedway, go to www.newsmyranspeedway.org.



Have an opinion on this story? Post a message on The Real Racin USA Florida Fan Message Board! or Email KARNACto send a letter to the editor!
---