"I'm noticing a turn of the tide on racing Web sites like Florida's Karnac.com, the gathering place for the most dedicated race fans in the state."

-Orlando Sentinel
IT'S TIME TO RACE!!
McLaughlin Wins Big in Open Wheels
By Linda Jericka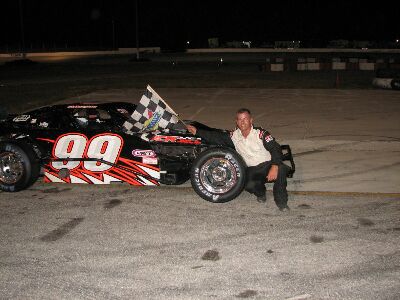 With the threat of rain all around, and then an early down pour that flooded the infield, and the radar saying it does not look good, yet the drivers were still pulling in.

One by one the other tracks were rained out, and then the sun came out and the drivers were calling they wanted to race, so out came the pumps to pump out the water and the sun stayed out enough to dry things up.

The drivers came out and Charlotte County Motorsports Park was on for a full night of racing.

The night started with the Pro 4 class that has been growing every week.
14 cars took the green with the 85 of David Amelotte coming in first, the 91 of Jacob Ingram second, Derrick Horton third.

The weather put a damper on the Champ Carts also.
With only twelve carts taking the chance, they would be able to beat the rain.
What a show they put on once again.

Road Warriors line up was slim, but when they pulled out on the track next, there were sixteen cars and everyone of them from the back to the front was racing for that win.
The 38 of Gary McFall was out front and seemed to have a fast car, but the smoke that was coming out of the cars and making the track slick, sent him to the pits.
He had lead the first twelve laps, but now the lead would go to Jeff Firstine of Venice.
Firestine had some real competition from the 29 of Don Jericka of Port Charlotte, who ran a couple laps along side him and would have to settle for second when the checker came out.

The 10 car of Ken Smith, who was one of the late arrivals from another rained out track, had to start in the rear and made his way up through the field twice to finish third.

The Sportsman fifty lapper saw James Dubose of Arcadia back in black running in that first spot.
The new and blue car of Ryan Pancoast from buckingham was right behind him until the 79 car of Steve Gainey of Bradenton, ever so gently moved them out of his way to take over the lead.

Once Gainey had the lead, he was on a mission to lap all the cars and go on to win the race.
The 13 of AAron Williamson, who also set fast time, coming in second. The young gun Madd Maxx Bennett out of Zepherhills bringing his 28X into that third spot.
L.J. Grimm out of Seffner would be fourth, and Ryan Pancoast would have to settle for fifth.

Open Wheel modifieds would roll out onto the track next with the 99 of Sean McLaughlin of Port Charlotte on the pole.
This caution filled race had to seem like it was 500 laps to Mclaughlin, who every time he would get the car going, the caution would come out and tighten the field back up.

Mclaughlin would go on to win the race and hold off the second place finisher, and also set fast time.

The 1 of the Rocket Man Wayne Jefferson,out of Pinellas Park, and Scott Klieber from Naples, who was running in second for the first twenty five laps, would end up third.
The 61 car driven by Tony Carreno out of Lutz drove a get race this week after last races controversial finish came in fourth and Eric Rudd of Naples fifth.

Thunder Trucks put on one heck of a show with the 63 of Wally Smith joining this class also, in a newly painted big orange truck that gave the winner Ray Jayne one heck of a challenge.
He was running on his bumper for the last fifteen laps. Ray Jayne was able to hold off Wally Smith and take the win.

Wally Smith, who looks like he is going to bring some excitement back to the truck class, came in a "CLOSE" second, and the 69 of Tom Pryor third.

Fab 4, which is a class for beginners, saw Jimmy Wilkers win the twenty five lap race, Josh Flesher second, and the 32 of Ronald Hand third.

Last race of the night was the figure 8 race, which is unlike any other, it allows anyone. They call it " RUN WHAT YA BRUNG", so with that, it allows big cars, little cars, trucks and you name it.
Well you have to see it to believe it. When these 4 cyl cars are up against a Road Warrior or a Thunder Truck, and wont back down for nothing .

Wow what a race, when the dust and dirt settled, it was all orange with the 93 of Jeff Firestine winning his second feature of the night by coming in first.
The 27 of Derrick Horton, in his little 4cyl car, who did not seem to put on the brakes at all and never backed down from the big cars would finish second.
The big truck behind him of Randy Kile would come in third.


Check out wwww.charlottecountyracing.com web site for the next figure 8 race and all the upcoming events like the big fourth of July weekend Bash, and next weeks BIG LATE MODEL RACE
You can also talk to some of the great drivers on their message board.

Race Results for Saturday 6-21-08


Open Wheel Modifieds
99-Sean McLaughlin
1-Wayne Jefferson
2-Scott Kleiber
61-Tony Carrreno
12-Eric Rudd
46-Doug Moff
71-L.B. Skaggs
31-Johnny Newsome
19-Scott McDaniel
20-Kevin Brickley
.63-Phil Morrison
62-Mike Gardner


Sportsman
79x-Steve Gainey
13-Eric Williamson
28x-Maxx Bennett
25-L.J. Grimm
47-Ryan Pancoast
35-Greg Crumb
8-Dan Scott
2-Randy Sober
6-Greg Gorniak
24-Robert Benning
67-James Dubose


Road Warriors
93-Jeff Firestine
29-Don Jericka
10-Ken Smith
37-Jason Carr
77-James Dellea
7-Blaine Baer
33-Chris Loney
97-Chris Scott
15-Clint Snyder
42-Steve Elder
84-Ron Sorensen Jr.
88 Mark Boxell
16-James Buckmaster
44-Emma Scott
38-Gary McFall
19-Greg Anderson DNS


Pro 4's
85-David Amelotte
90-Jacob Ingram
27-Derrick Horton
57-Logan Leonard
16-Wally Smith
11-Paul Graha m
55-Mark Davis
00-Chris Lucas
71-Shawn McLaughlin
24-Shane Moore
8Y-Shane Yoder
8R-Kirk Risner
1-Cory Scott
97-Chuck Flesher
20-Codey Benoit DNS


Fab 4's
11-Jimmy Welkers
55-Josh Flesher
32-Ronald Hand
20-Billy Benoit
21-Jason Perkins
4-Rose Macho
05-David Doty
44-Barbara Hooper
8-Sam Scott
x7-Mike Weinrich
86-John Pummell Jr.
22-Jeremy Perkins
2-Jarrett Reynolds


Thunder Trucks
35-Ray Jayne
63-Wally Smith
69-Tom Pryor
14-Randy Kile
43-Richard Dupont
2-Lance Sober
68-Geoff Gulvin
20-Tom Carlough


Figure 8
93-Jeff Firestine
27-Derrick Horton
14-Randy Kile
16-Wally Smith
00-Chris Lucas
18-Greg Anderson
10-Ken Smith
84-Ron Soresen Jr.
88-
68-Geoff Gulvin
15-Clint Snyder
85-David Amelotte
11-Paul Graham

Have an opinion on this story? Post a message on The Real Racin USA Florida Fan Message Board! or Email KARNACto send a letter to the editor!
---