"I'm noticing a turn of the tide on racing Web sites like Florida's Karnac.com, the gathering place for the most dedicated race fans in the state."

-Orlando Sentinel
IT'S TIME TO RACE!!
Freight Train Rolls Through Ocala
Johnny Collins Scores Powell Memorial Win

By Rick Anges




Ocala, Fl. - For the past twelve years the Powell Memorial has been one of the most prestigious races in the state of Florida. The Powell family was the owners of Ocala speedway when the track was still dirt so with this years return to its roots the event would even be more special.

Fifty-three cars of The United Dirt Late Model Challenge Series rolled into Ocala for their second event at the track and it's sixth race of the season. Five different winners have graced the winner's circle so far and all the driers and crews were on top of their games to battle for the $5,000 winners take and to be crowned the winner of the first Powell Memorial on the dirt.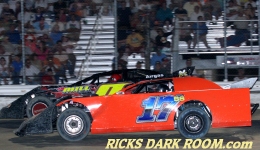 Seven heat races and two B-mains plus provisionals made up the thirty-car field that lined the front stretch for the seventy-lap Powell Memorial. Ken Kinney owner of the UDLMCS made the challenge to the seven drivers that if any of them went to the rear he would add an additional $4,000 if they were able to take the win making the first place money $9,000. Shane Williams was the only driver to consider the challenge but declined after looking back to rear of the pack and the cars that were lined up.

James Powell thanked the fans, drivers and everyone else involved for making this the biggest turn out in the thirteen years of the race. After driver intros the Frisbees flew into the stands and the drivers began to strap in to do battle in the biggest racing event in the state of Florida in 2008.

The field rolled out for the pace laps starting out with the "Missing Man" formation with Powell sitting on the outside of the front row. Then they rolled out to the four wide salute to the fans and crowd erupted with cheers.

Then it was time to get down to business. Side by side they came to the stripe and with the capacity crowd on their feet the green flew and it was on. East Alabama winner Mark Whitener lead the early stages of the race but would lose the handle on his ride and would finish in the twelfth spot on the night.

2007 Powell Memorial winner Wayne Anderson would get the action going early as he tangled on the backstretch with another car and slammed into one of the tractor tires nearly flipping his car. He was able to get the car refired made repairs and rejoin the field Although he had his problems during the course of the night he was able to come back and finish a respectable eleventh.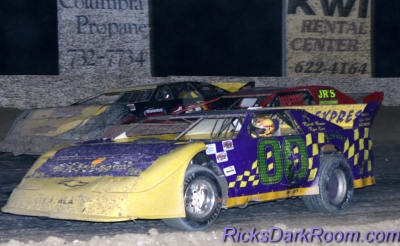 Several other former asphalt stars were on the Ocala dirt and provided the fans with some great racing. Mike Bresnahan and Patrick Williams were two of them and would finish the evening in the sixth and seventh spots respectably.

Johnny "the Freight Train" Collins moved out to the top spot and it was apparent that he and his crew had done their homework as the Eastbay winner would pull out to a full straight away lead on the rest of the field. A lot of great racing was going behind him.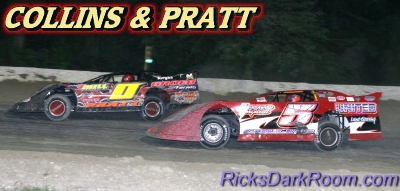 Roger Crouse came into the night the point's leader but would have to start twenty-sixth. Crouse was a man on a mission though as sliced and diced his was through the field and made into the top five. Jordy Nipper had won his heat race but had slid back until he found the high groove working for him and moved into the second spot. He was gaining ground on Collins when he went a little too high in turn four looping his car. As he sat idle on the track Crouse had nowhere to go and slammed passenger side into Nipper. Both drivers emerged from their cars unscathed but the same could not be said for their rides. Crouse was able to drive his into the pits and came back out several laps down and was able to salvage an eighteenth finish. Nipper meanwhile had to go off on the hook and be scored twenty-fifth.



--Advertisement--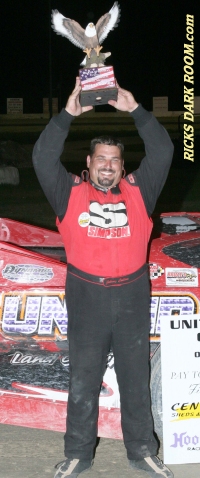 Collins had some tense moments making his way through lapped traffic with cars battling for position ahead of him he was able maneuver around them and be crowned the first ever of the Powell Memorial on the dirt. Shane Williams who took the first win of the season for UDLMCS at Ocala was able to hold off the "Scott Thompson Memorial" Winner Rich Pratt for second. Shan Smith had a great run finishing fourth with Eastbay stand out Keith Nosbisch rounding out the top five.

"The track got really slick but I was able to find a good groove" Said Collins in his post race interview. "This is really an honor winning this race."

James Powell said, "I really want to thank everyone involved including Mike and Angie (owners of Ocala Speedway) and Ken Kinney (UDLMCS) putting this event on and I am looking forward to next years event being bigger and better."

With some big news looming in near future the United Dirt Late Model Challenge Series will once again try to break another record as they roll into the famous Golden Isles Speedway for the 1st Annual "Tri-State Dirt Late Model Championship" where drivers will gather from Alabama, Georgia and Florida for the $3,000 prize money.

Real Racin' USA also broke a record with the live broadcast of the event and will once again bring the fans around the world the event from Golden Isles. Real Racin' USA has the videos of all the races archived on www.realracinusa.com.

For more info on the series you can go to www.uniteddirtlatemodels.com.

Pictures of the Powell Memorial are available on www.ricksdarkroom.com and wwwRealRacinUSA.com/gallery


Finishing Order:
1-5 Johnny Collins (won heat race #5 - started 5th)
2- 7W Shane Williams (won heat race #7 - started 2nd)
3- 0P Rich Pratt (won heat race #1 - started 3rd)
4- 17SSShan Smith (3rd in heat race #2 - started 16th)
5- 101 Keith Nosbisch (won heat race #4 - started 5th)
6- 66B Mike Bresnahan (Track Provisional - started 29th)HARD CHARGER
7- 38 Patrick Williams (2nd in heat race #5 - started 12th)
8- 47 Tyler Ivey (won 2nd B-main - started 24th)
9- 00B Russell Brown (won heat race #2 - started-20th)
10- 46 Darrell Padgett (3rd in heat race #3 - started 18th)

11- 84 Wayne Anderson (2nd in heat race #7)
12- X Mark Whitener (won heat race #6)
13- 00 Billy Costello (3rd in heat race #6)
14- 12N Jack Nosbisch (won 1st B-main)
15- 23 Lawton Menchew (2nd in heat race #3
16- 26 Adam Bedenbaugh (2nd in heat race #4)
17- 42A Marshal Austin (Series Provisional)
18- 32C Roger Crouse (Series Provisional)
19- J17 James Powell (2nd in 2nd B-main)
20- 16 Wayne Shugart (2nd in 1st B-main)
21- 48 Bill Howard (Series Provisional)
22- 53 John Rankin (Track Provisional)
23- 37 Clay Bedenbaugh (2nd in heat race #6)
24- 7C Kent Corbin (3rd in heat race #4)
25- 1N Gordy Nipper (won heat race #1)
26- 18E Mike Eubanks (3rd in heat race #7)
27- 10 Johnny Allen (2nd in heat race #2)
28- 11X Steven Roberts (2nd in heat race #1)
29- 22B Brandon Cameron (3rd in heat race #5)
30- 97 Justin Choquette [Fitzgerald (3rd in first heat race) was not ready at feature time and was
replaced by Justin Choquette]

[B-Mains... top two make the feature - Heats... top three make the feature]

B-Main #1: (top five)
1. 12n Jackie Nosbisch
2. 16 Wayne Shugart
3. 97 Justin Choquette
4. 9w Jimmy Waldrop
5. 32c Roger Crouse

B-Main #2: (top five)
1. 47 Tyler Ivey
2. 17j James Powell III
3. 48 Bill Howard
4. 51 Doodle Pipken
5. 11 Stacey Roberts

Heat #1:
1. 1n Jordy Nipper
2. 11x Steven Roberts
3. 7F Jason Fitzgerald
4. 16 Wayne Shugart
5. 01 Kevin Mills
6. 24 Dennis Williams
7. 33 Jeff Matthews

Heat #2:
1. 00b Russell Brown Jr
2. 10 Johnny Allen
3. 17ss Shan Smith
4. 17j James Powell III
5. 66b Mike Brsnahan
6. 66c Chuck Chitty
7. 04 Skip Pannell

Heat #3:
1. 0 Rich Pratt
2. 23 Lawton Menchew
3. 46 Darrell Padgett
4. 12n Jackie Nosbisch
5. 11 Stacey Roberts
6. 42 Marshall Austin
7. 53 John Rankin

Heat #4:
1. 101 Keith Nosbisch
2. 26b Adam Bedenbaugh
3. 7c Kent Crobin
4. 51p Doodle Pipken
5. 47 Tyler Ivey
6. 57m Mark Haase
7. 88 Paul George
8. 0c Andy Schell

Heat #5:
1. 5c Johnny Collins
2. 38w Patrick Williams
3. 22b Brandon Cameron
4. 51c Bobby Clark
5. 15 Evan Becton
6. 33J Joey McRae
7. 21J Kurt Jett
8. 08 David Davis (DNS)

Heat #6
1. X Mark Whitener
2. 37 Clay Bedenbaugh
3. 00c Billy Costello
4. 48 Bill Howard
5. 5k Ryan Mitchell
6. 32c Roger Crouse
7. 32b Robby Barris
8. 29 Allen Cribbs

Heat #7:
1. 7w Shane Williams
2. 84 Wayne Anderson
3. 18 Mike Eubanks
4. 9w Jimmy Waldrop
5. 179 Jason Davis
6. 97 Justin Choquette
7. 40 Earl Boyette
8. 4l Al Larson




Have an opinion on this story? Post a message on The Real Racin USA Florida Fan Message Board! or Email KARNACto send a letter to the editor!
---