"I'm noticing a turn of the tide on racing Web sites like Florida's Karnac.com, the gathering place for the most dedicated race fans in the state."

-Orlando Sentinel
IT'S TIME TO RACE!!
Powell Memorial A Huge Hit On Dirt
by BJ Cavin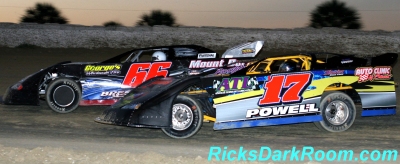 James Powell (17) running with Mike Bresnahan in the 66b


It has been said that there are far too many "memorial" races in Florida. Perhaps that is a matter of opinion, and yet when another of these races comes around it serves as a foundation to attract the brightest and best from the racing world to compete in a spectacle that otherwise might not have been possible.

Probably the best known and most prestigious of these races is the Annual Powell Memorial, held each June at Ocala Speedway.

While the tragedy that it memorializes is probably is just as deserving of such honors as any other for which a race has been named, this particular race has become extremely special to the local racing community and to Ocala Speedway itself.

The 2008 edition of the Powell Memorial was the 13th annual running of the event, and for the first time in it's history the race was run on Florida clay instead of on asphalt. By running the race on clay and inviting the United Dirt Late Model Challenge Series to make it a regular points event for their racers, the Powell Memorial has suddenly become much bigger and better than it ever was before.

The dirt racing community has embraced the event and made it their own just as the asphalt racers had done before them, and in a way that is far more fitting because when the Powell family owned Ocala Speedway it was a dirt track, as it is once again in 2008.

Over 50 dirt late models from all over the region gathered together to race on clay at the oldest and most historic race track in the state of Florida, and fans from across the area filled the grandstands. As fortune would have it, the race was being held on the hottest day so far in 2008, and that somehow translated into some of the hottest racing action seen yet on Ocala's 3/8th mile semi banked tri oval. From the first hot laps to the end of the main event, the constant on the track was fierce competition and bent sheet metal.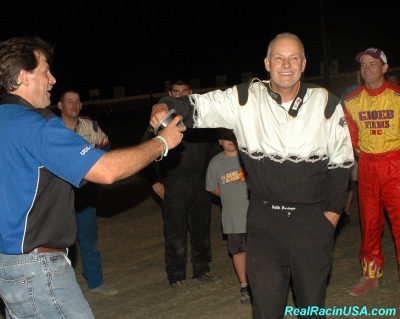 Keith Nosbisch draws a number from Ken Kinney to set the starting spots


$5000 to the winner may have had something to do with all of the heated racing action, but likely the real reason was that the Powell Memorial is the race that everyone wants to win. Racers can notch other wins at other races and be satisfied with a job well done, but this one, put simply, means so much more.

After seven heat races and two B main events, a field of 30 top racers was set to take the green flag led from the pole by Mark Whitner. The early part of the race was a bit chaotic due to the number of cars on the track, plus the fact that the track conditions had changed dramatically since the heat races and the B mains. While the infamous turn 4 wall has gobbled up a few race cars during hot laps, now it was the track itself and fierce racing that created headaches for the competitors, and Wayne Anderson became one of the first notable victims.

In fact, of the first few racing incidents, Wayne Anderson found himself somehow involved and collecting more and more battle scars on his race car. But Anderson is not a quitter, and the tough competitor best known for his exploits on asphalt would gut it out until the end to finish just outside of the top ten.

As things sorted themselves out through bent sheet metal and frayed nerves, a few cars emerged at the top of the heap and managed to remain in front. Local favorite Rich Pratt kept his car in the top five all night, often battling side by side with Mark Whitner and Shane Williams for positions within the top three. Shan Smith was also not to be denied, as he battled with Whitner, Williams, and Keith Nosbisch. And as the race progressed and track conditions continued to change, Mike Bresnahan, Patrick Williams, and Tyler Ivey, all had visits to the top five.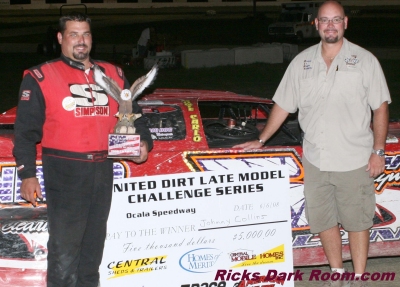 Johnny Collins with Ocala Speedway owner Mike Peters



Despite the tough battles for position throughout the field, the obvious car to beat on the night was the 5 of Johnny Collins. Collins blasted into the lead on the restart after a caution on lap 8 and never gave up the front spot after that, but no doubt that his attention was often distracted by those that were close behind and determined to pass him. Despite making it a race for Collins, Williams, Pratt, Smith, and Nosbisch, never managed to make their way past him. Johnny Collins drove his way to victory, collected $5000, and added his name to the exclusive list of Powell Memorial champions. The second spot was taken by Shane Williams, while Rich Pratt wowed his home crowd with a well deserved third place finish. Rounding out the top five were Shan Smith and Keith Nosbisch, while Mike Bresnahan, Patrick Williams, Tyler Ivey, and Russell Brown, all followed. Darrell Padgett finished in the tenth spot.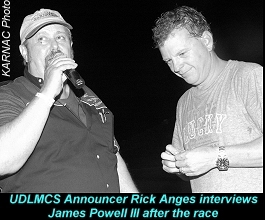 The 13th Annual Powell Memorial turned out to be the biggest and best of all that had preceded it, and plans for the future include making the event ever bigger and better in coming years. The general consensus in the crowd was that making the switch to a dirt racing event was exactly what the Powell Memorial needed to keep it the top race in Florida, and it insures that the event will be around for many more years and providing a platform for the best late model racing each season.

And this look to the future came into focus even as the 2008 Powell Memorial was getting underway. While many memorial races tend to dwell on the past in an attempt to memorialize what once was, this one chooses to look at the present and future. That could not have been more evident as James Powell III stepped onto the front stretch and offered his appreciation to the crowd with his year old daughter in his arms, whose birth caused Powell to miss the previous year's race at the last minute. To look forward is not an attempt to trivialize or forget the past, but rather is an effort to move forward as life and time move on. And as James Powell's young daughter grows, so will the Powell Memorial.

Ocala Speedway Results for 6/6/08
13th Annual Powell Memorial (late model/75 laps)

1- 5 Johnny Collins
2- 7W Shane Williams
3- 0P Rich Pratt
4- 17SS Shan Smith
5- 101 Keith Nosbisch
6- 66B Mike Bresnahan
7- 38 Patrick Williams
8- 47 Tyler Ivey
9- 00B Russell Brown
10- 46 Darrell Padgett
11- 84 Wayne Anderson
12- X Mark Whitener
13- 00 Billy Costello
14- 12N Jack Nosbisch
15- 23 Lawton Menchew
16- 26 Adam Bedenbaugh
17- 42A Marshal Austin
18- 32C Roger Crouse
19- J17 James Powell
20- 16 Wayne Shugart
21- 48 Bill Howard
22- 53 John Rankin
23- 37 Clay Bedenbaugh
24- 7C Kent Corbin
25- 1N Gordy Nipper
26- 18E Mike Eubanks
27- 10 Johnny Allen
28- 11X Steven Roberts
29- 22B Brandon Cameron
30- 97 Justin Choquette


Florida Mini Sprints (no driver roster provided)


1- 25
2- 7
3- 88
4- 33
5- 99
6- 67
7- 5
8- 711
9- 55
10- 86
11- 1
12- 13
13- 6
14- 17
15- 29
16- 3
17- 63
18- 24
19- 15
20- 98
21- 26
22- 18
23- 13B
24- 29
25- 16
26- 8
27- 71
28- 5
29- 23
DNS- 39


Hobby Stock

1- 36 Grady Christian
2- 21 David Miller Jr.
3- 57 Wally Schneider
4- 10 Michael Stalnaker
5- 58 David Kinsey
6- 99 Daniel Miller Jr.
7- X Russell Post
8- 81 Donald Woosley
9- 55 Joey Durbin
10- 56 Kevin Durden
11- XX James Powell
12- 1 Alan McCafferty
13- 08 William Edwards
14- 12 Justin Durbin
15- XXX Bubba Wilson
16- 23 Glenn Baum
17- 2JR Shelton Kinser
18- 31 Michael Oglesby


Have an opinion on this story? Post a message on The Real Racin USA Florida Fan Message Board! or Email KARNACto send a letter to the editor!
---