"I'm noticing a turn of the tide on racing Web sites like Florida's Karnac.com, the gathering place for the most dedicated race fans in the state."

-Orlando Sentinel
IT'S TIME TO RACE!!
Daniel Keene, Jr. tops Goodyear Challenge Late Model 100 at USA International
by Jane Smith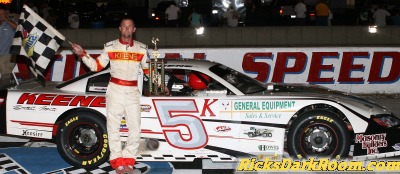 Lakeland, FL (June 7, 2008) When the Goodyear Challenge Late Models went to USA Friday, little did they know an afternoon shower would cool off the track and the day heat. But Saturday there was little to cool down the drivers as twenty four were set to qualify for the 100 lap event.

Daniel Keene, Jr. of Weeki Wachee set fast time with a 21.357 followed by JR McMichael of Davie with a 21.542, Jason Boyd of Orlando (driving A.J. Curreli's car) with a 21.569, Joe Winchell of Dade City with a 21.665 and Darren Brown with a 21.688. Just as it was in the first leg of the Triple Crown for Tim Russell, Keene also pulled the seven pill for the 100 lap Goodyear race putting Jeremy Colangelo of Deland on the pole position.

Both Jeremy Colangelo and Justin Larson did double duty at USA driving both the first leg of the Triple Crown and also their Goodyear Challenge Late Models. After the on-track autograph session, the Goodyear cars went back to their pits until after the Sunbelt race and about 9:30, it was their turn to hit the hot asphalt.

Luckily the Goodyear Challenge race did not start out with a caution right away as Jeremy Colangelo led the way followed by Parick Staropoli, Darren Brown, Joe Winchell and Jason Boyd. By lap 2 Brown had taken over second with Staropoli in sixth but coming up fast from his seventh place starting position was fast qualifer Daniel Keene, Jr. who took over fifth. By lap 5 it was Colangelo, Brown, Winchell, Boyd, Keene, Staropoli, McMichael, Travis Hanson, Rich Clouser, and Chuck Abell.

Hanson puts pressure on McMichael but McMichael holds his position keeping Hanson behind him. In the meantime, it is Boyd on the inside and Keene on the outside battling for fourth. Keene proves he has the stronger car as he takes fourth with Boyd in fifth. Keene now looks at Winchell running in third but Winchell wants that third place spot for himself. Keene taps Winchell on the backstretch but being the veteran that Winchell is, he straightens out and holds his position. But by lap 19, Keene passes Winchell for third as Winchell settles into fourth. Colangelo continues to hold the point over Brown, Keene, Boyd, Winchell, Staropoli, McMichael, Clouser, Hanson, and Abell.

Lap 22 sees Hanson put pressure on Clouser taking over eighth as Clouser goes back to ninth. Shea Holbrook brings out the first caution of the race on lap 23 when she spins on the backstretch. The race goes back green on lap 25 with Colangelo leading the way over Brown, Keene, Boyd and Winchell.

By lap 29, Keene has passed Brown for second as Boyd holds on to pass Brown for third and Brown settles into fourth. They are going nose-to-tail when the caution comes out for the second time on lap 32 as Shea Holbrook's car goes up in smoke. Although Keene had passed Colangelo and taken over first, the caution calls for the race to go back to the previous lap which gives Colangelo back the point. Holbrook is now keeping all the bugs away as her car fills pit road with smoke but Holbrook is fine.

Lap 35 sees the restart with Colangelo on the point followed by Keene, Brown, Boyd, and Winchell. By lap 38, Keene has passed Colangelo once again for the lead as Colangelo goes to second, Brown third, with Joe Winchell and Jason Boyd doing some great side-by-side action for fourth. Lap 40 find McMichael and Staropoli doing their side-by-side show for sixth just as Joe Winchell breaks loose in turn 4 but does a great job of saving his car and not hitting the wall or spinning out. It is now Keene, Colangelo, Brown, Boyd, Winchell, McMichael, Hanson, Staropoli, Clouser and Jessica Murphy leading the pack.

Murphy puts the pressure on Clouser and takes over ninth as Clouser goes to tenth. Then Abell puts pressure on Clouser for tenth and takes it as Clouser goes to 11th. Clouser is running the race with a broken sway bar except no one knows this until the race is over. The caution comes out on lap 52 when Greg Kaouk slows and limps around to pit road. The race sees green again on lap 54 as Keene leads the way over Colangelo, Brown, Boyd, McMichael, Hanson, Winchell, Murphy, Abell, Staropoli, and Clouser. Lap 59 sees Hanson go on pit road as Keene pulls away from the field and builds the distance up between him and the second place car. Hanson's crew goes to work and Hanson comes back out on the track to continue racing. But by lap 65, Hanson must return to pit road and goes behind the wall, done for the night.

Murphy is now putting pressure on Winchell as she takes over sixth. Running order is now Keene, Colangelo, Brown, Boyd, McMichael, Murphy, Abell, Staropoli, Clouser and Winchell. Clouser begins to look to pass Staropoli for eighth but Staropoli is able to hold off Clouser's charge and maintain his position. Closuer looks again and by lap 80, Clouser takes over eighth.

Jessica Murphy, after having a great run, sees her night come to an end on lap 80 when she spins in turn 4 and has to be pushed around the track on to pit road. Alan Bruns also sees his night come to an end when he hits the turn 4 wall. Bruns is okay but the race is red flagged for track clean-up.

Fifteen cars are now left on the restart on lap 84 as Keene leads the way over Colangelo, Brown, Boyd, and McMichael. Suddenly Brown finds himself going side-by-side with Boyd who is able to pass Brown and take over third. By lap 90, it is Keene, Colangelo, Boyd, Brown, Abell, Clouser, Staropoli, McMichael and Austin Kirkpatrick leading the way.

Ray Black, Jr. brings out the caution on lap 91 as he spins in turn 4. The race goes back green as Keene once again takes the point on the restart followed by Colangelo, Boyd, Brown and Abell. Keene leads the way to the checkered and takes the win followed by Jeremy Colangelo, Jason Boyd, Darren Brown and Chuck Abell.

The next event for the Goodyear Challenge Late Model Series will be June 28 at Columbia Motorsports Park.

OFFICIAL RESULTS
GOODYEAR CHALLENGE LATE MODEL 100
USA INTERNATIONAL, JUNE 7, 2008

1. #5k Daniel Keene, Jr., Weekie Wachee
2. #05 Jeremy Colangelo, Deland
3. #2x Jason Boyd, Orlando
4. #53 Darren Brown, Ormond Beach
5. #19 Chuck Abell, Apoka
6. #9 Rich Clouser, Palm Bay
7. #97 Patrick Staropoli, Plantation
8. #11 Austin Kirkpatrick, Ocala
9. #57 Joe Winchell, Dade City
10. #119 JR McMichael, Davie
11. #60 Chad Akins, Port Orange
12. #01 Charles Kopach, Minneola
13. #19x Ray Black, Jr., Palm Coast
14. #54 Mark Childress, Lakeland
15. #33x Gary Fountain, Sr., Minneola
16. #31 Greg Kaouk, Penbroke Pines
17. #26 Jessica Murphy, Clermont
18. #4b Alan Bruns, Clermont
19. #33 Dewayne Barrus, Ellenton
20. #141 Travis Hanson, Cooper City
21. #25 Steve Smith, Lakeland
22. #88 Justin Larson, Safety Harbour
23. #27 Brennan Palmiter, Ormond Beach
24. #67 Shea Holbrook, Groveland




Have an opinion on this story? Post a message on The Real Racin USA Florida Fan Message Board! or Email KARNACto send a letter to the editor!
---