"I'm noticing a turn of the tide on racing Web sites like Florida's Karnac.com, the gathering place for the most dedicated race fans in the state."

-Orlando Sentinel
IT'S TIME TO RACE!!
The Powell Memorial To Get Dirty And Make History
by BJ Cavin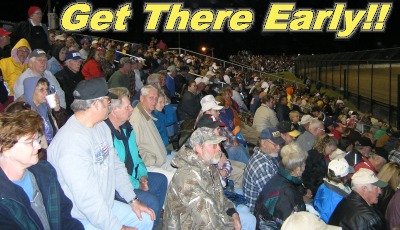 After a long wait Florida dirt racing fans are finally just days away from the most anticipated dirt late model race of the 2008 season, the 13th Annual Powell Memorial this Friday, June 6th. For the first time in the history of the event, the race will be run on clay at the famed Ocala Speedway, the oldest racing facility in Florida.

The race is also a United Dirt Late Model Challenge Series points event, attracting a large field of highly competitive dirt late model racers from all over Florida, Georgia, and beyond. The 100 lap race will award $5000 to the winner, and non UDLMCS racers are more than welcome to compete in the event.

In addition, another difference to this year's event will be that there will be no qualifying. The field for the Powell Memorial 100 will be set through heat and consolation races only, making the night's action far more entertaining to the fans.

Regular fans at Ocala Speedway will recognize many names from the UDLMCS roster as some have competed at Ocala when not racing with the series. Points leader Roger Crouse has announced his intentions to return to Ocala, as has current UDLMCS second place racer Jackie Nosbisch.

Long time asphalt racing favorite Wayne Anderson has announced plans to race in this year's event, as has dirt newcomer and former Citrus County Speedway late model champion, Mike Bresnahan. Rich Pratt, Shan Smith, Shane Williams, and Jeff Mathews, also have announced plans to compete. A list of drivers planning to attend will be posted at www.myspace.com/ocalaspeedway and updated throughout the week. Various internet message boards and racing websites may also have updated lists from time to time.



--Advertisement--





In addition to the Powell Memorial late model event, Ocala Speedway also welcomes the Florida Mini Sprints back for the first time since their debut in Ocala was rained out in early April. The Florida Mini Sprints put on quite a show in their heat races before a downpour ended the night prematurely, and they have been anxiously awaiting their next shot at Ocala's tricky turns and backstretch dogleg. Also racing on Friday night will be the Ocala Speedway Hobby Stocks, fresh off of the 3rd race in the Pepsi Six Pack Challenge the previous week.

The Powell Memorial attracts race fans from all over Florida, usually filling the Ocala Speedway grandstands and bleachers to capacity. The track is a 3/8th mile, semi banked oval, covered with 14 inches of high quality local clay. RV parking is available at the speedway with advance notice, and free parking for the fans is available on the speedway property.

To get directions to the speedway, information on nearby lodging, or to reserve space for overnight RV parking, please phone Ocala Speedway at 352-622-9400. All media representatives should contact the speedway in advance for press passes.

Since a large crowd is expected for the Friday's races, it is recommended that fans plan to arrive earlier than usual in order to get better parking and access to the best seats. The Ocala Speedway concession stands will be open and ready to serve race fans with a large variety of new menu items, including sausage dogs smothered in peppers and onions, meatball subs, BBQ sandwiches, and more.

The pit gate will open at 2PM. Fans can enter the grandstand gate at 5PM. Hot laps will begin at 7PM and heat races will begin at 8PM.

Have an opinion on this story? Post a message on The Real Racin USA Florida Fan Message Board! or Email KARNACto send a letter to the editor!
---