Three Out Of Four In AACS For David Wilson
By KARNAC Media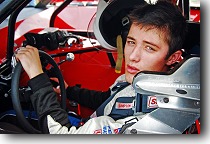 David Wilson lead most of the way this past Saturday night en route to his third All American Challenge Series race win of 2008. The DeSoto Speedway based super late model series has been good to the youngster from Sarasota this year, with the one race he didn't win being a fourth place finish behind the likes of veterans Jeff Scofield and Billy Bigley Jr.

David Wilson, along with Crew Chief Scot Walters hit practice on Friday, got the car dialed in on old tires as they usually do. The car was ready to go on Saturday and Wilson set fast time to grab his third pole of the year in the AACS.

The 100 lap race got underway very late due to a lengthy rain delay, and David had to forget about the bad cold he had brought to the track.

After the mandatory inversion, the #83 team started second. Justin Larson took the lead from the pole, but by lap 15 Wilson was challenging for the lead, at first trying an outside groove pass unsuccessfully, then crossed down to the bottom groove and took the lead at lap 17 and pulled away from the field.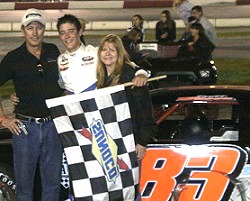 "We were able to pull away to a half straightaway lead and stayed there for the rest of the race", Wilson explained.

After Saturday night's successful outing Wilson has a solid 100 plus point lead in the AACS Championship chase.

David attributes his success this year to his Crew Chief, "Scot Walters is the main factor behind it", adding "we've only been working together for two and a half months and it seems like we've been working together for years."

The next two weeks the Wilson Racing Team will be preparing for the first leg of the Florida Triple Crown at USA International Speedway on June 7. "We have proven to ourselves that we can win, now we want to prove to ourselves and everyone else that we can do it at other tracks also", David said.

David Wilson's super late model car is a Port City/Anderson chassis, Five Star body with a Progressive spec motor. The team also has just added a new marketing partner, AJAX Paving which will be sported on the hood of the #83 at Lakeland.

For more information on David Wilson Racing visit www.davidwilsonautoracing.com.


Have an opinion on this story? Post a message on The Real Racin USA Florida Fan Message Board! or Email KARNACto send a letter to the editor!
---