Keene is KING at Orlando SpeedWorld
by Jane Smith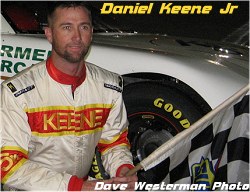 Orlando, FL (May 16, 2008) On a very hot Friday at Orlando SpeedWorld, twenty of the finest Late Models came to try their luck at the little bullring. Although summer is not officially here, you could not tell it at all.

Orlando SpeedWorld tried something different by having qualifying at 8 pm as the races began. Fans seemed to really like the idea and enjoyed watching the cars as they tried their luck.

Fast qualifier was Daniel Keene, Jr. of Weekie Wachee who ran a fast lap of 13.773. Second fast lap was run by Jeremy Colangelo of Deland at 13.899. Joe Winchell of Dade City was third fastest with a 13.939 followed by Rich Clouser of Palm Bay with 13.990. Darren Brown of Ormond Beach, winner of the 50 lap Late Model race at New Smyrna Speedway last Saturday night, was fifth fastest with a 14.041.

Keene pulled the 5 pill putting Brown on the pole for the 100 lap event. After an on-track autograph session, it was time to go racing. But it was a fast green as the yellow came out before one lap was down for debris on the track and Greg Kaouk who had some major frontend damage. Kaouk quickly took his ride to the pits for some much needed damage repair.

The race was completely restarted as Brown led the way over Rich Clouser, Joe Winchell, Daniel Keene, Jr., and Jeremy Colangelo. Winchell puts the heat on Clouser for second and takes it as Clouser slides backwards to fourth. It is Brown, Winchell, Keene, Clouser and Colangelo who has his hands full of Drew Brannon.

Jessica Murphy, one of three female drivers in the race, brings out the caution as she spins coming out of turn four. Murphy, who had not qualified that well, found out she had a flat tire and that is why she started back in the field. At this time, Greg Kauok brings his car back out onto the track minus the nosepiece and fender but still raceable. The race goes back green on lap 9 as Brown leads the way over Winchell, Keene, Clouser, Colangelo, Brannon, Wayne Morris, Alan Bruns, and John Ripley. Suddenly the 00 of Ripley goes up in smoke and brings out the caution. The race is red flagged for some heavy duty track clean-up.

Lap 12 sees the green again as Brown, Winchell, Keene, Clouser and Colangelo show the way. But it is a short green as Ray Black, Jr. and Chuck Abell get together on the backstretch with Black spinning down onto the bandolero track. Both are fine but go to the rear of the field for the restart. During the caution, it was Alexis Fenton who got the wildest ride as she went up the backstretch wall ever so slightly and came back down. Fenton was forced to go into the pits along with Kaouk again. However, Kaouk was able to return quickly.

On the restart it is Brown, Winchell, Keene, Clouser, Colangelo, Brannon, Morris, Bruns, AJ Curreli, and Travis Hanson leading the way. Curreli takes a look on Bruns but Bruns holds his position. Morris then takes a peak on Brannon but Brannon holds his position. Suddenly Curreli retires to the pit road with mechanical problems as Brown begins pulling away from the field.

Colangleo puts the heat on Clouser for fourth and takes it as Clouser settles into fifth Winchell has his hands full of a hard charging Keene right on his tail but Winchell holds his position. The caution comes out for Shea Holbrook who spins at the bottom of turn 3 as she pushes up into Alan Bruns. Bruns is fine but Holbrook finds herself now on pit road.

Once again, Brown leads the way as Keene puts the heat on Winchell but Winchell is not giving up second spot. Travis Hanson is trying his luck with Bruns but Bruns holds his position. Finally after trying and trying, Keene takes second putting Joe Winchell third. It is now Brown, Keene, Winchell, Colangleo and Clouser.

The caution comes out for Dewayne Barrus who has spun at the bottom of turn 4. Alan Bruns is stopped by the track officials on the frontstetch as there may be a fire under his hood. The car is checked and sadly pushed onto pit road, done for the night. On the restart, Brown finds his hands full of Keene and after leading a good deal of the race, sees his lead go to Keene as Brown goes to second. It is now Keene, Brown, Winchell, Colangelo, and Clouser. Morris and Brannon touch ever so slightly. Brannon must gather his machine back up as Morris takes over. Earl Beckner now must pull off the track and is done for the night.

Keene begins to move out on the field as he builds a big lead over Brown. Hanson puts the heat on Morris but Morris holds. Hanson is on the inside, Morris on the outside as Hanson takes away sixth from Morris and Morris must settle for eighth. Morris, who hit the wall during practice and did some major damage control, is really having a good race after such a bad start.

Keene pulls away from the field as Brown and Winchell have their own little battle, Colangelo seems to be all alone in fourth with Clouser closing in in fifth. Kaouk, who has somewhat of a modified Late Model, pulls low onto the bandolero track as the leaders pass by but he keeps on going.

The caution comes out for Brennan Palmiter who spins coming off turn 4 on lap 81. Palmiter goes to the rear for the restart as Keene leads the way over Brown, Winchell, Colangelo, Clouser, Hanson, Chuck Abell, Morris, Dwayne Barrus and Ray Black, Jr.

With the laps getting shorter and shorter, Clouser puts the heat on Colangelo and passes him for fourth on the very last lap. Keene takes the checkered followed by Darren Brown, Joe Winchell, Rich Clouser, and Jeremy Colangelo.

As a special note, Rich Clouser lives in Palm Bay which was on fire this week. Rich was luckier than most, the fires got right up to his house but he did not lose anything although he had to watch as his neighbor's roof got burned. Our hearts and prayers go out to all the fire victims in both Volusia and Brevard County.


GOODYEAR CHALLENGE LATE MODEL 100
OFFICIAL RESULTS
MAY 16, 2008 - ORLANDO SPEEDWORLD

1. #5k Daniel Keene, Jr., Weeki Wachee
2. #53 Darren Brown, Ormond Beach
3. #57 Joe Winchell, Dade City
4. #9 Rich Clouser, Palm Bay
5. #05 Jeremy Colangelo, Deland
6. #141 Travis Hanson
7. #19 Chuck Abell, Apopka
8. #56 Wayne Morris
9. #33 Dewayne Barrus, Ellenton
10. #08 Drew Brannon, Miami
11. #27 Brennan Palmiter, Ormond Beach
12. #19X Ray Black, Jr., Palm Coast
13. #31 Greg Kaouk, Southwest Ranches
14. #36 Earl Beckner, Orlando
15. #27 Jessica Murphy, Clermont
16. #4b Alan Bruns, Clermont
17. #67 Shea Holbrook, Groveland
18. #2 A.J. Curreli, Daytona Beach
19. #11 Alexis Fenton, Maimi
20. #00 John Ripley, Sanford



Have an opinion on this story? Post a message on The Real Racin USA Florida Fan Message Board! or Email KARNACto send a letter to the editor!
---