"I'm noticing a turn of the tide on racing Web sites like Florida's Karnac.com, the gathering place for the most dedicated race fans in the state."

-Orlando Sentinel
IT'S TIME TO RACE!!
Super Late Models Roll Into Charlotte County This Weekend
KARNAC Media




The last time the Super Late Models took to the pavement at Charlotte County Motorsports Park, it ended with a 1-2-3 of Wayne Anderson, Scot Walters and Patrick Williams. This Saturday night the #77 driven by Williams will be driven by Mike Franklin Jr., according to track promoter Bobby Diehl.

Franklin has been absent from the late model battles for a while, expect "Hollywood" to have his sights on the first prize. But he will have some stiff competition with Wayne Anderson returning along with Kevin Macy, Sean LeMaster and Daniel Webster.

A couple of the youngsters, Ross Chastain and Steven Nasse, will be in the field Saturday night at the Punta Gorda track. The pair of talented drivers will see double duty, battling it out in the Fastrucks as well.

Much of the talk surrounding Super Late Model racing these days is about motors. Charlotte County invites all the different packages, ASA type crate motors, spec motors such the Progressives or the high dollar built motors. The short track, banking and surface allow all of them to be competitive, and it really boils down to getting the setup right and staying out of the inevitable wrecks.

In March, former Craftsman Truck driver Scot Walters (Naples, Fl) won the Super Late Model show, with stiff competition from Daniel Webster (Brooksville, Fl)and Lakeland's Kevin Macy.

"It all adds up to a showdown, and that's what keeps fans coming back to see these great racers", said Bobby Diehl, the promoter of the track. "We are putting the excitement back in racing, and the fans just love it".

Also on the bill for this Saturday's show is the lighting quick T.Q. Midgets plus Dwarf Cars, Legends and Outlaw Street Stocks. The Real Racin' USA Thunder Trucks return along with the entry level racing classes of Pro 4 and Fab 4 cars.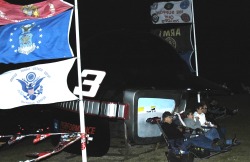 Charlotte County Motorsports Park has undergone a major change over the last year. These Saturday nights at the speedway, fans will be greeted with a carnival atmosphere, with lots of vendors, greatly improved concessions. A brand new scoreboard is expected to be ready for action this coming weekend. One of the most striking sights for new fans or fans who haven't been to the speedway in a while is the Dale Earnhardt tribute on "the hill".

Saturday the pits gates open at 9 AM. The front grandstands open at 4 PM and racing gets underway at 6 PM. For more information visit the speedway web site at www.charlottecountyracing.com

Have an opinion on this story? Post a message on The Real Racin USA Florida Fan Message Board! or Email KARNACto send a letter to the editor!
---