"I'm noticing a turn of the tide on racing Web sites like Florida's Karnac.com, the gathering place for the most dedicated race fans in the state."

-Orlando Sentinel
IT'S TIME TO RACE!!
Johnny Collins "Freight Trains" to First UDLMCS Win
By Rick Anges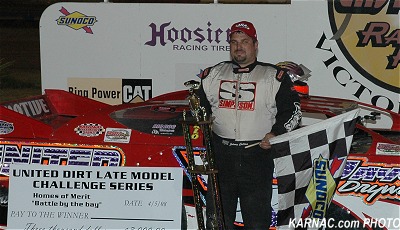 Gibsonton, Fl. - Coming off a successful road trip to East Alabama Motor Speedway the "Homes of Merit" United Dirt Late Model Challenge Series rolled onto the famed "Clay by the Bay" Eastbay Raceway Park to finish what they started April 5th before Mother Nature unleashed a torrential rainstorm.

The record of 47 cars at East Alabama didn't last long as 49 cars were signed in for the "Battle by the Bay" breaking the week old record.

Keith Nosbisch took fast time for the event hooking up on the Tampa Clay with a 16.149 second lap. Nosbisch was also the winner in the first of five heat races that took the top three out of each event to be locked into the 50 lap $3,000 to win feature. Following Nosbisch was Shan Smith who inherited the point's lead from Ivedent Lloyd coming out of the Alabama Clash. Third was K.D.Kelley.

The second heat transfers were Winner Bill Howard, second Kent Corbin and Matt Miller. Third heat winners were Alabama winner Mark Whitener, followed by Jeff Mathews and Marshall Austin.

Doug Horton would win heat number four but would be replaced in the feature by long time Eastbay racer Kenny Nosbisch due to a racing obligation in West Virginia. Josh Peacock and Johnny Collins would also move on to the feature.




The final heat was won by Moultrie Georgia Ace Jay Johnson, second went to Jeff Conyers with Tony Payne being the final driver locked in from the heats.

The first of two B-Mains that would send the top three from each had eight laps in the books when the skies opened up and ended the nights racing action April 5th. Rather then restart from the beginning series owner Ken Kinney decided to finish the race where it left off. The green dropped with four laps left to go. Roger Crouse was wheels up as he roared to the checkered flag for the win. David Pollen Jr., a fresh transfer from the asphalt world showed he would be a force to be reckoned with taking a solid second with the third transfer going to J.R.Prather.

The second B-Main had Phillip Cobb taking the win followed by another former asphalt racer Rich Pratt followed by Tyler Ivey.

The "Zeigler Racing Engines" Dash for Cash could have been a feature race at any track in the country lining up 22 of the South's finest Late Model drivers for twenty laps. Three more drivers would move on from the race. When the dust settled Wallace Peacock would finish on top with Jackie Nosbisch in the second spot third was Billy Costello.

With provisionals twenty-nine cars would line the front stretch of Eastbay Raceway Park. Frisbees were tossed into the crowd then the drivers strapped in for fifty laps of hard-core Late Model action.

The inversion had Jay Johnson and "Wide Open" Mark Whitener starting on the front row. The traditional "Four Wide" salute to the fans had the crowd on their feet. They remained standing as the field took the green.

Keith Nosbisch lead the early going but Phillip Cobb wowed the crowed making his way toward the front after starting outside row eight until suspension damage would end his night. Cobb would end up nineteenth on the evening.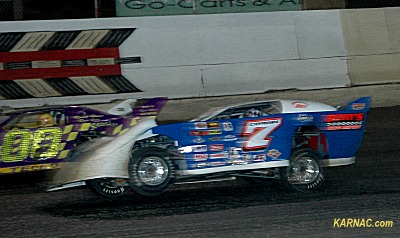 Kent Corbin powers by the 00.



By lap fifteen though it was the "Freight Train" Johnny Collins NLMS '07 Champ would take command of the race. Collins came from the eleventh starting spot.

Nine caution flags flew during the racing action one of those involving point's leader Shan Smith. Smith with some help went around on the backstretch causing enough damage to end his evening after having a solid top five run. Smith would end up a disappointing twenty first.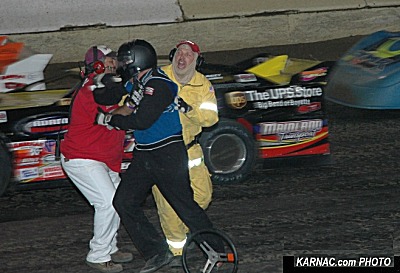 Shan Smith Upset after crash on the backstretch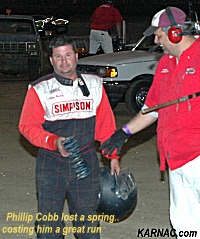 Collins would dominate on his way to the $3,000 paycheck but behind him there was plenty of action. A late race pass would give Josh Peacock his second, second place finish in the series.

Fast qualifier Keith Nosbisch would settle for a solid third place run. Rich Pratt kept out of trouble and ran a strong fourth with Jackie Nosbisch taking fifth.

The Homes of Merit United Dirt Late Model Challenge Series next race will be at the 3/8th mile oval of North Florida Speedway in Lake City, Fl. for the North Florida Late Model Championship that will pay not only $3,000 to win but also an unprecedented $300 to start.

A-Main

1.Johnny Collins 5C
2.Josh Peacock 21
3.Keith Nosbisch 101
4.Rich Pratt 0P
5.Jackie Nosbisch Jr. 12N
6.Roger Crouse 32C
7.Mark Whitener 81
8.David Pollen Jr. 88
9.Jeff Mathews 33M
10.Kent Corbin 7C
11.Bill Howard 48
12.Billy Costello 00C
13.JR Prather Jr. 007
14.Kevin Mills 01
15.Marshal Austin Jr. 42
16.Jay Johnson J1
17.David Schmauss 105
18.Adam Bedenbaugh 26B
19.Phillip Cobb 95
20.Matt Miller 8M
21.Shan Smith 17SS
22.Ryan Mitchell 5K
23.Wallace Peacock P1
24.Jeff Conyers 47
25.Justin Choquette 97
26.Tony Payne 78
27.Tyler Ivey 37
28.KD Kelley 00K
29.Kenny Nosbisch 11

Zeigler Racing Engines Dash for Cash

1 – Wallace Peacock P1
2 – Jackie Nosbisch Jr. 12
3 – Billy Costello 00C
4 – Steven Miller 8S
5 – Ryan Mitchell 5K
6 – Frankie Erskine Jr. 5
7 – Justin Choquette 97
8 – Travis Varnadore 41
9 – Mark Haase 57M
10 – Tim Gay 35
11 – David Schmauss 105
12 – Al Larson 4
13 – Kevin Mills 01
14 – Jimmy Waldrop 9
15 – Tommy Evonoski Jr. 26E
16 – Johnny Allen 10
17 – Robby Barris 32B
18 – Adam Bedenbaugh 26
19 – Hamp Conley 46
20 – Bobby Alexander Jr. 0A
21 – Ted Erskine 444
22 – Dennis Williams 24

B-Main #1

1 – Roger Crouse 32
2 – David Pollen Jr. 88
3 – JR Prather Jr. 007
4 – Frankie Erskine Jr. 5
5 – Johnny Allen 10
6 – Wallace Peacock P1
7 – Kevin Mills 01
8 – Adam Bedenbaugh 26
9 – Jackie Nosbisch Jr. 12
10 – Dennis Williams 24
11 – Evan Becton 15
12 – David Farmer 77
13 – Jimmy Waldrop 9

B-Main #2

1 – Phillip Cobb 95
2 – Rich Pratt 0P
3 – Tyler Ivey 37
4 – Justin Choquette 97
5 – Steven Miller 8S
6 – Travis Varnadore 41
7 – David Schmauss 105
8 – Billy Costello 00C
9 – Tim Gay 35
10 – Mark Haase 57M
11 – Robby Barris 32B
12 – Al Larson 4
13 – Ryan Mitchell 5K
14 – Tommy Evonoski Jr. 26E
15 – Hamp Conley 46
16 – Bobby Alexander Jr. 0A
17 – Ted Erskine 444
18 – Justin Weeks 33J
19 – Todd Alexander 14
20 – Jason Davis 145
21 – Adam Giles 10G

Heat #1

1 – Keith Nosbisch 101
2 – Shan Smith 17SS
3 – KD Kelley 00K
4 – Adam Bedenbaugh 26
5 – Roger Crouse 32
6 – David Pollen Jr. 88
7 – Kevin Mills 01
8 – Wallace Peacock P1

Heat #2

1 – Bill Howard 48
2 – Kent Corbin 7C
3 – Matt Miller 8M
4 – Jimmy Waldrop 9
5 – Frankie Erskine Jr. 5
6 – JR Prather Jr. 007
7 – Johnny Allen 10
8 – Evan Becton 15
9 – Ryan Mitchell 5K

Heat #3

1 – Mark Whitener 81
2 – Jeff Mathews 33
3 – Marshall Austin Jr. 42
4 – Jackie Nosbisch Jr. 12
5 – Hamp Conley 46
6 – Dennis Williams 24
7 – Justin Weeks 33J
8 – David Farmer 77

Heat #4

1 – Doug Horton 11
2 – Josh Peacock 21
3 – Johnny Collins II 5C
4 – Phillip Cobb 95
5 – Rich Pratt 0P
6 – Justin Choquette 97
7 – Ted Erskine 444
8 – Todd Alexander 14
9 – Adam Giles 10G

Heat #5

1 – Jay Johnson 1
2 – Jeff Conyers 47
3 – Tony Payne 78
4 – Bobby Alexander Jr. 0A
5 – Steven Miller 8S
6 – Travis Varnadore 41
7 – Billy Costello 00
8 – Jason Davis 145
9 – Tommy Evonoski Jr. 2


Have an opinion on this story? Post a message on The Real Racin USA Florida Fan Message Board! or Email KARNACto send a letter to the editor!
---