"I'm noticing a turn of the tide on racing Web sites like Florida's Karnac.com, the gathering place for the most dedicated race fans in the state."

-Orlando Sentinel
IT'S TIME TO RACE!!
Brown Motorsports, Summer Spectacular, Event #2
Eugene Davidson Sits On Top After Two Events

By BMS Media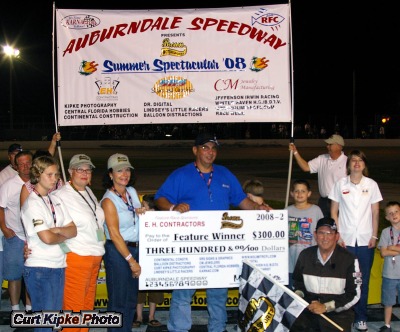 Auburndale Speedway, in Winter Haven, FL, was electric with excitement, as the second of eight races in the Brown Motorsports Summer Spectacular was ran on Saturday April 12. Glen and Sharon Treadwell, from racers for Christ organization, was on hand to get the evening started off on the right foot with some spiritual words.

Glen Treadwell is no stranger to racing. He is a very accomplished drag racer, holding 3 – U.S. National titles in the Competition Eliminator Class. The stands were full and the car count was high as Carol Hartunian dropped the green flag.

The featured sponsor for this event was E.H. Contracting out of Jacksonville, FL. Owners, Ed Hartunian and his wife Carol have been major supporters of Brown Motorsports for three years now and on there first trip to the Auburndale Speedway, Ed said, "This race track is great". Eighteen Mini Stocks took the green flag and it did not take Eugene Davidson long to take the lead from his outside first row starting spot. Finishing second and third respectfully, Chris Spring and Donnie Guy were nose to tail for the whole 30 lap feature.

With the experienced veteran, Eugene Davidson leading the way to the checkered flag and the $300.00 pay day, very few yellows made for some very exciting racing. The chase for the Championship is very tight with Eugene Davidson with 60 points, Donnie Guy with 54 points and Fred Harrison Jr. with 50 points.

Lindsey's Little Racers organization was on hand, with Lindsey Bruce and Lauren Brown, treating the kids to several Goody-Bags, Frisbees courtesy of Jefferson Erwin Racing and Ice Cream.

At intermission, the Super Late Models and the Mini Stocks took to the front stretch for a photo and autograph session that had a surprise visitor, NASCAR driver Joe Nemechek's mother, Martha.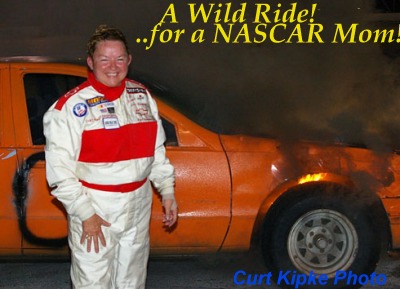 She was on had to drive a V-8 Bomber. Martha said she was thrilled to be driving where her sons got their start in racing. She finished fourth and gave everyone a scare as her car engine caught fire in Victory Lane. While the fire was being extinguished, she never stopped smiling and said she had a great time. The race fans were treated to a very full night of racing.

Besides the regular assortment of classes, the Fast Mini Cups put on their usual exciting show, Frank Pfister taking first place. E.H. Contracting surprised the Mini Cups drivers with a generous donation to their prize fund. The Sportsman Series had a 40 lap feature and the Super Late Models finished the night with a 100 lap feature. Racing at Auburndale Speedway is truly becoming a Saturday Night place to be.

The Hartunians visit many NASCAR races and Carol Hartunian said, "Tonight was more fun than going to a NASCAR race". With offering a great family value, good food, up close racing, fan-friendly facilities and just something bigger tracks can't offer, a kid/family atmosphere, with a good old, "Come On In philosophy, Auburndale Speedway is going the right direction.

The next Summer Spectacular Event is May 10th. The featured sponsors will be KARNAC and Inside Florida Racing. Wit Jack Smith, Rob, CeCe and the gang in attendance, you can bet there will be surprises and a lot of FUN. Keep up with the latest Brown Motorsports events, promotions and become a sponsor/supporter by visiting their new web site, wwwbrownmotorsportsllc.net.


Have an opinion on this story? Post a message on The Real Racin USA Florida Fan Message Board! or Email KARNACto send a letter to the editor!
---