Guts, Determination and a Little Glory; That's Racin'
Jeff Firestine is named Pandora Jewelers Driver of the Month

By Jack Smith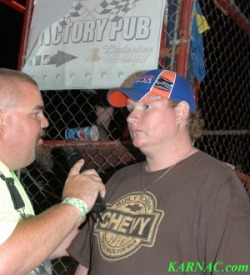 "When it came down to picking this person, it was a unanimous decision by many", stated Rob Elting, co-host on the Inside Florida Racing weekly Internet radio show.

Jeff Firestine, 2006 DeSoto Truck Series Champion, won multiple events at Charlotte County Motorsports Park in the Road Warriors, and also won in the Bomber class at DeSoto Super Speedway. Two wins in the Road Warriors at Charlotte were backed up with a win on March 29th at DeSoto. On that night Jeff finished a dismal 14th at Charlotte, packed up and headed the 50 miles to DeSoto where he won the Bomber feature. April started off with a bang with a win last Saturday in both the Road Warriors and the Figure 8's at Charlotte.

At the end of March, the 'Driver of the Month' discussion centered around many drivers, among them:
Eugene Davidson - 64 year old Mini Stock driver at Auburndale
Brent Cooper - Super Stocks at Bronson Motor Speedway
Jeff Firestine - Road Warriors and Bombers at Charlotte County Motorsports Park & DeSoto Super Speedway
Wayne Morris - Late Models and Sportsman at various tracks including Auburndale Speedway & Charlotte County Motorsports Park
Nevin Gainey - Sportsman at Columbia Motorsports Park
Charlie Montgomery - Truck racer at DeSoto Super Speedway
Gregory Krom - Street Stocks at DeSoto Super Speedway
Scotty Williams - Dirt Modifieds at East Bay Raceway Park
Wesley Daugherty - Dirt Hornets at North Florida Speedway
Wild Bill Ryan - Pure Stocks at Citrus County Speedway
Donald Williams - Sportsman at New Smyrna Speedway
Jared Allison - Mini Stocks & Super Late Models at Orlando Speedworld
Kurt Jett - Modifieds at Orlando Speedworld
Shane Williams - Late Models & Sportsman at Volusia Speedway Park
George Gorham - Advance Auto Parts Pro Truck Series
Cody Blair - Florida Mini Stock Challenge Series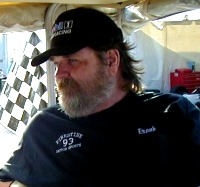 It is understandable if the month of March may seem like a bit of a blur to Jeff Firestine. February was a nightmare for Jeff Firestine. The second week of the month Frank Firestine, Jeff's father, best friend and mentor, died suddenly and without warning. So on February 23, Jeff Firestine found himself in the flag stand as honorary starter at Charlotte County Motorsports Park, waving the green flag to start the Frank Firestine Memorial late model race.

"Frank was one of the founders of the FASTRUCK Series, but his passion was Late Models." track promoter Bobby Diehl said. "Frank even wore a "Top Hat" when being a true gentleman. He would always take time to talk with the wives and the family of the racers. He took that time to make them feel special. This meant a lot to them and made the whole family feeling around racing work."

When Jeff was asked about the special month of March 2008, he acknowledged his dad as the driving force behind his success. "A lot of it was my dad passing, because me and my dad started this sport back in '99, this has always been a passion of mine, something I love doing, and something me and my dad did together."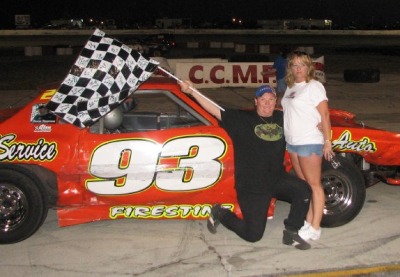 This young race car driver from Venice, Florida knew what he needed to do, "I know my dad wanted me to keep doing it, keep going on without him." But, as Jeff explained to Rob Elting and CeCe Brooks on "Inside Florida Racing" last week, he wasn't alone in his drive to keep going. "My best friend Dean [Butram] has been right there for me, through good times and bad times. I really didn't have the money or a car, so he gave me a car, and I was actually driving Dean's car, we built a few more cars, so he ended up giving me a car, it's a team effort."

With the added dimension of racing in the wake of his father's death, certainly showed the devotion, the passion of Jeff Firestine and everyone who knew Frank Firestine would certainly say Jeff made his father proud.

Elting asked Firestine what it means to win this award?

"You have no idea. This just makes for a better year, and with the tragedy of losing my dad, this gives me something to set another for, to try and get this driver of the year. That would make my dad proud."

Firestine is sponsored by Buckingham Automotive in Venice, Dean's Tree Service, Integrity Transmissions and Circle Performance.

One of the obvious requisites for winning the monthly Pandora Jewelers Award is winning. But it is also about how a driver wins, the level of competition, the level of obstacles and other factors. Jeff Firestine is without question a race car driver that Florida fans and competitors can be proud of.

Jeff Firestine joins Pandora Jewelers Driver of the Month Jeff Choquette for January and Shane Williams for February as drivers having been chosen by Florida racing media as drivers "who excelled in the sport. The hosts of "Inside Florida Racing" make the final decision each month after receiving input from writers, radio hosts, announcers and promoters from around the state.

More on the award:
"Inside Florida Racing" and Pandora Jewelers have teamed up in 2008 to recognize individual achievement in Florida stock car racing. Each month the "Inside Florida Racing" broadcast team of CeCe Brooks and Rob Elting, Carol Wicks & Friends consults with some of the top media personalities and promoters in Florida to determine the winner for that month.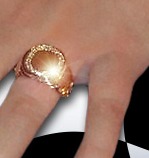 In January of 2009 "Inside Florida Racing", a part of the Real Racin' USA network of motorsports radio shows, will award the Pandora Jewelers Driver of the Year Award. The Award is a Championship quality ring, valued at just under $4000.00, a beautifully engraved gold and diamond ring that will remain a lifetime treasure to the winner. The winner of the award will be chosen based on overall performance during 2008 as seen from the racing media in the Sunshine State.

Pandora Jewelers has been dedicated to serving customers in South Florida since 1976. Pandora
Jewelers is located in The Cove Shopping Center in Deerfield Beach, and is located on the web at href="http://pandorajewelers.com/">www.pandorajewelers.com



Have an opinion on this story? Post a message on The Real Racin USA Florida Fan Message Board! or Email KARNACto send a letter to the editor!
---