"I'm noticing a turn of the tide on racing Web sites like Florida's Karnac.com, the gathering place for the most dedicated race fans in the state."

-Orlando Sentinel
IT'S TIME TO RACE!!
Citrus Has Standing Room Only; Fans Re-fire 2008 Racing Season
by Larry MacMillan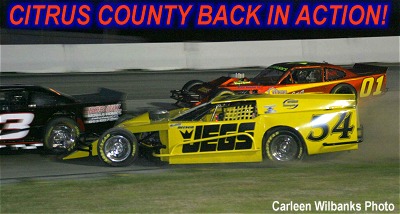 A record breaking crowd got the Citrus County Speedway 2008 racing season re-started with School Bus Figure 8's, Boat Trailer races and Doug Rose and his Green Mamba Jet car added to a 6 division race card getting back on track after a four week hiatus at the 3/8 mile oval for the Citrus County Fair activities. Approximately 200 to 300 fans had to be turned away due to the standing room only conditions.

The fans definitely got their money's worth with the action packed night loaded with mid season performances by the racing regulars and some close finishes in all 7 feature races.

The Open Wheel Modifieds opened the evening with 14 cars going on the clock for qualifying and again local speedster Curtis Neumann proved to be the fast qualifier in each of the first three races with a 13.940 second run. He was the only car to break into the 13 second bracket.

On the pill draw for starting positions Tommy Schnader won the pole position starting spot and it proved to pay off for him leading the field for all 40 laps in their feature.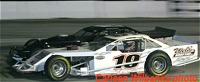 It was by no means a ho hum race as Tommy held off plenty of heat from Richie Smith who finished second and Harold Cannon who came off the outside pole, in the top five throughout the race and finishing third.

Also in the hunt was Curtis Neumann who recovered from an early spin into the infield and crossed the finish line in a run for third in another slide into the infield to lock down fourth by half a car length. Rounding out the top five was Billy Bechtelheimer. Neumann finished up the night with a handy 21 point lead in the race for the Championship in the early going.

Street Stocks put on a great show with a 16 car field taking the green flag for their 20 lap main event. Thirteenth starter Tim Quick managed to stay out of some the crashes that occurred at the front of the field and worked his way through the front runners in the final laps to take his second win of the season just in front of David Foster who led most of the race and got caught up in lapped traffic as the laps wound down.

Frank Stromquist won out in a close run with Mark Fallows and Tim Alexander in the race for third. Alexander managed to get by Doc Fallows on the final lap to take a 4th place finish while Fallows fell from second to fifth in the final laps. Quick and Foster shared the heat wins.

Twenty nine 4 Cylinder Bombers ran 3 and four deep throughout their 20 lap feature and Melissa Hunley drove from 8th to the point early setting the pace right to the checkered flag for a crowd pleasing win for the young lady. It was short lived though as she was D.Q.'d in post race inspection for carburetor and sway bar infractions. Chris Harvey inherited the win for his second of the year followed by Chris Eberly.

Travis Hoefler managed to recover from and early spin that sent him to the rear of the field and march home with a 3rd place finish making a final lap pass on Richard Kuhn. Justin Elwood slipped from second to fifth with apparent mechanical problems cropping up in the final laps. Travis Hoefler, Bryson Ward and Jeff Eberly took the heat wins.

Thirty three Pure Stocks forced a pair of feature races rather than putting the full field on the race track. Seventeen cars ran in the first 20 lap main with Wild Bill Ryan starting 12th proving he is the man to beat making it 4 out of 4 wins in his new car that was sporting a new paint job to restart his run for another championship. Rounding out the top 5 in race #1 were Aaron Welter, Todd Brown, Wayne Heater and Ricky Shahid.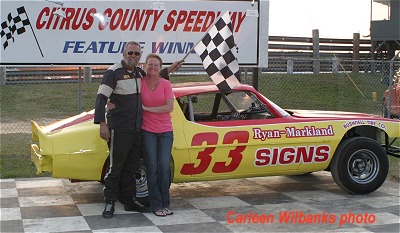 Bill Ryan continues his win streak



Round 2 saw 16 cars take the green and young Jesse Veltman drove from 10th to the Winners Circle for his first win of the season and putting him in second in the points' race 30 points behind Ryan. Eric Sharrone ran second but was D.Q.'d in post race inspection giving the position to Steve Hise for his best finish of the year. Tim Wilson started 5th in a borrowed car and managed to hang in for a third place finish followed by Rick Henick and Joe Rauner. No heat races were run.

The modified Figure 8's put on a real barn burner with 15 cars in side by side racing and plenty of close action in the intersection. Robbie Aaron came off the outside pole position to set the pace and spent the entire 20 laps looking at a variety of car numbers in his rearview mirror. Aaron made it to the winner's circle with a battle royal going on behind him for the top five finishing positions in the final lap.

Rocketing his way from 13th to a second place finish in the final lap was Joey Catterelli who sits on top of the point standings. Wayne Calkins finished third from his 14th starting spot side by side with Catterelli. Bobby Towe held out for fourth while Clifford Rousseau locked onto a fifth place finish.

The V8 Thunder Stock Rookies came on 21 cars strong to wrap up the regular division show with Dustin Swearingen possibly ending his rookie career with his 3rd win out of four races for the year. Alexander Wilder moved from 13th to 2nd when the checkers flew followed by Ronald Sellers III, Josh Long and Denise Manalili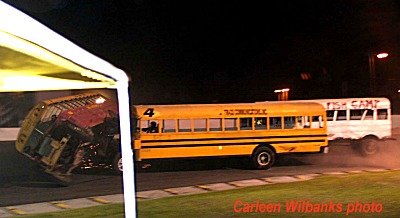 The rest of the night was dedicated to the School Bus Figure 8's, the Boat Trailer Race and wrapping up the night was Doug Rose disposing of a derelict car with his Green Mamba jet afterburner burning the car just about to the ground.

The Pros rolled several of the 16 starting busses with two time winner Brent Fults getting up on the dirt mound on turn 3 of the figure 8 track and rolling his ride on the drivers' side. He got back into the bus when they got it up righted and kept on going.

Figure 8 driver Wayne Calkins took the win. Fifteen busses took the green flag in the Rookie race with Justin Cretty rolling the same bus that Fults rolled after getting collected by another bus in the intersection that ended his night.

Several more busses rolled before the race was called and Gene Gamache took the win. There were 8 entrees in the Boat Trailer race and two racers finished with their trailers and boats still in tact with the win going to Larry Welter Sr. whose boat was gone but the trailer still in tact.

Next Saturday night will see the return of the Super Late Models, Sportsman, and Mini Stocks as they restart their point season. The balance of the race card will feature Pure Stocks, V8 Thunder Stocks, 4 Cylinder Bombers, the Florida Open Wheel Lites and the Outlaw Mini Modifieds.

Citrus County Speedway Results 3/29/08

Open Wheel Modified Feature – 40 Laps – 14 Cars
1. #19 Tommy Schnader – Largo – 1st Season Win

2. #42 Richie Smith – Hernando

3. # 3 Harold Cannon – Valrico

4. #01 Curtis Neumann – Inverness – Fast Qualifier – 13.940 Sec.

5. # 6 Billy Bechtelheimer – Dover

Street Stock Feature – 20 Laps – 16 Cars

1. #97 Tim Quick – Lecanto – 2nd Season Win

2. # 4 David Foster – Ocala

3. #57 Frank Stromquist – Lecanto

4. #63 Tim Alexander – Floral City

5. #007 Mark Fallows – Crystal River

1st Heat Winner - #97 Tim Quick

2nd Heat Winner - # 4 David Foster

4 Cylinder Bomber Feature – 20 Laps – 29 Cars

1. #00 Chris Harvey – Belleview – 2nd Season Win

2. #56 Chris Eberly – Spring Hill

3. #20 Travis Hoefler – Floral City

4. #47 Richard Kuhn – Ocala

5. #117 Justin Elwood – Ocala

1st Heat Winner - #20 Travis Hoefler

2nd Heat Winner - #4 Bryson Ward – Crystal River

3rd Heat Winner - #01 Jeff Eberly – Spring Hill

1st Pure Stock Feature – 20 Laps – 17 Cars

1. #33 Bill Ryan – Bushnell – 4th Season Win

2. #80 Aaron Welter – Sorento

3. #157 Todd Brown – Citra

4. #171 Wayne Heater – Homosassa

5. #3 Ricky Shahid – Floral City

2nd Pure Stock Feature – 20 Laps – 16 Cars

1. #55 Jesse Veltman – Crystal River – 1st Season Win

2. #42 Steve Hise – Inverness

3. #93 Tim Wilson – Floral City

4. #60 Rick Henick – Inverness

5. #75 Joe Rauner – Brooksville

Figure 8 Feature – 15 Cars – 20 Laps

1. # 6 Robert Aaron – Brooksville – 1st Season Win

2. #15 Joey Catterelli – Pinellas Park

3. #14 Wayne Calkins – St. Petersburg

4. #65 Bobby Towe – St. Petersburg

5. # 3 Cliff Rousseau – St. Petersburg

V8 Thunder Stock Rookies Feature – 20 Laps – 21 Cars

1. #11 Dustin Swearingen – Floral City – 3rd Season Win

2. #14 Alexander Wilder – Floral City

3. #32 Ron Sellers III – Spring Hill

4. #00 Josh Long – Inverness

5. #16 Denise Manalili – Spring Hill

Pro School Bus Figure 8 Winner - #05 Wayne Calkins

Rookie School Bus Figure 8 Winner - #96 Gene Gamache

Boat Trailer Race Winner - #85 Larry Welter Sr.






Have an opinion on this story? Post a message on The Real Racin USA Florida Fan Message Board! or Email KARNACto send a letter to the editor!
---