"I'm noticing a turn of the tide on racing Web sites like Florida's Karnac.com, the gathering place for the most dedicated race fans in the state."

-Orlando Sentinel
IT'S TIME TO RACE!!
Wild Night on the Dirt at Ocala Speedway
by BJ Cavin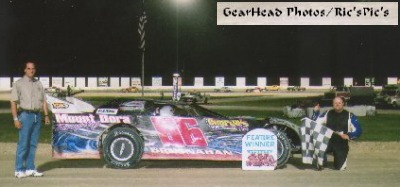 Ocala Speedway welcomed a large crowd for the second week in a row, and once again the fans were not disappointed. The Pepsi Six Pack Hobby Stock Challenge got underway with the first of six scheduled $1000 to win races for that division, and a huge field of Hobby Stocks mixed it up in four heat races and a B-main event to get to the feature race. In addition to the throng of Hobby Stocks, another large contingent of Late Models were in the pits as well. Mini Stocks and Gladiators rounded out the night's racing, and once again the racing was exciting and memorable.

And for the second week in a row at Ocala Speedway, a driver managed to take a bad situation and make something very positive out of it. This week it was Patrick Williams who found his Hobby Stock racer on a hook after the first lap of the first heat race. Leaving behind a tow truck is usually not a very good sign for any driver, but Patrick Williams was undaunted by the experience. He had the car back out for the B-main event and came from the rear to take one of the 4 transfer spots from that race, and in the main event he once more overcame almost every obstacle in his way.

The first of six Pepsi Six Pack Challenge Races was scheduled for 30 laps, and 24 Hobby Stock drivers took the green flag. The first lap saw Marlon Durbin jump to the front but he was overtaken by Jeff Stalnaker Jr in the 9 machine. A four car fracas on the front stretch slowed things down on lap 4, but Stalnaker maintained his lead once green flag racing returned. The first few laps were in spurts and sputters as several incidents caused caution periods, but when it all sorted out and everyone got down to racing, Stalnaker's car was still out in front.

By lap 10 things began to shake up in front as the 20 of Matthew Holbrook went for the lead and the 0 of Dalton Lanich moved to second place. Meanwhile Jeff Stalnaker Jr. had problems on the front stretch and did a loop in traffic, and once the field went by he got going without the caution being displayed. But as luck would have it, the spin left him mired in traffic for the remainder of the race so he was effectively out of contention for the win.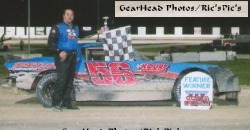 Kevin Durden had been working his way forward throughout the race and a restart on lap 14 set him up for a smooth move to take the lead two laps later. Moving forward right behind Durden was the 56 machine of Patrick Williams, and although his car looked a bit beaten and banged it was plenty fast and locked in behind Durden's car lap after lap.

Patrick Williams would give Kevin Durden a workout, but in the end it was Durden who managed to hold off Williams for the win. Following Williams for the third place finish was Dave Kinsey in the 58, while Sheldon Kinser and Jeff Stalnaker Sr. rounded out the top five.

It took three heat races and a B-main to whittle down a good field of Late Models to a starting grid of 24. Wayne Shugart led the field to the green to get the main event underway, but Shugart's car did not get going and the field bunched up behind him, leading to multiple cars making contact and a couple spinning out. On the restart Shugart had problems once more getting going, this time causing a wad of cars to come together in turn 4. A third restart saw the 79 of Jason Kimball jump out front for the lead before yet another incident in turn 2 brought out another yellow 2 laps later. Shun Williams used that restart to his advantage a briefly took the lead, but another spin reset the field.

The 17 of Shan Smith was looking very strong throughout the race and had moved into contention, eventually making it to the second spot. But Mike Bresnahan was also picking his way through the field and suddenly appeared in the top three before taking control on lap 23. A final spin caused a caution, forcing the race to finish with a one lap dash for the cash. Bresnahan held off all contenders to earn the win, followed by Shaun Williams and Shan Smith. Jeff Conyers and Bill Howard finished fourth and fifth, respectively.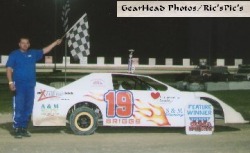 Twelve Mini Stocks took the green flag behind the 82 of Blake Spencer, but on lap 4 it become apparent that Keith Briggs had the car to beat. Briggs blasted into the lead and began opening up quite a gap between himself and the rest of the field, but cautions on laps 12 and 16 kept the 46 of Stanton Mills within striking distance.

Mills would give Briggs all he had, but spun in turn 2 to bring out the final caution of the race.

Keith Briggs would take the win from there followed by Mason Price for second place and Cole Ridenhour in third place. Michael Gulvin and Donnie Nobles would finish out the top five.

After a good showing the previous week, the Gladiators ended up with only four cars starting their race. But one of those cars was driven by Ocala Speedway owner Michael Peters, and the crowd enjoyed watching him enjoy the track that he had worked so hard to construct. In the end Peters was forced to settle for second place as Greg Bonyng took the first place finish. Brian Chisolm finished in the third spot followed by David Knight.

Next Friday, April 4th, is Marion County Employees Night featuring the Florida Mini Sprints in their Ocala Speedway debut. Along with the Florida Mini Sprints the fans can see the Open Wheel Modifieds blister the clay, plus see the Hobby Stocks, Mini Stocks, and the Gladiators.

Ocala Speedway Official Results for 3/28/08

Pepsi Six Pack Challenge Race 1
Hobby Stock

1- 56 Kevin Durden
2- 56g Patrick Williams
3- 58 Dave Kinsey
4- 2 Sheldon Kinser
5- 10 Jeff Stalnaker Sr.
6- 12 Justin Durbin
7- 95 Steve Mooers
8- 20 Matthew Holbrook
9- 36 Grady Christian
10- 8 Michael Stalnaker
11- 72 Marlon Durbin
12- 99 Danny Miller Jr.
13- 21 David Miller Jr.
14- 25 Casey Watson
15- 9 Jeff Stalnaker Jr.
16- 54 Tim Hughes
17- 02 Mike Bates
18- 57 Wally Schneider
19- 0 Dalton Lanich
20- 08 William Edwards
21- XX Shaun Daughtry
22- 48 Joey Durbin
23- 15 Alan Peacock
24- 116 James Benton

Late Model

!- 66 Mike Bresnahan
2- 1 Shaun Williams
3- 17ss Shan Smith
4- 47 Jeff Conyers
5- 48 Bill Howard
6- 51 Doodle Pipkin
7- 0 Rich Pratt
8- 00 Billy Costello
9- 88 Paul George
10- 53 John Rankin
11- 18E Mike Eubanks
12- 01 Kevin Mills
13- 24 Dennis Williams
14- 79 Jason Kimball
15- 18JO J.O. Nobles
16- 16 Wayne Smith
17- 32 Robbie Barris
18- 19 Carl Thomas
19- 17J Joe Kump
20- 72H Jeff Hunter
21- 10 David Crews
22- 35 Tim Gay
23- 42A Marshall Austin
DNS- 74

Mini Stock

1- 19 Keith Briggs
2- 82B Mason Price
3- 25 Cole Ridenhour
4- 17 Michael Gulvin
5- 20 Donnie Nobles
6- 46 Stanton Mills
7- 119 Johnny Zackery
8- 3 Michael Bagley
9- 82R Blake Spencer
10- 91 Tonya Lewis
11- 55 Larry Reynolds
12- 59 Bill Stalnaker

Gladiator

1- 3X Greg Bonyng
2- 19 Michael Peters
3- 60 Brian Chisolm
4- B8 David Knight



Have an opinion on this story? Post a message on The Real Racin USA Florida Fan Message Board! or Email KARNACto send a letter to the editor!
---