"I'm noticing a turn of the tide on racing Web sites like Florida's Karnac.com, the gathering place for the most dedicated race fans in the state."

-Orlando Sentinel
IT'S TIME TO RACE!!
Motor Wars Heats Up; And It's Only March
Real Racin USA Media

"What's going on here in the spec motor world, between Alabama and Pensacola and down here in South Florida is it's a motor war, and it's all about money," says Jeff Choquette. Last year's winner of the Florida Governors Cup and World Series of Asphalt Stock Car Racing 2008 champ added, "It's all because who is going to sell more motors."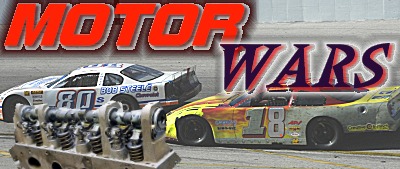 Choquette was responding to comments made last week by Wayne Anderson on Real Racin USA Live!, the Tuesday night offering from Real Racin' USA. Anderson indicated the Florida spec motor was at the root of problems with Florida super late model racing. Choquette took exception to some of the comments made by Anderson and wanted to clarify for race fans the issues Anderson spoke of.

Choquette laid down a challenge, "If anybody at any point in time wants to bring me a spec motor fresh out of Steve's shop, I will be more than happy to give them my spec motor out of my car. That's how equal I know they are and that's how much trust I have in Steve at Progressive."

Anderson's main argument against the Florida spec motors seemed to center around the lack of a chip to limit performance. "The Florida spec motor is way out of whack right now, they don't have a chip. There is three spec motors in the United States running and two of them are on a chip and the one in Florida doesn't have a chip so it's a whole different ball game."

FASCAR Touring Series operator Don Nerone, who created the Sunbelt Super Late Model Series, weighed in with a promoters point of view, "Now the FASCAR Spec motor is the preferred motor. When the 9-1 cost was in the $35,000, the Ford was about $40,000 and the Chevy was $30,000. Soon all the teams after losing with a motor that cost between $30,000 and $50,000 were happy to change to a $16,000 motor that will last and be competitive. This rule saved teams 50 percent on their engine bill. How can that be wrong."

DeWaine McGunegill from McGunegill Engine Performance spent about 20 minutes addressing questions about the motor issues facing super late model promoters, teams and drivers. "Anytime you have a spec engine it's a little different, the standards are a little different than say, a sealed engine," the Indiana based engine builder explained. "There is definitely one thing that all spec engines or a sealed engine has to have, and that's a rev limit. The whole purpose of a spec engine is basically two-fold, save costs and money of the racer and improve car counts for the promoter. And I think a rev limit is a necessity in anything like that, for longevity and to accomplish that goal."

Steve McInnis, owner of Progressive racing engines, countered some of the points made by McGunegill, including the sealed versus spec motor concept. "The spec motors are sealed, every motor has three seals, each seal has numbers on the seals. Each time we update or freshen somebody's motor or build a new motor, it gets faxed to all the tracks, to all the promoters. We have things in the seals themselves that we can quick check at the track to see if anybody has tampered with it."

Don Nerone pointed out in a phone interview earlier in the day that there will be a motor auctioned off Saturday at New Smyrna Speedway, at the Goodyear Challenge Late Model race. McInnis explained further, "We have caught people before tampering with the limited late model motors, which they are going to auction off at the first Goodyear race". The owner of the motor was rebuilt to be legal.

Another issue tackled by Steve McInnis was the list of parts in the Florida spec motor. Several drivers have said that the list of parts inside the sealed motor are not made public or available to the drivers. "I faxed a list of every part that is in that motor to CRA. All the tech officials, all the promoters have a list of everything that is in that motor."



Click to Listen to Motor Wars! McGunegill-Progressive-Promoters-Drivers

The whole segment is 1 hour long and is a fascinating insight into the inner workings of late model racing, and hopefully will spark positive debate that may lead to some solutions to continue and make improvements to the sport of late model stock car racing.


Have an opinion on this story? Post a message on The Real Racin USA Florida Fan Message Board! or Email KARNACto send a letter to the editor!
---