"I'm noticing a turn of the tide on racing Web sites like Florida's Karnac.com, the gathering place for the most dedicated race fans in the state."

-Orlando Sentinel
IT'S TIME TO RACE!!
Ocala Speedway Return to Dirt a Huge Success
By Jack Smith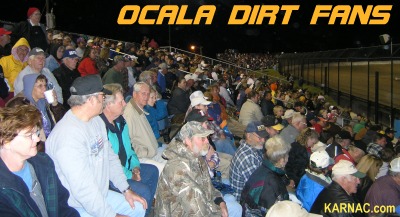 Over 4000 race fans packed into Ocala Speedway for the 2008 season opener Friday night. When racing got underway at 8PM fans were still coming and continued coming until after 9PM, making for one of the biggest nights in the long and storied history of the track.

A front page news story in the Ocala Star Banner written by Joe Vanhoose on Friday certainly helped bring out the fans. But it was the return to dirt racing that was behind the huge success of this event. The featured show was the inaugural race for the United Dirt Late Model Challenge Series (UDLMCS), created by South Florida businessman Ken Kinney. The series had 46 cars vying for the 26 starting spots.



Listen to the live racing action from Ocala Speedway's historic return to dirt..the entire night of racing called by Scott McAllister and Rick Anges from RealRacinUSA.com

The main event did not disappoint with local favorite Ivedent Lloyd and Shane Williams of DeLeon Springs waging a battle royal for the top honors. Lloyd, the 1992 and 1993 Ocala Speedway Late Model Champion and 1996 and 2002 NLMS Champion and Williams were side by side for several crucial laps just past the half way point in the 40 lap feature. Williams held the low groove and though Lloyd appeared to have enough to make the pass, it was not to be.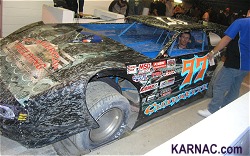 A horrendous pileup on the first lap of the feature took out five of the 26 starters, thankfully without any injuries. Other highlights included Justin Choquette managing to finish fourth in the final heat race running the entire heat with a left front tire completely flat.

In the opening heat race Richard Pratt and Michael Cherry got together with Pratt's machine being badly wrecked. Pratt was disqualified after throwing his steering wheel at Cherry's car. Series officials said the incident would be reviewed on the official UDLMCS video and further actions may be taken after a post race investigation into the incident.

Johnny Collins, National Late Model Series Champion, won his heat race, but damaged his transmission and was unable to compete in the feature event.

In addition to the Late Model show the local classes of Hobby Stocks, Mini Stocks and Gladiators ran features.

Ocala Speedway owners Mike Peters and Angie Clifton along with Promoter Ken Kinney and all their staffs are to be commended for a great show, very carefully planned out and with very few glitches considering the huge number of fans and drivers.

Complete coverage, including photos, race finishing orders, articles, video and audio interviews of this tremendous event to follow over the weekend.

Next week the United Dirt Late Model Series moved to Hendry County Speedway for the $5000 to win Ponce DeLeon Classic. The Speedway is located on US Highway 27 in Clewiston, Florida.

Racing action continues this weekend at Ocala Speedway with AMA Flat Track racing Sunday and Monday. Next Friday, March 7 the All Scouts of America Night features Open Wheel Modifieds, Florida Mini Sprint Series, Hobby Stocks, Mini Stocks, V-8 Thunderstocks.

Results From Ocala Speedway 2/29/08

United Dirt Late Model Challenge Series

1- 1xxx Shane Williams
2- 21 Ivedent Lloyd Jr.
3- 7m Mark Whitner
4- 42 Marshal Austin
5- 33 Jeff Mathews
6- 17ss Shawn Smith
7- 47i Tyler Ivey
8- 32 Roger Crouse
9- 26 Adam Bedenbaugh
10- 101 Keith Nosbisch
11- 97 Justin Choquette
12- 105 David Schmass
13- 444 Ted Erskine
14- Jackie Nosbisch
15- 145 Jason Davis
16- 15 Evan Becton
17- 18 J.O. Nobles
18- 53 John Rankin
19- 1j Jay Johnson
20- 66 Brandon Camron
21- 24 Dennis Williams
22- 7c Kent Corbin
23- 48 Bill Howard
24- 88 Paul George
25- 47c Jeff Conyers
26- 7w Richard Wheelinan

Mini Stock

1- 18 Jason Intoppa
2- 25 Cole Ridenhow
3- 82 Mason Price
4- 22 Sean Babcock
5- 55 Larry Reynolds
6- 12 Patrick Carpenter
7- 88 (no name listed)
8- 36 Steve Bennett
9- 82x Blake Spencer
10- 8 (no name listed)
11- 00 Jason Invet
12- 19t DNS
13- 59 DNS
14- 30 DNS
DQ- 73 Jim Courson

Hobby Stock

1- a2z Chuck Mottone
2- 36 Grady Christian
3- xx Shawn Dougharry
4- 0r George Richards
5- 10 Jeff Stalnaker Jr.
6- 12d Justin Durbin
7- 04 Bubba Christian
8- 72 Marlon Durbin
9- 24 Randy Strehle
10- 95 Steve Morris
11- 12 Luke Sadler
12- 57 Wally Schneider
13- 25 Casey Watson
14- 25 Mikel Kulak
15- 8 Michael Stalnaker
16- 00 Eddie Tovet
17- 99 Danny Miller Jr.
18- 2 Sheldon Kinser
19- 0L Dalton Lanich
20- 37 Dean Jarvis
21- 58 Dave Kinsey
22- 15ap Alan Peacock
23- 01 Floyd Martin
24- 36 Kenny Sawyers

Gladiator

1- Casey Feaster
2- 8 Robert Long
3- B8 David Knight
4- 34 Art Souether
5- 6 Wally Douglas
6- 19 Charles Mishaw
7- 10 Scott Morres
8- 78 Paul Hahn
9- 88 (no name listed)
10- 14 Blair Brown




Have an opinion on this story? Post a message on The Real Racin USA Florida Fan Message Board! or Email KARNACto send a letter to the editor!
---