"I'm noticing a turn of the tide on racing Web sites like Florida's Karnac.com, the gathering place for the most dedicated race fans in the state."

-Orlando Sentinel
IT'S TIME TO RACE!!
Champions Crowned at Orlando Speedworld Winternationals
by Dave Westerman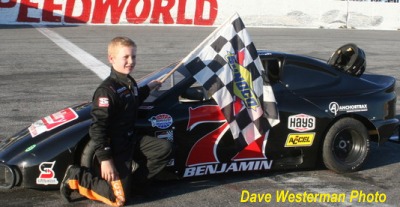 Kyle Benjamin took three wins and won a close battle over Dillon Bassett to grab the Winternationals Bandolero Bandit title.



It was yet another gorgeous Florida day as Orlando Speedworld concluded the 2008 Winternationals and awarded trophies to the division champions.

The Raceiver Legend Car Pro Division championship came down to a battle between the top local driver at Speedworld over the past three years, Kory Abbott of Apopka, and veteran Legend Car driver and car builder Nick Pistone of Mooresville, NC.

If Abbott finished ahead of Pistone in Saturday's feature, he would win the championship and the tension could be felt in both pit areas before race time.

Both drivers were in the first heat with Pistone on the pole and Abbott starting sixth. Pistone used his front row slot to grab an early lead and held off Abbott for the win while Daniel Hemrick took his first checkered flag of the week in heat two.

Pistone thus had the pole for the 20 lap main event with Hemrick on the outside of the front row and Abbott right behind Pistone for the start.

Pistone jumped to the early lead but Abbott was shadowing his every move.

Abbott bided his time, then found room under the leader as the field completed lap eight. One lap later, the only caution flag of the race came out as Chelsea Schillig and John Gottsacker crashed in turn four. Schillig was out of the event while Gottsacker continued.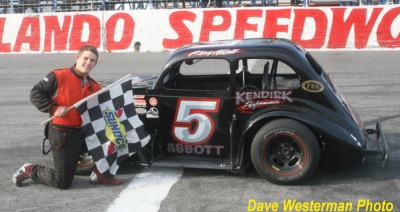 Abbott set the pace the remaining distance as Pistone got close on several occasions but could never mount a serious challenge. Abbott crossed the stripe in front of Pistone, Hemrick, Jordan Anderson and Ryan Johnson with Matt Stover, Nick Johnson, Gottsacker, Dan Snyder and Parker Hammons completing the top ten.

After the race, Abbott's car owner was ready should Pistone decide to attempt to claim Abbott's engine like he tried when Craig Goess, Jr. took the checker in first place on Thursday. Goess refused to sell his engine to Pistone and was disqualified and handed a one year suspension by 600 Racing. Kendirk Performance was ready to sell their engine to Pistone if need be, but also had the money ready to, in turn, claim Pistone's engine as well. However, no claims were filed and the results stood. Pistone and Abbott actually were tied in points but Abbott claimed the championship by winning three features to Pistones one.

"I've accomplished a lot in the Legend Cars but this is really a big deal for me" said Abbott. "To win three races out of five and beat a guy like Nick Pistone for the championship is nothing short of awesome. Nick is a heck of a racer and we had no problems with him all week. We raced hard but clean and that's what made everything so much fun. I'm just glad it's all over because I don't think I've ever had a more stressful week in my life," he said.

The Legend Car Semi-Pro class appeared to be putting together a smaller version of Speedworlds popular "Crash-A-Rama" shows as there was plenty of crashing, flips and hot tempers to go around.

A three car melee in the second heat race saw Ryan Truex, the younger brother of Sprint Cup driver Martin Truex, Jr., get on his lid in turn one. The incident was more of a "tommy tip-over" and Truex was unhurt, but his car, as well as the ones of Justin Boston and Jimmy Norman were out of the running for the day. That wasn't the end of things however as Boston and Norman continued their feud on the track after the crash, then again in the pit area earning both a possible INEX suspension.

After the dust had settled, Chris Weddle, Alex Kempf and Justin Swilling were the heat race winners setting the stage for a very wild feature.

Kempf jumped to the lead from his outside pole slot only to see the caution fly on lap two for a three car mess in turn one involving Landon Bullock, Chad Hackenbracht and Kevin Eskew. Hackenbracht was the only one who could not continue. Tanner Berryhill spun in turn two for the second caution on lap four.

Then came "the big one" on lap six as several cars got together coming off turn four including Michael Brown, Berryhill, Phillip Bell and Berryhill. ARCA driver Bryan Silas, who was running the Winternationals "just for fun," came on the scene and tried to go high but a car slid in front of him and he went tumbling past the flag stand all the way into turn one using the catch fence to get stopped. The crash ripped the roof right off the car, but the sturdy construction of the race car allowed Silas to climb out sore, but otherwise OK.

"Man, what a week," said Silas. "We just about had the big wreck in the ARCA race cleared last Saturday when Mario (Gosselin) slid back in front of me then we got drilled by two more cars. Then we got crashed in the heat race yesterday and now this. I had to make a decision to go low or high and I guess I made the wrong choice. My ARCA car and two Legends Cars trashed in a week but we'll keep on keeping on and go from here. I don't think it can get any worse," he said.

Through all the confusion, Kempf was holding on to the point but young Justin Swilling made the pass for the lead on lap ten just before Gene Kirila brought out caution number four with his spin in turn two on lap eleven. Two laps later, another multi-car mix-up in turn one eliminated the cars of Berryhill, Bullock and Currie Pierce.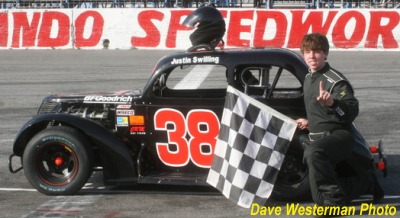 Swilling set the pace to the checker and he took the win over Kempf, Mike Alcaro, Dylan Presnell and Brown. His late week heroics, taking the final pair of features, gave Swilling the Semi-Pro Winternationals championship. Presnell took the first four Legend Car Young Lion wins and decided to move up and run Semi-Pro since he'd already wrapped up the Young Lion title and he made a great showing with his top five run.

Rounding out the top ten in the final Semi-Pro race of the week were Eskew, Kirila, Mike Lester, Trevor Alspach and Zach Alspach. Shaughn McCormick actually took the checker in eighth place but was DQ'd for unsportsmanlike conduct after the race concluded.

The Legend Car Masters division saw veteran Clay Hair back in victory lane as well as claiming his third career Winternationals title.
After Hoyt Demis and Tim Brockhouse won the heats it was pole sitter Demis leading the opening three circuits of the 20 lap main event. After a Carlos "Mercury" Moore spin in turn two brought out the first caution, Brockhouse took advantage and grabbed the lead on the restart only to see the caution fly again as Demis slowed suddenly and got everything piled up behind him. Cotton Spry's bad week continued as he slid into the turn one wall, lost a wheel and was out of the running. A second attempt at a restart saw Will Cagle hit the turn three wall after contact with Gary Bursey and Doug Dugger. Cagle, the veteran "Tampa Terror" of the Northeast Modifieds for many years who says he's "just having some fun" during his "retirement," was done for the day while Bursey and Dugger continued.

Brockhouse again assumed the point from Demis on the restart as Demis dropped out with mechanical troubles. But Clay Hair was on a mission and took the lead from Brockhouse and sped away from the field slowed only by a lap 17 caution as Larry Friddle had a mechanical failure and spun in turn three.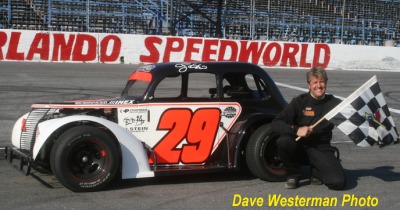 Hair took the checker and the Masters division title for the Winternationals while Brockhouse grabbed second place in the final race of the week over Dennis Knox, Roger Austin and Darrell Vance. Completing the top ten were Bursey, Rick Wetmore, Wendell Napper, Dugger and Moore.




With Dylan Presnell moving up to the Semi-Pro class for the day, that meant there would be a new winner in the Legend Car Young Lions class and it would take until the final lap of the feature to determine a winner after some wild racing.

Justin Grimes grabbed the early advantage but was involved in a three-way altercation with Nick Stroup and Bryce Walker while fighting for the lead on lap five that sent all three drivers to the rear of the field for the restart.

Ronnie "The Rock" Bassett inherited the lead at that point and appeared on his way to his first-ever Legend Car win but Grimes had other ideas and raced back through the field to challenge Bassett. In the final turn of the final lap, the two tangled and spun handing the lead and the win to a surprised Austin Leitner. Grimes was promptly disqualified for spinning Bassett.

Leitner enjoyed the spoils of victory lane while Stroupe and Walker took the place and show spots. Bassett recovered for fourth with Travis Braden, Kristin Keys and Devin Jones the remaining finishers.
Joe Goaf won the Legend Car Charger heat race and led the first nine laps of the feature but could not hold off Ryan Schleusner who took the feature win to give him a sweep of the weeks action in the class. Following the Minnesota driver to the checker were Goaf, Bailey Freeman, Mike Fuchswanz, Tony Bonavia and Marc Fuschswanz.

Dillon Bassett dominated the Bandolero Bandit action for the second straight day, but "Spark Plug" would finish second to Kyle Benjamin in the race for the Winternationals points championship after Benjamin won the first three features.

Bassett and Mason Massey won heat races during the final day of competition but it would be Bassett leading every lap to take the feature win over local Favorite Critter Saile, Benjamin, Layne Clifton and T.J. Michael. Completing the finishers were Brady Boswell, Kyle Weatherman, Jacob Wallace, Massey, Riley Halverson, Blake Jones and Clayton Weatherman.

The Young Gun championship trophy is on hold pending an inspection of the engine used by Chad Finchum to claim his first three of five wins during the week. Finchum, using his back-up engine, again dominated from start to finish as he completed his week-long sweep by taking the checker over Sean Salvoy, Donovan Ponder and Meghan Dilner. Finchum also won the heat race.

Kendall Sellers wrapped up the Bandolero Outlaw title by winning the final days feature race over his only challenger, Jarod Hicks. North Carolinian Sellers took four of five wins during the week over his TN rival Hicks.


Outlaws - A-Main

Finish Start Car Driver Hometown Race Points
1 1 6 Kendell Sellers - 0
2 2 23 Jarod Hicks - 0

Young Guns - A-Main

Finish Start Car Driver Hometown Race Points
1 1 19 Chad Finchum - 0
2 2 35 Sean Shalvory - 0
3 3 8 Donovan Ponder - 0
4 4 51 Meghan Dillner - 0


Semi Pro - A-Main

Finish Start Car Driver Hometown Race Points
1 3 38S Justin Swilling - 0
2 2 99 Alex Kempf - 0
3 4 88 Mike Alcaro - 0
4 13 83 Dylan Presnell - 0
5 25 99X Michael Brown - 0
6 11 199 Kevin Eskew - 0
7 6 5 Gene Kirila - 0
8 16 46 Mike Lester - 0
9 18 76 Trevor Alspach - 0
10 10 67 Zach Alspach - 0
11 21 20C Cullen Camasta - 0
12 14 16 Currie Pierce - 0
13 15 17 Tanner Berryhill - 0
14 1 00 Chris Weddle - 0
15 8 29B Landon Bullock - 0
16 5 71 Cody Blackburn - 0
17 17 57 Bryan Silas - 0
18 9 17X Phillip Bell - 0
19 19 29D Dustin Davis - 0
20 12 07 Chad Hackenbracht - 0
21 23 38M Ryan Moore - 0
22 20 56 Ryan Truex - 0
23 22 04 Tyler Kivett - 0
24 24 94 Zach Zimmerly - 0
25 7 34 Shaunghn Mccormick - 0


Masters - A-Main

Finish Start Car Driver Hometown Race Points
1 4 29 Clay Hair - 0
2 2 13 Tim Brockhouse - 0
3 3 31 Dennis Knox - 0
4 7 10 Roger Austin - 0
5 11 87 Darrell Vance - 0
6 10 65 Gary Bursey - 0
7 14 06 Rick Wetmore - 0
8 13 22 Wendell Napper - 0
9 9 9M Carlos Moore - 0
10 12 20 Doug Dougger - 0
11 5 8 Larry Friddle - 0
12 15 98 Stephen Mitcham - 0
13 1 1 Hoyt Demis - 0
14 8 16 Cotton Spry - 0
15 6 24 Will Cagle - 0
More Results

Chargers - A-Main

Finish Start Car Driver Hometown Race Points
1 2 97 Ryan Schleuser - 0
2 1 16 Joe Graf - 0
3 3 57 Bailey Freeman - 0
4 4 42 Mike Fuchswanz - 0
5 5 33X Tony Bonavia - 0
6 6 80 Marc Fuchswanz - 0


Bandits - A-Main

Finish Start Car Driver Hometown Race Points
1 1 44 Dillon Bassett - 0
2 3 12 Critter Saile - 0
3 7 71 Kyle Benjmain - 0
4 4 23 Layne Clifton - 0
5 6 8 Tj Michael - 0
6 8 2 Brady Boswell - 0
7 9 6 Kyle Weatherman - 0
8 2 15 Mason Massey - 0
9 12 60 Riley Halverson - 0
10 5 80 Blake Jones - 0
11 11 18 Clayton Weatherman - 0
12 10 32 Jacob Wallace - 0


Pro - A-Main

Finish Start Car Driver Hometown Race Points
1 3 5 Kory Abott - 0
2 1 99 Nick Pistone - 0
3 2 48 Daniel Hemrick - 0
4 7 19 Jordon Anderson - 0
5 4 99X Ryan Johnson - 0
6 5 26 Matt Stover - 0
7 10 161 Nick Johnson - 0
8 6 91 John Gottsacker - 0
9 12 73 Dan Snyder - 0
10 16 24 Parker Hammons - 0
11 14 11 Chris Lemonds - 0
12 11 87 Robbie Carter - 0
13 9 33 Rette Causey - 0
14 8 75 Chelsea Schillig - 0
15 13 28 James Edsall Iii - 0
16 15 84 Kyle Beattie - 0


Young Lions - A-Main

Finish Start Car Driver Hometown Race Points
1 5 05 Austin Leitner - 0
2 3 51 Nick Stroup - 0
3 2 680 Bryce Walker - 0
4 6 04 Ronnie Bassett - 0
5 4 A1 Travis Braden - 0
6 8 13K Kristin Keys - 0
7 9 35 Devin Jones - 0
8 7 5 Scott Hensley - 0
9 1 63 Justin Grimes - 0



Have an opinion on this story? Post a message on The Real Racin USA Florida Fan Message Board! or Email KARNACto send a letter to the editor!
---