Tim Russell Named Pete Orr Sportsmanship Award Winner
KARNAC Staff Report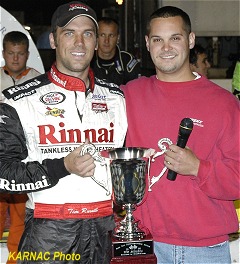 Tim Russell, one of Florida's top super late model stars, was completely surprised when he was called to center stage at New Smyrna Speedway Saturday night. Each year the silver and mahogany cup is presented to a deserving member of the racing community during the Pete Orr Memorial opening ceremonies. This year the award presentation was a little extra special, with Bobby Orr, son of the late Pete Orr introducing the winner for 2008.

Bobby and Tim grew up together, as Bobby explained "My father worked with his father and drove his race cars for almost 10 years, and we started out as little guys racing together and watching our dads race together."

Pete Orr and David Russell were quite a success story, teaming up to produce winning race teams and with Pete eventually going onto the Busch Series. While Pete Orr's racing success was stellar, his positive attitude, integrity and professionalism is attested to by fellow racers and fans across the country. Bob McDowell perhaps best put things into focus, "A pioneer of friendship and love, A true hero in our hearts was this man, a man who didn't know or even realize the word quit. I have had the pleasure of knowing Pete for a very long time, Pete will never be forgotten."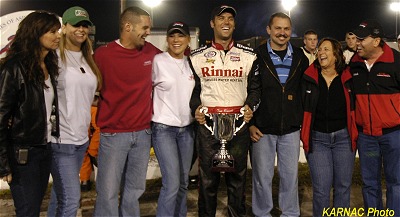 That sentiment has been expressed by countless competitors in the years since Pete Orr's passing in 2002, and is the reason for the Pete Orr Sportsmanship Award. Since the Award was first presented in February 2004 by KARNAC.com, Jay Middleton, Lee Collins, Brian Finney and Bobby Sears have been recipients.

Since Tim Russell started racing in the late model ranks in 2002, including a stint on the ARCA tour, he has been a driver that not only represents his team and his sponsors in a good light, he has been a stellar example for the sport of stock car racing. "Last year winning races and three championships and there was nobody better to represent the Pete Orr Award that Tim Russell", said Bobby Orr.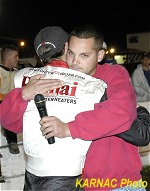 It was a poignant moment for drivers and fans on the front straight at New Smyrna Speedway as the two young men who grew up in what had to have been at times a story book youth, embraced when the award was presented.

David Russell was as proud as a father could be.

And somehow, we are sure Pete Orr would be very proud indeed.



Have an opinion on this story? Post a message on The Real Racin USA Florida Fan Message Board! or Email KARNACto send a letter to the editor!
---