"I'm noticing a turn of the tide on racing Web sites like Florida's Karnac.com, the gathering place for the most dedicated race fans in the state."

-Orlando Sentinel
IT'S TIME TO RACE!!
Old Timers Get Together for Modified Reunion
By Jack Smith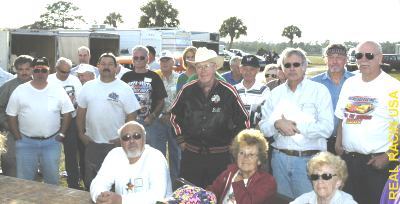 A drivers meeting is held at the conclusion of the Modified Reunion


Six months of planning and preparation finally came together at New Smyrna Speedway Saturday afternoon. The occasion was the the First Annual Modified Reunion, organized by Jerry Binner and several other race fans. Over 100 drivers and car owners from across America came together to swap stories and memories from one fan called the 'grand old days of racing".

They came from New York, Canada, Pennsylvania, Virginia and of course all the New England states. Names like Dutch Hoag, Bugs Stevens, George Summers, Billy Harmon, Chuck Boos, Ed Ortiz and Ron Bouchard signed autographs from adoring fans and told stories.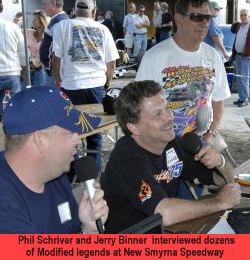 Many of the heroes of yesteryear were interviewed for Real Racin' USA by Jerry Binner, Phil Schriver and Carol Wicks. Among them were Bob Judkins, Bob Garbarino, Lew Boyd, Bobby Pendergass, Tom Ormsby, Doug Hevron, and Bill Wimble.

Several of the former racers said that this one of the best reunion events they had been to, an event where at times tears flowed as freely as the laughs as old buddies and rivalries were revisited.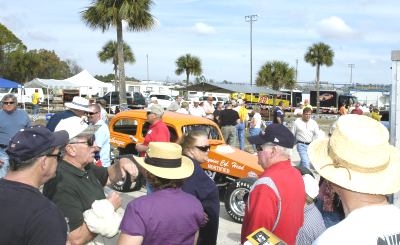 Three to four hundred race fans wandered around the collection of old race cars, and came to the New Smyrna World Series of Asphalt Stock Car Racing a little early just to say hello to the drivers they used to cheer for and in some cases jeer.

Jerry Binner said "The event was a great success and also a big learning experience", adding "the whole thing was amazing start to finish, it may have been the biggest event in my life as a race fan." Which is saying a mouthful. Jerry Binner is as dedicated a race fan as you will find, traveling the country to dirt and asphalt events and with a nearly photographic memory of the drivers and their histories.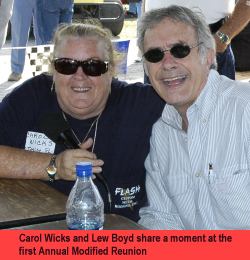 Bugs Stevens, even though he was very ill with the flu, and battling cancer was on hand, surrounded by friends and admirers all afternoon.
These men and women really wanted to be here. One attendee had a difficult time making airline connections into Florida. He ended up paying $1400 extra for a ticket into Orlando, just to ensure he made this event. He told Binner, "that's how bad I wanted to be here."

Talk was already circulating about next year's event, with plans to make it even bigger.

After the Reunion Party the drivers, wives and friends made their way into the grandstands to watch the Ritchie Evans Memorial 100, the annual tribute race held at New Smyrna. Pennsylvannia driver Eric Beers outran Jimmy Blewett (a former winner from New Jersey) to take the prestigious modified race for 2008

A photo gallery is available on Real Racin' USA at the following link:
REAL RACIN' USA MODIFIED REUNION PHOTO GALLERY

An audio broadcast of the event can be heard at this link:REAL RACIN' USA MODIFIED REUNION SHOW

Have an opinion on this story? Post a message on The Real Racin USA Florida Fan Message Board! or Email KARNACto send a letter to the editor!
---