"I'm noticing a turn of the tide on racing Web sites like Florida's Karnac.com, the gathering place for the most dedicated race fans in the state."

-Orlando Sentinel
IT'S TIME TO RACE!!
Crash-A-Rama Night At Auburndale Speedway
KARNAC Staff Report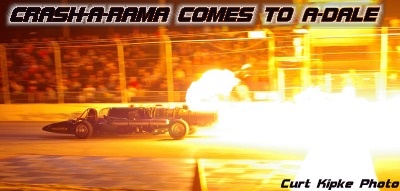 Saturday night at Auburndale Speedway was filled with excitement as Crash-A-Rama came to town and put on quite a show. If you like cars flying through the air, strange races, and fire you were at the right place.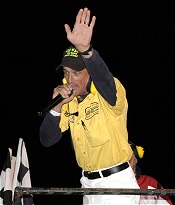 When Chuck Rush has a microphone in his hand, Florida fans have come to know that means excitement and all in attendance become kids again. And so it was at Auburndale Speedway Saturday night as Don Nerone's "Redneck Rodeo" took center stage. Enduros, bus racing, a jet powered dragster and death defying stunts thrilled the large contingent of Polk County children and their parents.

The night started with Super Dave flying his car through the air into a full size Chevy van sitting on its tail.

Awesome.

Doug Rose, owner of the Green Mamba Jet Dragster, was on hand to light up the action. Doug is still recovering from a recent hip replacement surgery, but was eager to thrill the fans as he has done since the late 1960s.

The Green Mamba jet car lit up the night sky with flames going around the track and making it sound like you were on the O'Hare tarmac.

That was just for starters. Then came the no rules fifty lap race, which was really pretty tame compared to what followed. The insane chain race was so nuts you couldn't quite figure it out but they had some neat wrecks.


After that came the, what you might call the tilt-a-whirl race. Cars came out with skis on the back wheels and the wheels locked up so that they would not turn. Not only was the race nuts but one car couldn't even make to the start line without wrecking itself. Lots of spinning cars and crashes.

PHOTO GALLERY IS HERE!! CLICK!

Fans were treated to some wild figure 8 school bus racing. When these big multi-colored machines hit the track there was little room for passing, but some very close calls at the "X" kept the youngsters on the edge.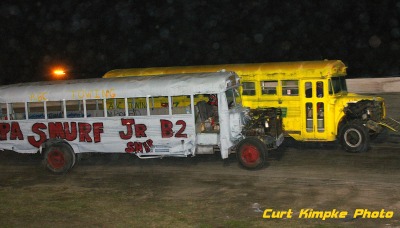 The boat race was completely nuts. The cars got going around the track with boats swaying back and forth behind the car crashing into every thing. What a mess, but the fans loved it. A great way to spend a Saturday night with 1500 of your friends while folks up north are freezing.

Veteran stock car racers Wayne Morris and Edward Howell were in the pits helping racers with their Enduro setups and the stands were jam packed as always for when the Crash-A-Rama comes to town.

Auburndale Speedway opens its regular season on February 23rd, and track promoter Rex Guy told KARNAC representatives he expects the sane type of crowd on opening night 2008. "We have the trucks and all our divisions coming and we'll have even more fans than this", he said.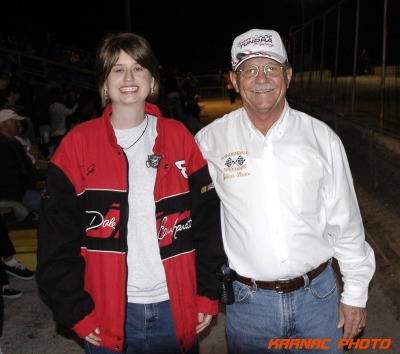 Julius Bruce and his lovely daughter Lindsey were in attendance Saturday night. Lindsey, besides being a huge race fan, is the Activities Director for Lindsey's Little Racers.

You can find out more about the work Lindsey and her dad Julius do to bring joy to kids in the Polk County area on this Monday night's "Inside Florida Racing", heard on the Real Racin' USA Motorsports Network (www.realracinusa.com). Both Lindsey and Bruce will be guests on the show.

Have an opinion on this story? Post a message on The Real Racin USA Florida Fan Message Board! or Email KARNACto send a letter to the editor!
---