"I'm noticing a turn of the tide on racing Web sites like Florida's Karnac.com, the gathering place for the most dedicated race fans in the state."

-Orlando Sentinel
IT'S TIME TO RACE!!
Terry Casey Cashes in With Biggest Career Win
Wisconsin Driver Wins East Bay DART Winternationals on Thursday Night

By James Exxex



TAMPA, FL (February 7, 2008) "It's been a long time coming," said Terry biggest race of his career on Thursday Night during the 4th night of the 32nd Annual DART Winternationals for the Lucas Oil Late Model Dirt Series at East Bay Raceway Park. Casey who has been coming to the Tampa area facility for the last four years has been close to winning several times in the past at East Bay, but this time he was able to seal the deal for the biggest win of his career. The $10,000 victory came over Billy Moyer, Matt Miller, Steve Casebolt and Josh Richards.

Casey who won the fourth heat, then lucked up and drew the pole for the 40-lap affair and he would start alongside Matt Miller on the front row. On a track that was considerably different than the previous three nights of racing, getting to the front quickly was going would prove to lead to a successful finish.

At the drop of chief starter Julian Mullis' green flag headed into the first turn, bound and determined he was going to the lead on the opening circuit. Miller would run in second for one lap until Moyer overhauled him by the time the second lap was scored.

The race was going along smoothly until Shannon Babb slowed in turn one bringing out the first caution of the race. On the restart Casey was out in front with Moyer, Miller, Casebolt and Richards hovering in his wake.

On the restart Casey would fire first as the race would go green for six more circuits until the second caution came out on lap 11 for Tim Dohm. Casey had built a three-car length advantage over Moyer when the caution would slow the field.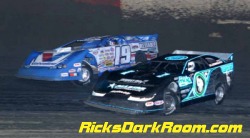 With Casey still holding down the top spot, the top five would remain the same running order to the halfway point of the race. Casey was continuing to hold his line in the rubber as Moyer and the rest of the drivers were hoping something was going to slow Casey down.

They got their wish, with ten laps to go Casey was closing on the tail end of the field and with passing at a premium, this was the opportunity that the drivers chasing Casey had waited on as Moyer would close right on the rear of Casey's black number 42 ride.

The race was getting really interesting now, as not only did Moyer close on the leader, Miller and Casebolt were knocking on the door as well; with the top four drivers running nose to tail in traffic with five laps to go.

Moyer showed the nose of his car several of times to Casey's quarter panel, but a timely third and final caution for Bart Hartman, who would slow for a flat tire and came to a stop on the backstretch that would clear the track for Casey as the field would circulate around leaving Casey a clear path now.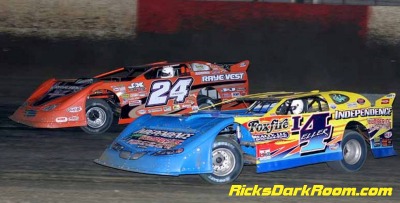 With a five lap shootout ensuing, all Casey had to do was keep his line and hit his marks and he did so. The 38-year old racer would go on to the finish to score the biggest victory of his racing career. Prior to Thursday's huge win at East Bay Casey had won two $4,000 races.

Moyer crossed the stripe in second with Miller recording yet another top five finish to maintain his points lead in the DART Machinery Winternationals. Casebolt, the reigning Eldora Dream winner, had his best finish of the week coming home fourth as Richards finished fifth for the second night in a row in the Ernie Davis owned #25.

In the Lucas Oil Late Model Dirt Series victory lane Casey was very emotional as he climbed from his race care. "I can't believe it, I finally won a race here! It's been my dream to win a Lucas Oil race and we did it!! Man, this is great!" said Casey as he pointed out his wife, engine builder Bill Schlieper, C.J. Rayburn and Arnie Ranta who've help him get to this point in his racing career.

"It was the luck of the draw, I saw Matt Miller draw the number two and I just drew and it was the number one and I thought that's just what I needed after the bad luck I've had here in the past and I wanted to win this race so bad." said the driver who became the fourth different winner in four nights of racing this week at East Bay.

"Without Arnie Ranta I just couldn't do this, I am a Rayburn North dealer and I get some feedback from those drivers I sell cars to go, but you have to throw out everything you learn down here, because it doesn't work back home. And what else can I say about the Pro Power Engines, they're awesome and it's just a great night," as Casey went on to thank his wife, who diligently puts her time in working on the car. "She had never been to a race until we were married, I guess she hooked now."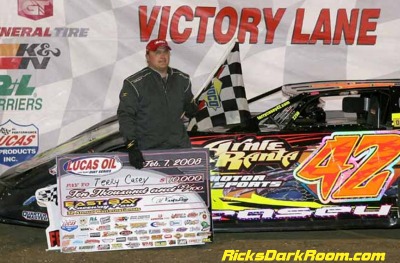 Casey's C.J. Rayburn Monte Carlo is powered by a Pro Power Engine from Casey's home state of Wisconsin and sponsored by Arnie Ranta Motorsports, Brewer Concrete and Construction and Arnie's Sleds and Trailers.

Moyer, who won Wednesday Night's A-main event, brought his Banner Valley Hauling/Clements Racing Engines/Moyer Victory Circle Impala SS home second followed by Miller in the Larry Moring Motorsports/Clements Race Engines/Rocket. Casebolt's own Fatheadz.com/Dargie powered Rocket GTO was fourth with Richard's Ernie Davis owned/Davis Towing and Hauling/Cornett Engines/Rocket Monte Carlo SS grabbing fifth.

Completing the top ten were Tim McCreadie, Scott Bloomquist, Donnie Moran (from 18th), Mike Marlar and Don O'Neal.

In preliminary action for the 84 entrants on hand Terry Casey was the PRC Fast Qualifier with a lap of 14.277 seconds. The six heat race winners were Eric Jacobsen, Matt Miller, Billy Moyer, Terry Casey, Steve Casebolt and Josh Richards. The B-main were taken by Rick Eckert, Earl Pearson, Jr., Darren Miller and Chris Wall. Bryan Barber took top honors in PRC Strawberry dash to earn the 25th starting spot in the feature.

Racing will continue on Friday Night, February 8th for the 2008 version of the DART Machinery East Bay Winternationals with a $10,000 to win show. The event will be broadcast live via the Internet at www.racetalklive.com.


Race Summary Lucas Oil Late Model Dirt Series
Thursday Night, February 7th, 2008
East Bay Raceway Park-Tampa, FL

PRC Fast Time: Terry Casey (14.277 seconds)

Hawk Brake First Heat (10 Laps-Top 3 advance): Eric Jacobson, Tim Dohm, Steve Francis, Damon Eller, Peyton Taylor, John Mason, Vic Coffey, Danny Johnson, Tony Knowles, Ronnie Whitt, Joe Isabell, Russ Adams, Tyler Boggs, Bob Geiger

Hawk Brake Second Heat (10 Laps-Top 3 Advance): Matt Miller, Bart Hartman, Don O'Neal, Earl Pearson Jr., Rick Eckert, Wendell Wallace, Steve Shaver, Dan Schlieper, Doug Horton, Rohn Moon, Jimmy Owens, Chris Hackett, Jeff Byers, Shon Flanary

AFCO Racing Products Third Heat (10 Laps-Top 3 Advance): Billy Moyer, Shannon Babb, Justin Ratliff, DJ Wells, Terry English, Brian Shirley, Wayne Chinn, JR Hotovy, Marshall Austin, Eric Wells, Anthony White, Joe Denby, Danny Mitchell, Jason McBride

Tiger Rear ends Fourth Heat (10 Laps-Top 3 Advance): Terry Casey, Mike Marlar, Chris Madden, Darren Miller, Chris Wall, Josh McGuire, Brian barber, Chuck Harper, Freddy Smith, Doug Blashe, Donald Beyers, Jason Riggs, Austin Hubbard

Hawk Brake Fifth Heat (10 Laps-Top 3 Advance): Steve Casebolt, Tim McCreadie, Ray Cook, Billy Drake, Clint Smith, John Blankenship, Rick Auckland, Kellen Chadwick, Rodney Melvin, Jared Hawkins, Scott James, Tim Lance, Clint Coffman, Kurt Owens

Hawk Brake Sixth Heat (10 Laps-Top 3 Advance): Josh Richards, Scott Bloomquist, Donnie Moran, Dennis Erb, Eddie Carrier Jr., Dan Stone, Dave Tyrchniewicz, Tim Fuller, Tyler Ivey, Mark Andersen, Jim Borden, Jeep Van Wormer, Kevin Cole, Ky Harper

Mason Racin' Rebel Shock Dyno First B-Main (12 Laps- 1 Advance): Rick Eckert, Jimmy Owens, Damon Eller, John Mason, Brian Shirley, Doug Horton, Steve shaver, Danny Johnson, Jeff Beyers, Eric Wells, Joe Denby, Bob Geiger, Ronnie Whitt, JR Hotovy, DJ Wells, Russ Adams, DNS: Jason McBride

Quarter Master Second B-Main (12 Laps- 1 Advance): Earl Pearson Jr., Terry English, Wendell Wallace, Vic Coffey, Dan Schlieper, Rohn Moon, Wayne Chinn, Tony Knowles, Anthony White, Danny Mitchell, Marshall Austin, Peyton Taylor, Shon Flanary, Joe Isabell, Chris Hackett, DNS: Tyler Boggs

Quarter Master Third B-Main (12 Laps- 1 Advance): Darren Miller, Clint Smith, Dennis Erb, Rick Auckland, Jackie Boggs, Dan Stone, Rodney Melvin, Chuck Harper, Scott James, Clint Coffman, Doug Blashe, Tim Fuller, Jason Riggs, Mark Andersen, Josh McGuire, DNS: Jeep Van Wormer, Ky Harper

Mason Racin' Rebel Shock Dyno Fourth B-Main (12 Laps- 1 Advance): Chris Wall, Eddie Carrier Jr., John Blankenship, Freddy Smith, Jared Hawkins, Billy Drake, Kellen Chadwick, Tyler Ivey, Kurt Owens, Jim Borden, Austin Hubbard, Donald Beyers, Tim Lance, Brian Barber, DNS: Dave Tyrchniewicz, Kevin Cole

PRC Strawberry Dash: (8 Laps- Winner Advanced to Feature): Brian Barber, Tim Fuller, Jeff Beyers, Doug Horton, Donald Beyers, Rodney Melvin, Tim Lance, Shon Flanary, Clint Coffman, Dan Stone

Lucas Oil Late Model Dirt Series DART Machinery East Bay Winternationals Feature Finish: (40 Laps): Terry Casey, Billy Moyer, Matt Miller, Steve Casebolt, Josh Richards, Tim McCreadie, Scott Bloomquist, Donnie Moran, Mike Marlar, Don O'Neal, Steve Francis, Rick Eckert, Justin Ratliff, Chris Madden, Ray Cook, Scott James, Chris Wall, Earl Pearson Jr., Terry English, Tim Dohm, Bart Hartman, Eric Jacobson, Darren Miller, Brian Barber, Shannon Babb

Race Statistics
Entries: 84

Caution Flags: Lap 5 (Shannon Babb); Lap 10 2 Cautions (Tim Dohm) & (Eric Jacobson); Lap 35 (Bart Hartman)
Lap Leaders: Terry Casey 1-Finish
PBM/Erson Cams Hard Charger of the Race: Donnie Moran
Allstar Performance Performer of the Race: Terry Casey
K&N Filters Clean Pass of the Race: Scott Bloomquist
Quarter Master Rookie of the Race: None
ASI Racewear Lucky 7 Award: Scott Bloomquist
Integra Crew Chief of the Race: Brian Redman (Donnie Moran)
Comp Cams Engine Builder of the Race: Pro Power
Time of Race: 21 Minutes Started: 9:39 Ended: 10:00

2008 DART Machinery Winternationals Points Standings (After 2/7/08)
1) Matt Miller 1045
2) Don O'Neal 965
3) Billy Moyer 920
4) Josh Richards 845
5) Steve Francis 840
6) Donnie Moran 830
7) Justin Ratliff 820
8) Dennis Erb Jr. 805
9) Terry Casey 785
10) Shannon Babb – 785

2008 Championship Points Standings (After 2/7/08)

1) Terry Casey 260
2) Billy Moyer 230
3) Matt Miller 220
4) Steve Casebolt 210
5) Josh Richards 205
6) Tim McCreadie 200
7) Scott Bloomquist 195
8) Donnie Moran 190
9) Mike Marlar 185
10) Don O'Neal - 180



Have an opinion on this story? Post a message on The Real Racin USA Florida Fan Message Board! or Email KARNACto send a letter to the editor!
---