Schatz Wins in Debut for Tony Stewart Racing
By Tony Veneziano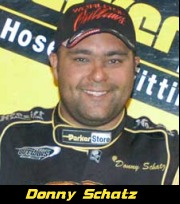 Donny Schatz made his debut for Tony Stewart Racing on Tuesday night in the opener of the 37th Annual Alltel DIRTcar Nationals at Volusia Speedway Park in Florida and was victorious in the 30-lap event for the All Star Circuit of Champions.

The two-time defending Advance Auto Parts World of Outlaws Sprint Car Series champion battled with Jason Meyers throughout the race, which ran non-stop on the blistering fast half-mile in just over eight minutes. Schatz and Meyers set a torrid pace, lapping all the way up to the 14th-place finisher.

The race began with Schatz leading down the front straightaway, with Meyers passing him on the high side of the second turn and leading at the line. Schatz battled back on the second lap as the pair ran side-by-side, with Meyers retaining the lead. Meyers began to pull away and with less than 10 laps on the board was already in lapped traffic.

This allowed Schatz to close the gap and on the 12th lap he took the lead as Meyers had to get on the brakes when a lapped car nearly stopped in front of him while leading. Schatz opened a comfortable lead, with Meyers making a late charge in traffic to come home second.

"It was a good night," said Schatz. "Our first night in the car and we picked up our first win. I look forward to calling Tony (Stewart) to tell him how we did. The team worked hard and they have worked hard all off-season to put us in this position. It's a great way to start the year."

For Schatz, it was his second career win with the All Star Circuit of Champions at Volusia Speedway Park in the Alltel DIRTcar Nationals. Gearing up for the 80-plus season that awaits them on the World of Outlaws trail, Schatz and his team experimented with a few different combinations on Tuesday night.

"We came out here tonight to play around and try a few things and to learn," said Schatz after earning $7,000 for the win. "We'll try some more things the next two nights and see what happens. We have to get used to a few of the changes this year and this was a good start."

Meyers was making his first start driving a KPC Chassis, which his team designed and built over the off-season. He carried plenty of momentum into Volusia after a strong finish to the 2007 season.

"The car was great," said Meyers. "Our Charlie Garrett engine ran great and the guys did a great job. I just got beat tonight. I got stuck behind a lapped car and that's the down side of leading."

Meyers led 11 laps on the night and showed a lot of muscle late in the race, tracking down Schatz both in lapped traffic and in open track. With five more nights of racing this week, Meyers will have plenty of opportunities to reach Victory Lane.

"It's a great start and a lot better start than we had last year," said the native of Clovis, California. "We certainly would have liked to have been one spot better, but we'll take this one and we learned a few things and have a great race car here. We'll come back tomorrow and try to get it tomorrow night."

Steve Kinser started seventh on Tuesday night and powered his way to a third-place finish. He staged an entertaining battle with Daryn Pittman for a number of laps before taking the final podium position. Early in the A-Feature, he
"It was a pretty good night," said the 20-time Advance Auto Parts World of Outlaws Sprint Car Series champion. "It was hard starting back there, especially in a green to checker race. We're tickled with the way it got started and hope the whole year goes that way."

Kinser was not surprised that the race went green the entire 30 laps, with the depth of the field assembled for the first of six consecutive nights of sprint car racing at the half-mile, including a number of competitors from the Advance Auto Parts World of Outlaws Sprint Car Series.

"There are a lot of good race cars here," said Kinser. "Racing down here at the beginning of the year is some of the toughest racing all year. Everyone comes out with fresh equipment and are ready to go. It shows where you are standing at right off the bat."

Daryn Pittman finished fifth on Tuesday night after lining up in that same position. He began the night by turning the fastest lap of the 51 competitors that took to the track in time trials.

Craig Dollansky made his debut for Larry Woodward Racing and came home sixth in the 30-lap contest, with Joey Saldana one spot behind him in the Kasey Kahne Racing No. 9.

Kraig Kinser, who will compete full-time with the World of Outlaws for the first time since 2005 this season finished eighth in his debut for Tony Stewart Racing as a teammate to Schatz.

Chad Kemenah had a solid night on Tuesday, finishing in the ninth spot. The native of Findlay, Ohio is a four-time champion with the All Star Circuit of Champions.

After earning his first career win with the All Stars last Friday night, Sam Hafertepe Jr. was 10th in the opener of the Alltel DIRTcar Nationals.

Also in action on Tuesday night were: Terry McCarl, Danny Lasoski, Jac Haudenschild, Lucas Wolfe, Tony Bruce Jr. and Shane Stewart.

The 30th anniversary Advance Auto Parts World of Outlaws Sprint Car Series season begins on February 8, 2008 with the 37th Annual Alltel DIRTcar Nationals at Volusia Speedway Park, with tickets available at: http://www.VolusiaSpeedwayPark.com.

Fans unable to attend the spectacular week at Volusia can still catch all the action on the DIRTVision Cybercast. For just $29.99 fans can purchase the 'Alltel DIRTcar Nationals Racepass' and watch live streaming video of all 12 nights of racing action. Log on to www.dirtvision.com for more information.


Have an opinion on this story? Post a message on The Real Racin USA Florida Fan Message Board! or Email KARNACto send a letter to the editor!
---