The Fans In The Cheap Seats
By Robin Smith Miller

The race fans at Daytona International Speedway eagerly displayed their displeasure at the Winston Cup officials who ended Saturday's running of the Pepsi 400 under caution.

As Michael Waltrip led the field of cars around for the final two laps as the yellow flag flew, fans threw seat cushions, pizza boxes, beer cans and anything else they could find onto the racing surface to show their anger at being denied a green flag finish.

Seasoned veteran, Rusty Wallace said he had never seen anything like it in his entire racing career. Points leader, Sterling Marlin, made his biggest bonehead mistake of the season after the race, which has been marked by more than a few NASCAR for Dummies incidents involving himself.

"Those were the cheap seats where they were throwing those cushions", Marlin said after the race. Marlin must not think too hard before he opens his mouth as evidenced by his remark earlier in the season about the fact he never read the NASCAR rulebook either. This remark about the cheap seats, however, should have him hanging his head in shame.

Considering the lowest price for any seat at Daytona must be at least $50, there are no cheap seats. In those cheap seats sit the fans that made NASCAR what it is today, lower middle class families who save money all year to bring their families to a stock car race.

Those are the people who sent todays NASCAR stars on their way to the road to riches so they can sit in their million dollar motor homes in luxury in the pits, while their fans are sweating for hours in the sun, in low seats that do not allow them to see beyond what is in front of them on the race track.

The people in the cheap seats are not the new breed of race fans, upper middle class professionals who buy $50 golf shirts at vendor trailers; guzzle $6 cups of beer, or pay $500 or more for access to the air-conditioned hospitality tower.

The people in the cheap seats buy their t-shirts across the street from the speedway at K-Mart; and bring in their own 14 inch cooler filled with beer, soda and bologna sandwiches because that is all they can afford.

It becomes more obvious every day the people in the cheap seats don't matter to NASCAR or its drivers anymore. It doesn't matter that many of these people sat in earlier versions of the cheap seats with their parents and grandparents, watching the sport they love when no television network would even think about broadcasting this redneck Southern sport. The people that matter are the ones who are lining the pockets of the NASCAR community with dollar bills.

Shame on Sterling Marlin, and on NASCAR for forgetting their roots.

They seem to forget the impetuous nature of the America public. How quickly they flit from one amusement to another in their quest to avoid boredom.

Time and time again we read about the loyalty of NASCAR fans and how they buy products that are affiliated with NASCAR. What they fail to say, is that it is the people in the cheap seats who buy these products, not the new breed of race fans.

The new breed of race fans drink Corona beer or some other exotic foreign label; not Budweiser, Miller or Coors. The new breed of race fan sends their laundry out, they dont buy Tide because it is on Ricky Cravens car.

Most of the new breed of fans dont shop at Home Depot or Lowes, they pay someone to repair or renovate their homes. The closest they get to McDonalds french fries are a baked potato at the Outback Steakhouse and that is a cheap night out for them.

Stock car racing is America's sport, supposedly. It needs to remember the Americans who made it successful, those sitting in the "cheap seats".

If they fail to do this, those sitting in the "cheap seats" may fail to remember to buy Tide or Kodak film or Budweiser beer. How long do you think these corporate sponsors will remain in a sport where its fans don't buy its products?

Maybe then Sterling Marlin and NASCAR will remember those fans in the "cheap seats."

-Robin Smith Miller
[Originally published in the Lehigh Acres Citizen, Breeze Corporation]

Have an opinion on this story? Post a message on our Message Board!
or send a letter to the editor!
---
Cavin Councilor, A Master At The Art Of Living
By Robin Smith Miller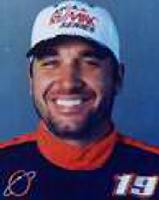 Cavin Councilor was best described in three words, self-made man. He moved to Florida twenty years ago with $1500 in his pocket, in a borrowed car.

He had scholarship in hand to attend Florida State University, thanks to being the 1981 Michigan state high school cross-country champion.

He worked hard, paying his own expenses and came to Naples, Florida during the summers to paint houses. In Councilor's eyes, the world did not owe him a living.

After receiving dual bachelor degrees in criminology and economics, Councilor moved to Naples and painted. He put his economics degree to good use.

He began investing his hard earned money in a gas station and real estate. He bought houses to fix up and resell. He lived frugally for the most part, driving the same old 1988 pick-up truck and living in a modest condominum by Naples standards until recently.

Collier County is one of the richest counties in Florida and has experienced unprecedented growth in the past ten years with a 65 percent increase in population since 1990.

Councilor was able to capitalize on that growth and make himself a small fortune, probably a least a million dollars by conservative estimates.

Councilor was a risk taker, which was partially the reason he was so successful in his business career. He also had a weakness for risk taking in his personal life, as well.

He loved to ski, fly and drive stock cars. His dream and inspiration for his business success was that he wanted to own a Winston Cup race team.

He already was the owner of an Auto Racing Club of America (ARCA) team and dabbled in the Craftsman Truck Series, as well.

Councilor got the racing bug a few years back. He bought a friend's street stock racecar and drove about ten races at Charlotte County Speedway, a three-eighth's mile asphalt oval track located in Punta Gorda, Florida.

Not content with that, he immediately graduated to the NASCAR Goody's Dash and USAR Pro Cup Series. He drove about a dozen of those types of races and decided to try his luck in the ARCA RE/MAX Series, just a step down from Busch Grand National and Winston Cup racing.

Councilor started his ARCA career in his home state, Michigan in 1997. He ran as high as second place at Michigan International Speedway before he broke an axle and was out of the race after wrecking at 175 mph.

He had several bad wrecks in his racing career causing a scapula injury and bruised kidneys but he still loved to race.

His best finish as a driver came in 1999 at Winchester Speedway where he finished fifth. He posted ten Top 10 finishes in the series between 1998-2000 including four seventh places finishes at Atlanta Motor Speedway, Berlin Raceway in Michigan, Kil-kare Speedway in Ohio, Salem Speedway in Indiana; and Winchester Speedway, also in Indiana.

He finished ninth at Kentucky Speedway and Berlin; and was credited with a tenth place finish at Flat Rock Speedway in Michigan. In all, Councilor participated in 57 ARCA/Remax Series events from 1997 to 2001.

His crowning moment in auto racing took place at the inaugural Chicagoland ARCA 200 in 2001 as a car owner. His driver, Ed Berrier, took the win. Councilor also fielded ARCA cars and Craftsman Truck Series vehicles driven by Mike Swaim, Jr. and Brent Sherman.

His race shop located in the hub of race, Mooresville, North Carolina was run by his crew chief, Lee Leslie, brother of Tracy Leslie, past ARCA champion; and Ben Leslie, crew chief for Mark Martin in the Winston Cup Series.

Councilor flew from Naples to Mooresville frequently. When asked by his good friend and past crew chief, Marty Walsh, why he didn't just move there, Councilor replied, "Because I can't make $10,000 to paint a house in North Carolina."

Councilor loved to fly airplanes as much as he loved to race. A registered instrument rated pilot for 15 years, Councilor had owned a twin engine Aerostar Machen 700 but decided to buy a single engine Piper Malibu because the plane could carry more passengers.

At one time he had even considered buying a Russian MIG fighter jet but decided not to because it was only big enough for two people.

While Councilor was said to be fearless in flight, he was also calm and kept a level head when presented with danger. Walsh was flying to Illinois with Councilor when the plane began losing oil pressure near Nashville, Tennessee.

Councilor pulled up on the throttle and turned off the motor to the engine that had good oil pressure in case the other engine stalled. He was able to land safely and Walsh never hesitated to fly with Councilor even after the experience.

Walsh describes Councilor as "a seat of the pants" kind of guy. He might not make plans until the last minute for something but everything always turned out all right.

There were times before Councilor had his own airplane, that his race crew would arrive at an airport to fly to a race and the tickets wouldn't even be bought but everything always came together in the end. He liked to do things on the spur of the moment or a whim.

Councilor had a zest for life and always had a smile on his face, according to Naples open wheel modified driver, Chris Turner. "He's the kind of guy, you always look up to. He started with nothing and became a self-made entrepreneur. He did it all on his own, honestly. All he ever talked about was racing."

Last year, he decided to sell some of his ARCA cars and rented out some of them, as well. Richard Childress rented one of Councilor's cars for several ARCA events for his current Busch Grand National driver, Johnny Sauter, to gain some seat time in.

Although he had not driven a race car in recent months, he took his race team back home to Michigan International Speedway on June 15 for the Flagstar 200 ARCA race with his driver, Brent Sherman, posting a career best 11th place finish.

Councilor also visited his family in his hometown Flint, Michigan while he was up north for the race. He didn't fly his plane this time because it was due for its annual maintenance.

He returned home and made plans to fly with several business associates, Shawn King and Charles Scherer, Jr. to Sarasota, Florida on June 19 to look at a cabinet shop.

Councilor, who was piloting took off from Naples Municipal Airport just before 10 a.m. After his plane left the ground, it appears he tried to turn back towards the airport after it appeared his engine failed.

Councilor made a steep left turn avoiding traffic congestion on Airport-Pulling Road only to spiral into the ground from 1,000 feet in the air, just 30 feet from the Collier County Humane Society.

There were no signs of smoke or fire from witnesses or any communication with the air traffic control tower before the plane crashed.

Councilor and Scherer were killed on impact and King died several hours later at Naples Community Hospital. The National Transportation Safety Board is currently investigating the crash with results expected in six months.

Councilor is survived by his mother, Pat Pearson; brother, Ed; and sisters Tricia Shannon and Jessica Pearson, as well as their families; his grandmothers, Adeline Polidan and Glennie Pearson; and a large extended family, as well as many friends.

His stepfather, Ken Pearson, a retired General Motors assembly line worker, died of cancer last year. He was also pre-deceased by his natural father, George Councilor.

A memorial service was held on Saturday, June 22 in Naples, Florida with over 250 people in attendance. Another service is planned at St. John's Catholic Church in Davison, Michigan on Saturday, June 29.

A scholarship fund in his memory has been set-up at the high school he graduated from in Michigan. Donations may be sent to Kearsley Community School, 6161 Hopkins Road, Flint, MI, 48506.

-Robin Smith Miller


Have an opinion on this story? Post a message on our Message Board!
or send a letter to the editor!
---