TO EVERTHING THERE IS A REASON
By Robin Smith Meiser

The Southwest Florida stock car racing "family" came together on February 25 to pay tribute to arguably the best race driver of all time, Dale Earnhardt, Sr. Local short track driver, Randy Fox; his wife, Scarlet; and business partners Clayton and Linda Olding played host to crowd of several hundred race fans at the Tra-lin Motorsports shop on Construction Lane.
Earnhardt, Sr. hats and shirts were the garb of the day as folks watched a pre-race tribute to him shown on Fox 36 on two large screen televisions. Smaller sets were set throughout the complex as people milled about talking about terrible loss that the racing world suffered on the last lap of the February 18 Daytona 500 when The Intimidator was killed after slamming the Turn Four wall. He suffered massive head trauma but it has also been learned a frayed seatbelt contributed to his death as it gave way in the horrific accident.

People laughed and cried as a rain delay in Rockingham North Carolina allowed Fox to devote several hours to Dale, Sr. and his life. When at last the time came for the prayer and national anthem preceding the race, all those present held hands and bowed their heads as NASCAR great Darrell Waltrip led millions in prayer for the fallen hero. When it was over, many in the crowd had tears streaming down their face as they wept for the man who made Winston Cup racing what it is today.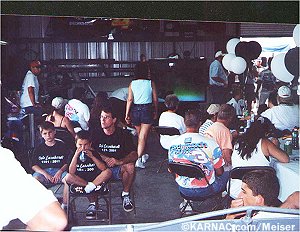 Donations were accepted for the Carolina Foundation, a children's charity and people wrote their thoughts about Earnhardt on banners scattered through the facility. Many expressed their gratitude to Tra-lin Motorsports at being allowed closure on the terrible tragedy that has befallen the race community and for having the opportunity to do share the day with other race fans.



TO EVERTHNG THERE IS A REASON


As many fans gathered for the tribute to Dale Earnhardt, Sr. at Tra-lin Motorsports, stories about the Man in Black were shared. It seems that everyone has their favorite Dale, Sr. story and I would like to share a few, starting with my own favorite recollection. Please read it with an open mind and at the end I will give you the moral of the story.

In 1994, I went to the final Atlanta race of the year. Dale Earnhardt, Sr. was attempting to win his eighth championship and Jeff Gordon was standing in his way. I had snuck into the garage area of the track, it was easy to do back then and I was being the world's worst autograph hound. Suddenly, I spotted him, The Intimidator and he was walking alone towards his trailer after a not-so-good qualifying attempt.

I brazenly walked up to him and asked him to autograph my jacket, not thinking about the shirt I was wearing. He looked down at my Jeff Gordon shirt, gave me that trademark "annoyed" look he had, told me he had to go make a bologna sandwich and walked away from me. Well, let me tell you, I was not amused!!!

I followed behind him to his trailer and watched him walk inside. He then commenced to make a bologna sandwich, just like he said he was going to do. I waited patiently for him to come outside again and when he did he breezed right past me, chomping away on that sandwich, never even looking in my direction.

Another fan walked in his direction wearing a #3 hat and an Intimidator shirt. He asked politely for an autograph. Dale stopped, looked me right in the eye and then smiled at his true fan and gladly signed the young man's shirt. At the time it happened, it really got my goat and validated my then belief that he was not worthy of my admiration.

In the past week I have spent literally hours pondering on Dale, Sr. and what he meant to us. I have wept daily over his loss and I say this as a person who respected rather than liked The Intimidator. I can, however relate, to the pain and anguish of the millions of people who truly loved Dale Earnhardt. I was that way over Alan Kulwicki, it took me years to sit down and watch a full Winston Cup race again because the screen was so empty without that #7 car. It will be even worse without the #3 car because he was always there!

I never really thought about it until the past few days but since the day Dale Earnhardt, Sr. set me in my place, so to speak, I have never bothered another driver for an autograph again. When I went into the pits at Daytona several weeks ago legally, I made sure I did not wear any apparel that identified me as a Tony Stewart and Dale, Jr. fan. I do have Dale's autograph by the way in several places, as well as many other racing legends and I treasure every one. Dale taught me to appreciate the fact that each driver has true fans who love them and most drivers will do their utmost to accommodate their fans. However, it is not their responsibility to take up their valuable and precious time by giving autographs to people who are just "collecting" signatures so to speak.

Another Earnhardt story I must tell quickly also happened in Atlanta in 1994 when he won his seventh championship. My best friend, Gail and I were sitting outside the gates of the garage area as drivers were leaving for the day. I was still an autograph hound and was getting as many signatures as possible. My Gail-friend, however, was sitting patiently, waiting for just one man, her hero, Dale Earnhardt, Sr. After several hours, she decided to walk back to the motor home for something but I stayed behind to get more autographs. Five minutes after she walked away Dale strolled out of the garage gate and I got his signature on my jacket.

We all went back for the spring race and this time, my Gail-friend decided to go shopping at the race mall, as we call the souvenir stands outside the gates of every NASCAR event instead of watching the Busch Grand National race. Well, I being the tomboy I am, stayed behind with the guys to watch the race on top of the motor home. A car parked next to us and out stepped Teresa Earnhardt, a picture of class as always, she has always been one of my heroes because of her shrewd head for business. We watched her walk to another motor home just behind the gates of the garage and walk inside. We kept an eye on that motor home and sure enough, Dale came out and climbed up on the roof to spot for some Busch driver, maybe it was even Dale, Jr., I really don't remember. Anyway, he stayed up on that motor home the entire race.

I finally walked over to it and asked Dale if I could take his picture and he gladly obliged. We talked back and forth for a minute and I walked away, camera in hand, totally unimpressed, as I was not a Dale fan. The race ended and Dale climbed down and went out on the track for Happy Hour practice. Gail came back from her shopping excursion and we all excitedly told her about Dale and the motor home. Well, having pulled the wool over eyes a time or two, she refused to believe our story. On her birthday, a month later I presented her with the pictures I had taken of Dale smiling down from the motor home. That was the closest she ever came to meeting her idol.

Randy Fox, who hosted the Earnhardt Tribute in Lehigh Acres also has a wonderful story to tell about an Atlanta race he went to several years ago and Dale, Sr. who is also Fox's hero. Anyone who has ever seen Randy drive a stock car knows how hard he tries to be like Dale.

Anyway, Fox is riding on the elevator leading down from the Penthouses at Atlanta, wearing his trademark Earnhardt hat. You know how you never look at people when you are riding in an elevator, that is what Randy was doing, looking at the floor, mind preoccupied. Just as the elevator door opens, a familiar voice says to Fox "Nice hat!" and the person walks out of the elevator. Fox looks up to say thanks and Dale Earnhardt is walking away from the elevator. Randy said he was so surprised he couldn't even answer. Again, anybody knowing my buddy Randy Fox knows he is never speechless!!!

Just one more little story and I will shut up, I promise. My good friends Brenda and Dave Wynn of Cape Coral are the biggest Dale Earnhardt, Sr. fans I have ever met. They love him so much they recently spent $33,000 on a signature Dale Earnhardt Monte Carlo two-door coupe. Only 25 of these cars were made and could only be purchased from Earnhardt's Mooresville Chevrolet dealership. They received one of the first three made this year and the only one that had met with Earnhardt's approval. The Wynns got it with 100 miles on the speedometer and after Earnhardt's untimely death last week, they contemplated getting rid of it because they were so devastated by his passing. However the changed their minds and drove that car to the Earnhardt tribute today. It was the hit of the party.

I share all of this with you for a reason. We all have our favorite Dale stories and the time has come to put aside the sadness and tell these wonderful stories. It is time to laugh, not cry. As the Bible says, to everything there is a reason and a purpose to everything under the sun. We had our time to cry; now it is our time to laugh and enjoy the person who was Dale Earnhardt, Sr. That is what he would have wanted us to do and I, for one, would never want to be on his bad side, would you?

By Robin Smith Meiser

Have an opinion on this story? Post a message on our Message Board!
or send a letter to the editor!
---